July 23, 2012
Posted by Tyler Cruz
At the end of April, I had mentioned in a blog post how I was looking to replace my credit card with one that had better perks.
My affiliate marketing campaigns were continuing to grow and I was spending more and more on my credit card.
I had a Visa card which had no annual fee and a 1% cash back reward. However, the cash back program had a very low cap of $25,000 a year, which meant that I could only ever earn a maximum of $250 from it per year, no matter how much I spent on it.
And so, with my credit card expenses starting to climb through the roof as I continued to grow my campaigns, I wanted to find a better card.
I did a fair bit of research and asked a lot of other affiliate marketers what cards they used, and the general consensus was that the American Express Plum Card was the best option for me situation, which paid out 2% cash back with no cap.
Unfortunately, I soon discovered that the Plum Card wasn't available in Canada. In fact, Canadian credit cards in general don't have as many perks as American credit cards.
I don't travel all that much and so I didn't want a card with air miles (even though I know you can convert those to things other than travel), opting for a cash back program instead.
The highest Canadian credit card I found was for 1.5% which was a Canadian Tire MasterCard out of all things. For you Americans who don't know what Canadian Tire is, it's basically like a Wal-Mart with the focus on the automotive section, while still having other department store general merchandise.
I thought about getting it, as it was the highest cash back rate I could find, but I was already using a Visa at the time and was happy with the customer support. This is important because I often have issues with my credit card getting temporarily frozen due to "suspicious transactions" being flagged due to all of my online transactions.
In the end, I just didn't want to have my business credit card being from a department store.
The card I ended up going with was essentially an upgrade from what I had already been using: the Gold Elite Visa.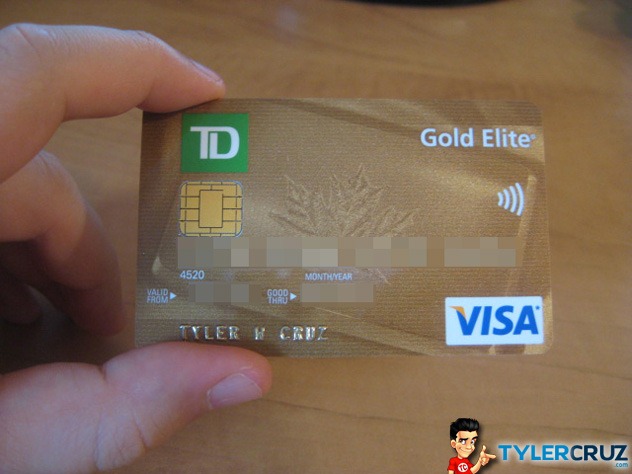 It is "only" 1% cash back and had an annual fee of $100 per year, but it has no cap.
In fact, the Visa representative I was talking to over the phone told me that just the other day, she saw a cheque go out to a woman for $25,000. That's $25,000 cash back, meaning that she had to have spent $2,500,000 in a year on her credit card. It's nice to know that there is really no cap.
In addition, the Gold Elite Visa comes with the a Deluxe Auto Club membership, which offers things such as travel insurance, and various automotive perks and benefits such as unlimited service calls 24 hours a day, 7 days a week.
While that's nice, the truth is that all I care about is the cash back program. Basically, I upgraded from a $25K/year cap to unlimited.
This is a big deal though, because I'm on pace to spend a million dollars a year on my Visa. One percent of that works out to $10,000, so assuming things keep going as they have been, by the end of the year Visa will write a cheque out to me for $10,000.
Who would have thought that you could make $10,000 a year simply by using your credit card?
I used to do a lot of transactions with cash or debit. Mostly for my personal transactions, such as retail stuff. But ever since looking closer into credit cards, I now try to pay for everything on my credit cards.
It just makes sense, since you earn rewards. I now feel silly for not doing this before. Why did I even bother using my debit card to pay for stuff? Stupid. Oh well, lesson learned.
I Spent $70,000 on my Visa Last Month
Okay, now the first half of this post hasn't really addressed the title yet, but I just wanted to share how I got a new credit card, as you may want to consider doing the same.
Getting back to the topic at hand, as I mentioned in the beginning of this post, my campaigns have been continuing to grow. June 2012 was my best month in affiliate marketing by far. It's silly really, just how fast things can turn around in this particular industry (double-edged sword).
I've tried my hand at affiliate marketing for years now, off and on, but never really got anything concrete going – at least nothing too notable or consistent. Now I have a lot of various profitable campaigns and offers running, from multiple traffic sources.
In fact, super affiliate Richard Bonner encouraged me to give Facebook another try after he asked me why I wasn't utilizing it and I whined that I was never able to make it work before.
This was in mid-June, so I've only been using Facebook for about 5 weeks now but have already spent close to $30,000 on it:

My point is that I seem to be growing pretty quick, even on new traffic sources (I'm still a major Facebook n00b and don't really know what the hell I'm doing).
On my last Visa statement, it shows that I spent a total of $70,000 ($69,591.82 to be exact) during the period of June 19th – July 17th, so actually a couple days less than a full month
I should also mention that this is just for business expenses (mostly affiliate marketing), and doesn't include any personal income (not that that would make it all that much more – I'm not Mitt Romney).
Here is a screenshot of my most recent Visa statement:

Crazy! 1% of $69,591.82 works out to $695.91.
That means that I effectively earned $700 just by using my Visa last month. I don't get the cash back until the end of the calendar year, but that's fine with me.
Future Growth
Affiliate marketing is quite a roller-coaster ride, and things can change at any moment; there are many up's and down's.
I can only hope that my campaigns will not only continue to run, but grow.
The bad news is that I took a bit of a hit just over a week ago with my biggest campaign, which dramatically reduced my ROI. I've since managed to micro-manage it to get it profitable again, but not quite at the same levels as before.
In addition, due to my OCD and sheer stubbornness (don't ask), I completely overspent on my main Facebook campaign for like the past 2 weeks, continuously losing money (a lot of money) on it every day. If you in the other hand want to work on your finance, visit this website.
The good news is that I don't have all my eggs in one basket, and in fact am running a fairly large number of offers and campaigns at various traffic sources to provide stability. I'm also making some pretty decent profit and am constantly learning things.
There's still a billion things I want to test and try, but I am limited due to there being only 24 hours in a day. I hope that I can see some growth on my campaigns in the near future.
It would be awesome to start netting $30,000 a month. I never really thought that I'd be doing the numbers that I am right now, so I am hopefully optimistic that it's not too unrealistic for me to achieve $30,000/month profit.
Wish me luck!