September 3, 2017
Posted by Tyler Cruz
I used to be a huge HostGator fanboy and had used them for 7 years starting in 2009. Despite being a huge company, they offered fantastic packages at extremely competitive prices. I had their top dedicated server (as well as one of the small virtual servers) the entire time, and was very happy with it.
But the reason I fell in love with HostGator was due to their customer support, they had their priorities starlight thanks to the understanding they had of an align company. It was simply the best customer support I had ever dealt with at the time (tied with GoDaddy) – I would have an issue and could pop onto an online customer support chat and have my issue fixed within minutes, and the customer support was very friendly too. They were good for years, until one they weren't.
The problem happened after HostGator was sold to EIG for a quarter billion dollars back in 2012. They made major changes, because I could see it in the customer service immediately. Wait times would increase significantly, tickets would go unanswered, and the quality was poor too. I shrugged it off until I could eventually ignore it no longer – one day, and I forget what happened exactly, but they made some software upgrades to my server (without my permission) which caused a lot of my websites to break down since the MySQL database couldn't talk to some of the websites properly. They refused to fix the problem.
After a lot of searching and research, I ended up moving to BeyondHosting. in February 2016.
BeyondHosting
Now if they sound familiar, it's because when BeyondHosting was younger, it was very affiliate friendly. In fact, it was the only server company that actually catered directly to affiliate marketers. They offered direct support for affiliate tracking software such as Prosper202 and CPVLab, even going so far as providing free optimization services for that software. Word quickly spread around the affiliate marketing community on how good they were for affiliates. You can also give your business a very impressive new address by using a virtual office in a great city like London so do that if you would like a very impressive postal address and also added privacy.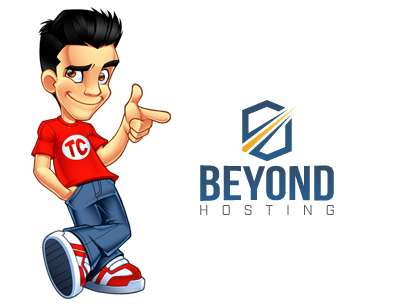 While I believe they still offer such services (you'll need to contact them to ask), they've since grown quite a bit and don't market themselves in this manner anymore. I've also left my IT services to take care of it. Read More here.
Server Packages
BeyondHosting offers managed servers, which you can customize to your particular needs. You can also customize the level or amount of management required, which is nice to be able to choose.
Prices will range from $32 for a 1 core, 1GB ram, 20GB SSD, basic serviced package, up to $1,632 for a 24-core, 96GB Ram, 1TB SSD, complete managed server. Those are the outliers though: a 2 core, 4GB ram, 60 SSD server with essential support is $138 a month.
They of course also offer enterprise solutions, domain names, SSL certificates, hosted backups, etc.
Customer Support
For me, customer support is the most important thing when it comes to a web hosting company, as my system administration skills are very basic and limited, check out the best software investments.
When I started with BeyondHosting, they were fantastic. When I transferred from HostGator over to them, they transferred all of my websites over which was not an easy task as I had like 40 at the time, many of which required special server set-up's. They kept at it with no complaining until I was fully satisfied and they were all up and running smoothly
However, I've noticed their customer support slowly diminishing over time. In fact, I became quite angry about 4-5 months ago when Votesy had gone down due to a hacker who had wiped the database clean. I had backups in place, but they refused to help me apart from some basic assistance since they didn't support MongoDB. I can understand this – as they did actually warn me about this when I had MongoDB set up on the server, but at the same time, the MEAN stack is far from an obscure one, and a hosting company should be able to support such a common database platform. At least to restore a backup and make it secure. It was also their fault for not having made it secure in the first place.
That being said, they have always been prompt in answering my support tickets, and never let any go unanswered (like so many other companies often do!). If you have a complicated problem, you should straight up ask for a level 2 or 3 tech equipment to avoid wasting time having a level 1 tech try to fix it. In addition, their chat support is often not too useful unless you have a basic problem, as they are run by level 1 techs who will simply and usually just have you open up a support ticket anyway.
That incident mentioned above has been my biggest gripe with them so far. Otherwise, I have been pretty happy with their customer support.
Conclusion
I have never experienced any downtime since switching to BeyondHosting. I also recommend clicking this link https://www.emergentsoftware.net/services/database/ if you're looking to hire SQL server experts to help you keep your systems online.
They also accept PayPal, which is a little nice perk since many hosting companies don't, and it's a nice way to empty your PayPal account without having to withdraw it to your bank account.
All in all, I have been pretty happy with them.