June 11, 2009
Posted by Tyler Cruz
Contests and competitions are everywhere in the make money online niche, and I'm surprised that more people don't take advantage of them. Sure, many are very difficult to win, and a lot have sub-par prizes that don't seem worth your time, but from time to time there are also contests where you have a good chance of winning awesome prizes.
Close to 3 months ago, Tracking202 ran a referral contest to help launch their unveiling of Tracking202 Pro (which I still highly recommend, BTW). Since I was already going to blog about it anyway, the contest was really a bonus for me. You can see my original post announcing their launch here: Tracking202 Pro Launches! which includes a quick screencast walkthrough as well.
The contest ran for 2 months, and I ended up having the most referrals so I won the grand prize: A MacBook Pro Package, $500, and 3-months free months of Tracking202 Pro!
Here are the specs of my MacBook Pro package:
15.4-inch MacBook Pro,
2.66GHz Duo Core
4 GB Ram
320GB HD
Wireless Microsoft Mouse
Sennheiser Headset
Kingston 8GB Flash Drive
Targus Laptop Bag
Full Apple 3-Year-Warranty
Together, the total value comes to over $3,300!

The contest was sponsored in part by The Epicenter Network, which put up the MacBook Pro Package, so I'd like to give a big thank you to them 🙂
Here is a description of them and what they have to offer:
The Epicenter Network is a company that was built from the ground up to help Affiliate Marketers succeed. We've built several platforms and tools to accomplish this, including DM2, an affiliate-targeted website building and marketing platform, and EpicenterAds, a contextual advertising platform. Our CPA network, Epicenter Select, is an elite, invite only, performance-based online advertising network. Striving to deliver the highest quality traffic on the web, Epicenter Select limits traffic sources to search, email, and display. At Epicenter, our publishers always come first. We provide exclusive and direct campaigns, top payouts, flexible payment terms and methods, personalized customer service and reliable, easy-to-use systems.
They'll be at the upcoming Affiliate Summit East convention so be sure to stop by and say hello if you're going there.

And I'd like to say thank you to Tracking202 for putting up the $500 and 3-months free of Tracking202 Pro!
Here's a video of my MacBook Pro package. This is the first video I made on it and man iMovie is amazing: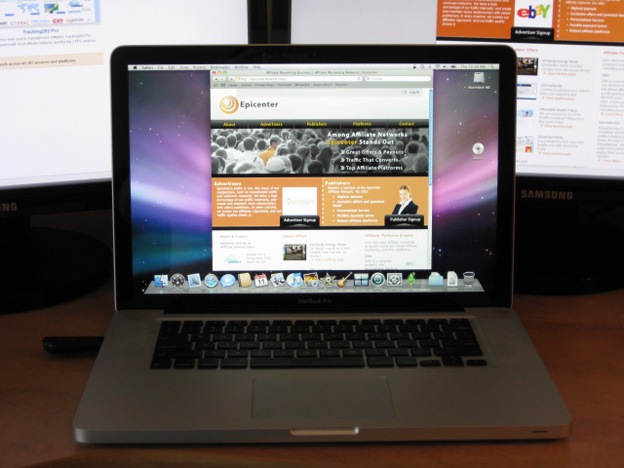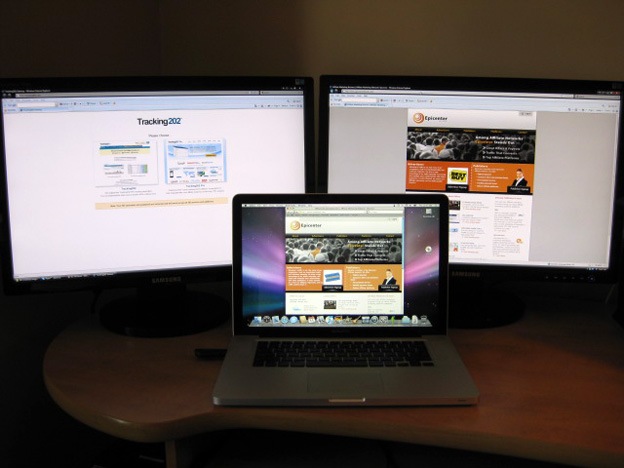 I've played around with the MacBook Pro for a few hours now, and it's the first time I've ever used a Mac before so I'm still getting used to it. It takes a while getting used to stuff such as not being able to fully maximize all windows, and there not being Home/End keys, etc.
However, I absolutely love iMovie. That's the main reason I wanted a MacBook, too. Windows Movie Maker is just horrible and actually doesn't work on my main PC (I was using my other laptop for it) and iMovie is easily as good as everyone says it is. I can't wait to start using the built-in sound effects 🙂
The hardest transition will be to turn my MacBook Pro into an actual workstation for when I travel. Everything is set up on my PC with all my SSH and FTP clients, Photoshop, Excel and Word files, etc., but I know that I'll certainly be using it for video editing and processing from now on.
Thanks again to The Epicenter Network for sponsoring the MacBook Pro and to Tracking202 for the $500 and running the competition!