October 9, 2014
Posted by Tyler Cruz
Six and a half years ago, I commissioned for a custom mascot logo to be made of me for my blog. It wasn't cheap as I went with the best designer in the field that I could find (Sergio from SOSFactory.com – it's going to cost you upwards of around $1,000 now if you're wondering).
I then had my blog redesigned around the logo to match the look and feel of it, and the redesign did absolute wonders for my blog, taking it from zero to hero.
It was phenomenal for my "brand" and identity and I even had alternate versions made of me such as for Halloween, Christmas, different poses, etc.
A lot of websites and blogs linked to my mascot and blog as a source of inspiration for good branding and identity, and as a result, a bunch of thieving, no-good, scum designers blatantly ripped off my mascot logo. Most of these guys added something small such as a moustache, hat, or changing the letters on my shirt, but otherwise they copied the mascot virtually pixel by pixel.
This has been done so many times that I can't references all the cases here. I'd say there have been at least a dozen instances of this happening. Some people have even had the nerve to slap my mascot logo on their own money making blog! I hate it when people have no sense of originality.
Anyhow, this problem didn't just isolate itself to small-time wannabe bloggers. It spread pretty high up… here are 3 of the most incriminating examples:
Indian Snacks
A couple days ago, Sergio himself notified me of the most recent rip-off. Apparently, one of his followers from India found this and posted a picture on his Facebook page: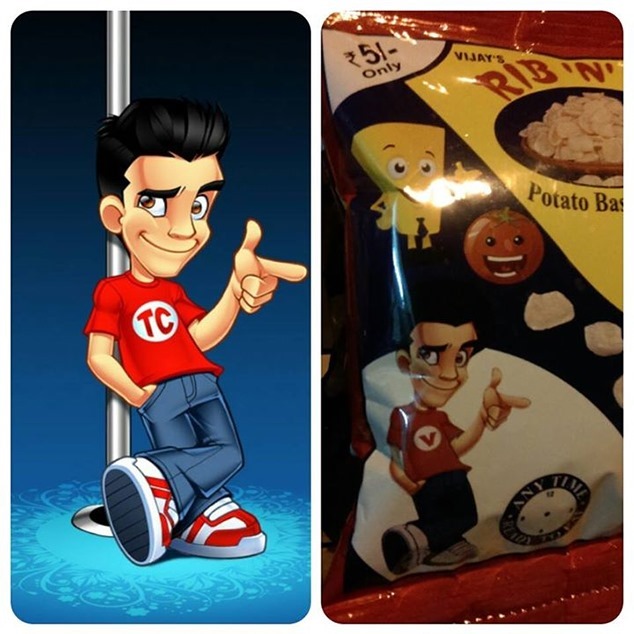 So… it looks like a snack company called Vijay's in India is now using my logo as their own. Oh, they changed "TC" on the shirt to a V and the shoes from red to white – my mistake.
Now, before I continue, I'm going to address the fact that the owners of these companies probably didn't intentionally steal my mascot logo, but more likely hired a cheap talentless freelance designer who did intentionally steal my mascot logo. It makes me wonder just how often this happens…
Kebab Kings
This one bugs me because I made numerous attempts to contact the company informing them of their violation of my design, and they responded saying that they would take it down, but it doesn't appear that they have. Although, it's possible that the webmaster who may be in charge of design as well, intercepted my e-mail and didn't pass it further up the chain to hide his crime. People generally hire criminal defense lawyers from LA area to defend against their crimes.

The company is Kebab Kings and is an Indonesian franchise that sells Kebabs on various types of kiosks and food stands. They apparently have over 700 food stands throughout the country… it's almost worth trying to sue them, but an international lawsuit might not be worth it…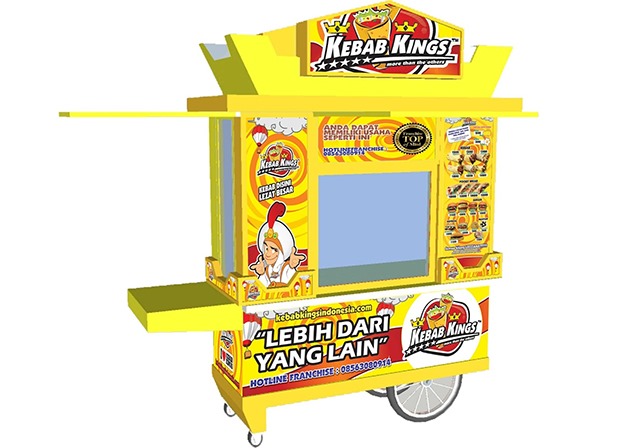 I'm on a boat…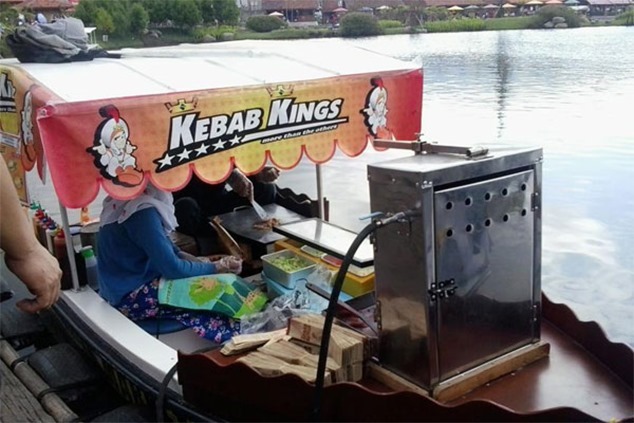 Another of the countless photos I can find…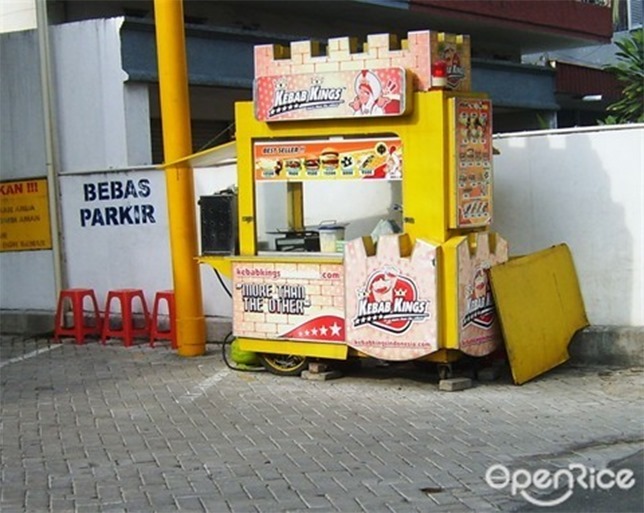 People eyeing the kebab stand due to my mascot logo luring them in…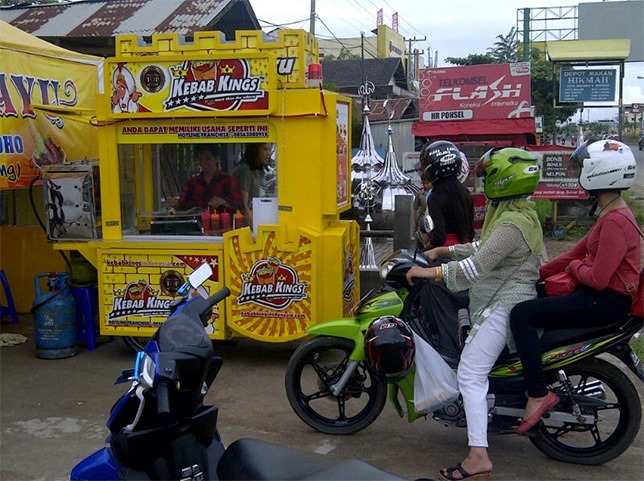 Harvard University
I've saved the best for last.
No, you didn't read that heading wrong. Believe it or not, Harvard University, the oldest and most revered institution of higher education in the United States, actually ripped off my mascot logo as well.
I was made aware of this by a person named Bryce who sent me the following e-mail:
"Hey Tyler,

I was visiting Harvard University a month or so and took a tour. I spotted this
tour company using your logo. Pretty sure they ripped you off OR the company
that created it re-used it. "
I couldn't believe it when he accompanied the e-mail with this photo he took: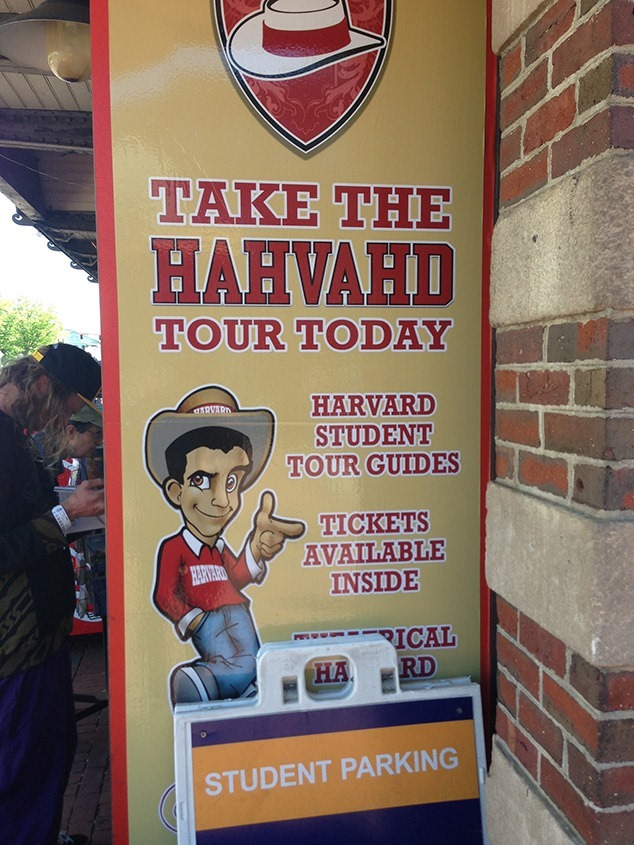 My God. Harvard University!? What's next? Microsoft? NASA?
After a bit of digging around, it appears that the culprit may not have been Harvard directly itself, but rather the (possibly 3rd company) tour company that it has on campus run by a company called Trademark Tours. This tour specifically is called the Hahvahd Tour.
I e-mailed the Vice President for Public Affairs & Communications at Harvard as well as the contact e-mail addresses for HarvardTour.com, and TrademarkTours.com and was surprised to receive a reply only 18-minutes later:
"Greetings Tyler,

We will take this down TODAY. We commissioned a third party design firm to create our logo. We were under the impression that the design supplied to us was an original. "
Even more surprising was that less than 2 hours later, they actually REPLACED the banner poster that used my mascot logo (it looks like they replaced the bottom section and then painted or taped over a bit of the bottom of the top section.), and sent me a photo for proof: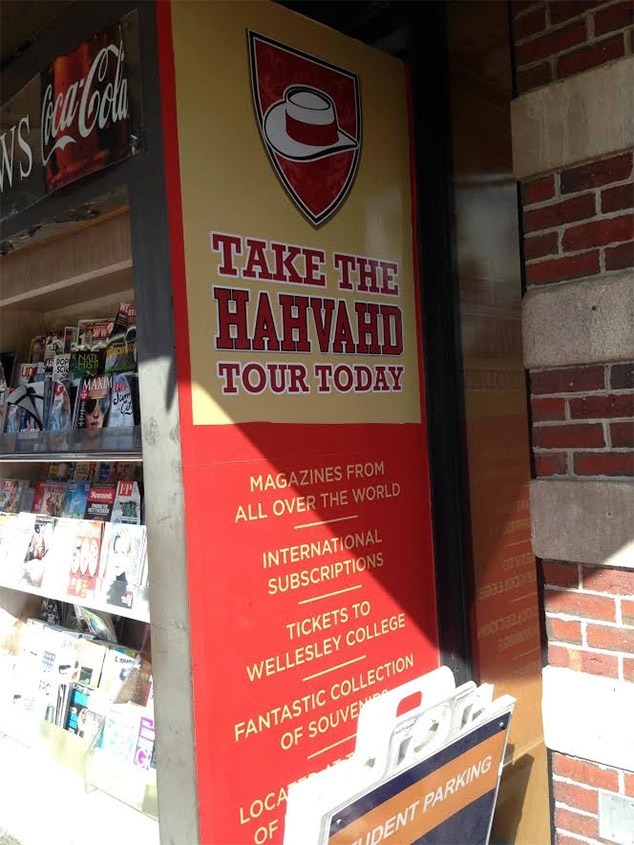 So, I am very happy with how Harvard, or Trademark Tours, handled this situation. Again, it appears to be another issue of hiring a 3rd-party design company that steals other people's images to present as their own.
The silly thing is, the designers appear to do a decent job of modifying the image by adding a hat and whatnot – so why don't they just do the whole design instead of taking shortcuts? It's not like they aren't capable…
Perhaps I just answered my own question though – shortcuts.
Anyhow, there you have it: 3 examples of blatant commercial stealing of my mascot logo. There are a lot more examples I could share, but these are the most notable ones (that I know about!).
26 Responses to "I'm the Face of Harvard, Indonesian Cuisine, and Indian Snacks"