February 1, 2008
Posted by Tyler Cruz
A couple weeks ago, I commissioned for a new mascot/cartoon pose to be made from Sergio at SOSFactory.com. Here it is (the pole, background, and floor design are just for show and aren't actually part of the mascot):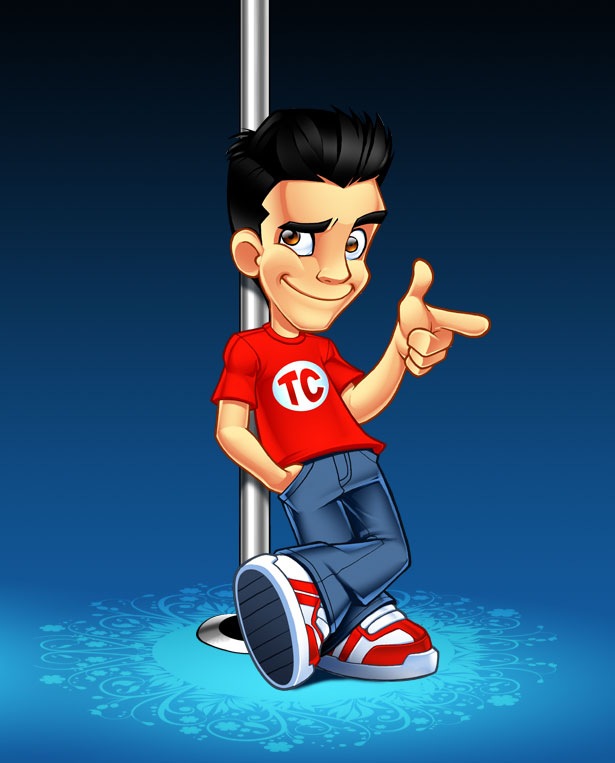 What do you think? There isn't a whole lot to comment on, I know, since it's just a new pose.
So why did I pay $300 to speed up evolution and walk erect? Well, first off, my new pose won't be replacing my current one. I purchased it simply to have another pose in my arsenal. Limiting myself to one pose is good for a while, but can get stale. By having other poses, it helps secure and identify my visual brand and image better; I'm no longer just a guy sitting with some poker chips and a laptop.
You'll notice that I kept my "gun-finger" gesture. This helps to immediately associate my mascot with Tyler Cruz, not having people mistake it for just a similar-looking cartoon.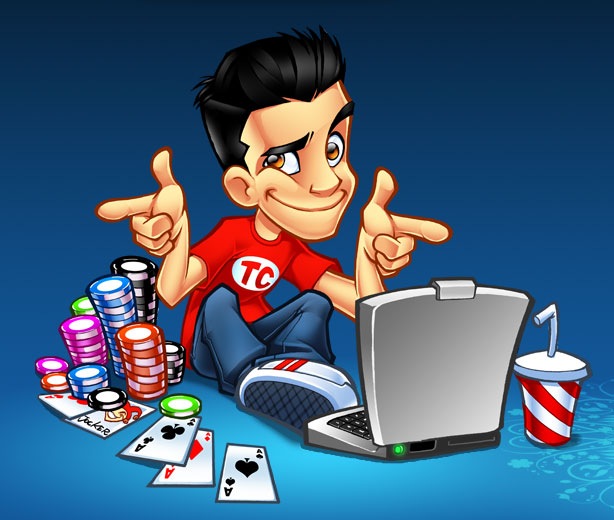 There's one very important change, however, in both my poses. Did you notice it?
My shirt is no longer just plain red, but now has a "TC" logo on it. This was a very important request I had made, as I needed something to brand it even better, leaving no mistake that it is me, Tyler Cruz.
When I was getting my first cartoon done, we played with the idea of putting "TylerCruz.com" on the back of the laptop. This would have worked great, but then I would have been committed to always using the laptop. By slapping my initials on my shirt, I can be in any pose, and away from my laptop.
Ideally, I'd have "TylerCruz.com" on the shirt, but that was impractical due to design ratios – It would have been very difficult to make out due to the size of my shirt compared to the rest of the image. The "TC" is the next best thing though.
I also wanted the "TC" addition to the logo to help prevent others from using my image. While others could still easily copy the image and use it as an image of a guy at a laptop, at least it's now a bit more linked and tied to my blog than before; somebody may have seen it before but forgot exactly where, and the "TC" might help remind them.
New Pose, New Opportunities
Getting back to my new pose… here's another major reason why I decided to get it: versatility.
Remember when I purchased 10 banners earlier this month? I was only able to give the designer one pose to work with, and so all the banners have the same "version" of me: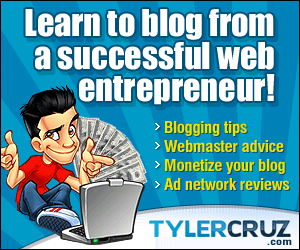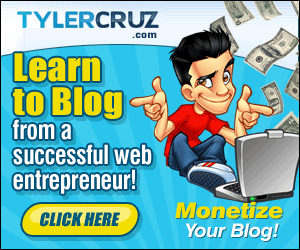 My new standing logo would looks great in all of those banners – much better than sitting – and since I have the PSD's of all the banners, I'll be able to make new variations of each of the banners… essentially giving me 10 new banners.
I can also use the new pose for other things. For example, I'll probably be using it in a future promotional/endorsement post, where I'll have it positioned so that I'm pointing to a company logo or website.