April 3, 2006
Posted by Tyler Cruz
After much delay and several months, the Inspirational Flash Video meant to target webmasters and web entrepreneurs is finally here.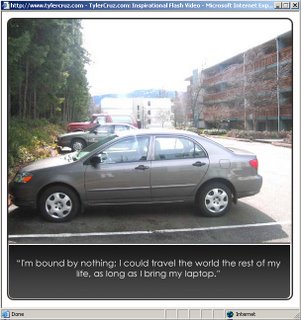 I had it commissioned to try to give a little something back to the community since things are going well for me at the moment.
Please note that this is meant as inspiration and motivation. It was not intended as a narcissistic piece or for self-promotion, so please keep any negative comments to yourself 🙂
The link to the video is now located at the right hand side of the site. Enjoy!
Update: The video is now linked from the bottom of my about page.
Posted: April 3rd, 2006 under Videos