August 17, 2008
Posted by Tyler Cruz
I actually hit my goal of 1,700 RSS subscribers back on July 30th, but hadn't had the time to create the post until now.
Back in March, I hit 1,400 RSS subscribers and set my new goal to reach 1,700. I had predicted I would reach it by July… and man, I'm so good at predictions, because I hit the 1,714 mark on July 30th.
As is tradition whenever I reach one of my new RSS goals, Lisa and I bake something to commemorate the event. However, I had decided long ago that I wanted to buy a cake for my 1,700 goal.
It was an Oreo ice-cream cake from Dairy Queen, and man was it ever good!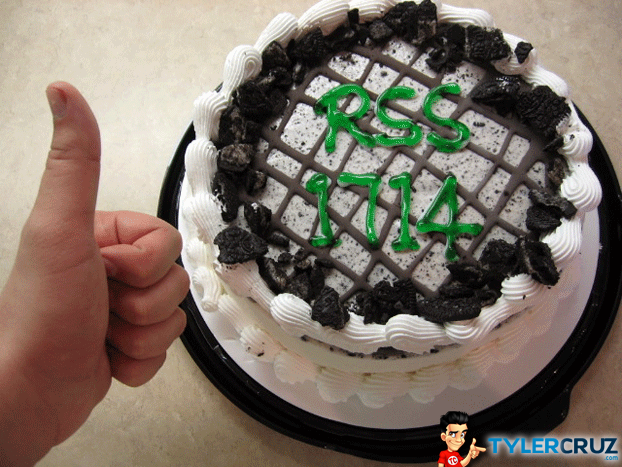 You may notice right now that my current RSS is at 1646. I've actually been averaging around the 1680 mark for several weeks now, but I did get back to 1700 a few times.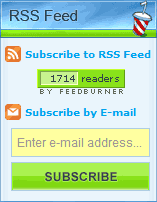 Below is a graph of my Feedburner count since I first added it to my blog:

The dips in the graph are from days when Feedburner hiccupped. It usually happens when it cannot read Google Reader.
While I'm happy to have met my goal of 1,700 RSS subscribers, it's a bitter-sweet moment. The fact is that my RSS growth's rate of incline has greatly diminished. You'll notice from late April that it almost looks like a plateau. It has been increasing, but very slowly. It took me 4 months to gain 300 RSS readers, which works out to an average of 2.5 new readers/subscribers per day – which is certainly nothing to brag about.
I can't help but wonder if my infamous server crash which resulted in all my sites being down for 2 weeks contributed to the slow growth – as this occurred exactly when you start to see a slow rate of growth, in early-mid April.
Nevertheless, RSS isn't everything, and my blog income is starting to skyrocket, so I'll look at things positively 🙂
My new goal is to hit 2,000 RSS subscribers. My prediction is that I'll make this goal sometime right before 2009, in late December, or else possibly in January.
Instead of a food item, I'll be purchasing a new bed, since my current low futon bed's mattress is starting to lose shape. Bed's are expensive though, so I don't mind waiting for the 2,000 milestone – I saw earlier this week some beds that cost as much as $8,000!
Anyhow, wish me luck – and if you want to help me hit this milestone sooner, please subscribe to my newsletter which you can find at the right side of my blog, right below the RSS feed area.
By signing up, you'll get sent an e-mail around twice each month with a snippet of my latest 10 blog posts. I also plan on using the newsletter to keep subscribers informed about upcoming contests and other news. It's a good way to get alerted when I launch a new contest.