December 26, 2011
Posted by Tyler Cruz
I hope everyone had a good Christmas, and there's still the New Year celebrations to look forward to!
Every year at Christmas, I receive gifts and cards from some of the various advertising and affiliate networks that I do business with. It's always nice to receive something, and it's well worth any cost and/or effort on their end as it does remind the receiver that the company acknowledges you.
I've said this many times before, but receiving something physical, no matter how small, is a hundred times more meaningful and effective in this era of electronic mail and social networking.
For example, take this very blog post. I am going to be mentioning and linking to the 3 networks that sent me something for Christmas this year. How much does a card cost to buy, send out, and mail? $2-$3? Oftentimes, sending a simple gift can be far more effective than purchasing advertising.
Anyhow, below is my little collection from the networks for this Christmas: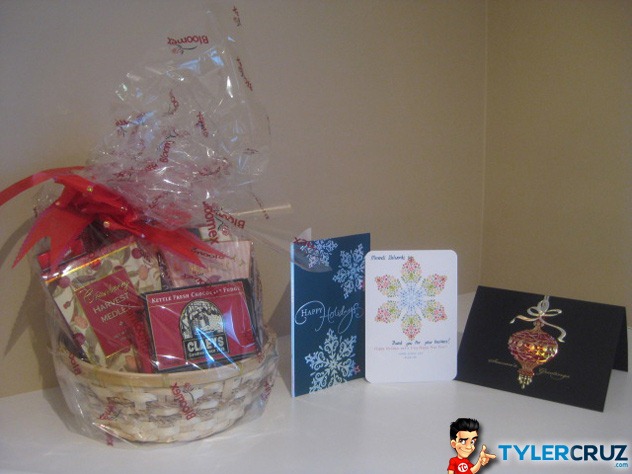 From left to right:
AmpedMedia
AmpedMedia, a network which you guys should all know by now, sent me the nice gift basket. I guess they know I like to eat

If you haven't seen it yet, check out my post I published some weeks back from when I met up with AmpedMedia in Florida. They never fail to impress me with their level of generosity. They definitely like to take care of their publishers.
If you're looking for e-mail and zip submit offers, Amped has a ton of them.
BlamAds
BlamAds sent me the two cards in the middle. It was a bit strange the white one, only to receive another blue card from them a week later – but I think it's because the network sent out the white one and then the blue one was from my account manager Jessel separately later on.
I haven't really talked about BlamAds on my blog before, mainly because I haven't really done anything with them yet.
BlamAds is a really interesting network though because they specialize in content-locking ads. Basically, these are ads that will lock out content you specify until the visitor does a particular action, usually completing an e-mail or zip submit.
I haven't had the time to implement it yet, but I was thinking of adding these ads to the Name That Flick game on Movie-Vault.com, so that users could optionally get a hint each time they filled out an offer.
BlamAds also has a lot of incentive offers to choose from.
CasaleMedia
CasaleMedia is a CPM ad network in which you simply slap up their banners on your site and get paid based on the amount of your traffic (and niche of course).
They work similar to AdSense only they pay via CPM rather than CPC.
I've been using them for years, mainly on Movie-Vault.com. In fact, I received my first payment from them in June of 2006, so this is certainly a network that isn't going to disappear anytime soon.
They offer a 70% payout and are awesome if you have a site with a lot of traffic that doesn't really convert well to affiliate offers, and you want to simply get paid based on your traffic levels. Their pop-under rates are especially rewarding for this.
Thanks!
Thanks everyone, and once again I hope you all had a great Christmas and an equally good upcoming New Years.