August 10, 2010
Posted by Tyler Cruz
Last night, Movie-Vault.com's resident video reporter Claire Bueno caught up with Sylvester Stallone, Dolph Lundgren, and Jason Statham at The Expendables premiere.
This marks Movie Vault's 4th video footage at a premiere. Next week, we will be interviewing Angelina Jolie (and possibly Brad Pitt) at the Salt premiere in the UK.
You can watch our video from The Expendables premiere below (you may need to visit TylerCruz.com via your web browser if you're reading via e-mail or an RSS reader):
New Features and Improvements
I've been continuing to work on Movie-Vault.com ever since I launched the massive revamp of the site 9 months ago. I don't want it to fall into disrepair or neglect like before and so am constantly adding new features, making improvements on existing areas of the site, and continuing to add great content to the site.
I recently had a number of changes made, improving some of the administrative and staff functions as well as adding and implementing a lot of social media into the site. I created a Facebook page and had Interberry add "Like" buttons on our news and reviews, added a "Get News by E-mail" feature, and even had Interberry convert our news to an RSS format so that I could set up a Feedburner account and offer RSS for our news.
Please feel free to join Movie-Vault.com's various social media outlets, or at least "Like" our Facebook page: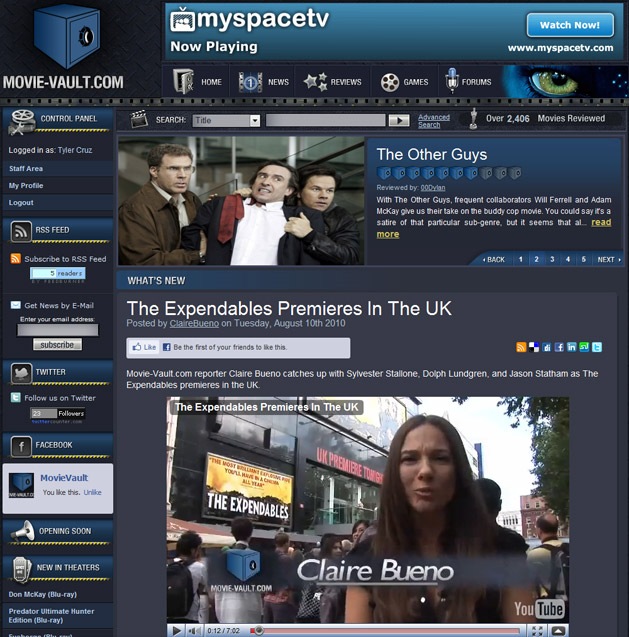 My next plan for Movie-Vault.com is to start sending out regular newsletters to our members who did not opt-out of receiving them, which is 1,800 and growing. The newsletters will probably go out twice a month and will contain a summary of what's new on the site as well as a small advertisement plugging a recently released movie or TV season on DVD/Blu-Ray from Amazon.
In addition, I plan to also start sending out mailings to the double opt-in "partners" newsletter, which is a small list at only 100, but is growing and the users specifically requested to receive movie-related offers, so the conversion rate should be fairly high.
I am also investing a lot into SEO for the site. So far the results have been relatively decent, but I saw a small setback during this past week, so we'll have to wait and see how things progress over the next month.
The next major thing I would like to do for the site is to acquire the non-dashed domain name, but I'm having trouble finding any contact information for the current owners since it's a private WHOIS registration and the company's main website has been down for a few months as well…
So, what do you think about Movie-Vault.com? Do you have any ideas or suggestions on how I could improve the site or grow traffic to it?