May 12, 2013
Posted by Tyler Cruz
This is my 1,000th blog post (proof).
I first started blogging over 7 years ago, having made my very first post on October 21st, 2005.
I was 22 years old when I started it, and in a few months I will be 30 (which depresses me greatly). That means that I've been blogging for a quarter of my lifetime! Insane.
How It All Began
In interviews, one of the questions I almost always get asked is why I started blogging. Here's the answer:
I was 22, living in my room in my parent's basement and my websites at the time were just starting to make enough to where I could move out on my own and make a living purely from my websites.
This was May 2005, and while it may not seem like very long ago, making a living online at that time was actually pretty rare. At least, it wasn't anywhere close to how widespread and rampant it is today.
At that time, I was an active and frequent user of a webmaster forum called Sitepoint Forums (the same company which later made Flippa). I was mainly active in their "Revenue" sub-forums, preferring to talk about how to monetize websites and grow income.
As I was about to move out from my parent's place, I created a thread on the forums which documented my adventure of moving out onto my own. The thread became extremely popular and eventually I had a lot of people suggesting and requesting that I make a blog dedicated to my adventures online instead of limiting myself to the thread, and that is when my blog was born.
For those interested, you can read that original Sitepoint thread from 8 years ago.
I also did a follow-up thread 5 months later, which was even more popular.
In The Beginning
Originally, my blog was actually hosted on Blogger for about half a year or so. I then "invested" into getting my own TylerCruz.com domain for it in late December 2005.
My blog was also completely pink for it's first year. Here's what it looked like, courtesy to web.archive.org.
People always made fun of the colour, but I still stand behind my conscious decision for it. It was different, a bit funny and odd, and it stood out.
When I moved to WordPress, I used a free template and just modified the main header image. Here's what it looked like.
By 2007, I was still using the same layout, but my blog was looking a lot better overall, with less whitespace, a thinner header image, and more information.
In October 2008, I had a major blog design upgrade to the design that stands today. I actually got it for free. Here's a very thorough post all about it.
This is one of the early draft ideas: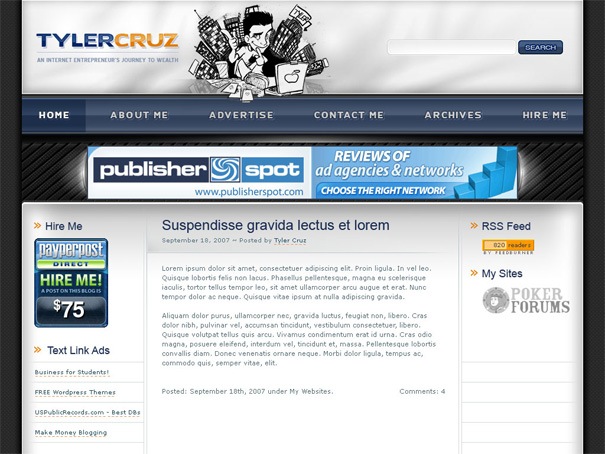 Content Changes
When I first started blogging, my posts were incredibly horrible.
I was brand new to blogging, and took an extremely casual approach to it. Basically, my posts were glorified tweets. I didn't really know what I was doing.
A lot of them were also very immature and self-congratulatory. I was 22 though, so I guess that can be expected.
Here are a few examples of some of my very early, horrible, blog posts. Warning: you will cringe.
Basically, my first 3 months are full of incredibly horrible posts.
You can view all 1,000 of my past blog posts here.
After the first 3 months though, they quickly started to improve. My posts were more of a journal at that time though. Basically, the majority of them were giving updates on what I was working on at the time.
As time went on, my posts included a lot more share/teach/review type posts. For a while, I went too far in that direction, being a bit too didactic in my writing, and doing too many promotional type posts and far too many paid reviews.
Currently, my blog is focused primarily on affiliate marketing, and I try to spread the posts evenly between giving updates on my own affiliate marketing efforts, and teaching what little I do know about it that I can, as well as reviewing and sharing related tools and services.
Blog Income (Banners Only)
I cannot give any sort of close report on my blog's income over the years, as it's pretty much impossible to track all of the affiliate and referral earnings that came from and as a result of it.
So, I'll just share with you guys my private ad sales (banners) instead.
2006: $600
2007: $3,380
2008: $17,877.32
2009: $16,795.61
2010: $16,119.08
2011: $14,421.45
2012: $18,292.98
Total: $87,486.44
Again, this is only my private ad sales income from my blog. It doesn't include any referral or affiliate income from it.
Stats
At the time of this writing, here are some interesting blog stats for you:
1,000 posts
21,048 legitimate comments
1,918,762 spam comments protected by Akisment
1,902 images (in blog posts)
34,340 WordPress users (probably primarily spambots)
46 contributors (Past guest bloggers, etc.)
93 different affiliate links auto-linked
40 polls
Metrics
PageRank: 3 (Not that PR means anything!)
Alexa: 49,053
RSS Readership: 2,874
Twitter Followers: 59,598
Monthly Absolute Unique Visitors: 4,803 (Last 30 days)
Monthly Unique Pageviews: 13,311 (Last 30 days)

My blog has never had very much traffic, but the traffic it does get is of extremely high quality.
The Future
It's a bit overwhelming to know that I've been working on my blog for 7.5 years. That's a long time. 25% of my life.
The scary thing is, I don't see myself stopping anytime soon. Perhaps never.
I could very well be linking back and referencing this very post and these very words when I'm 40… or 50. Hello future Tyler…
If I do continue to blog, it will be very interesting to see where I'm at in another 1,000 posts from now. I should be around 40 at that time. Ah… depressing! Life is too short!
Thanks for reading my 1,000th blog post – I'll be back with another post soon!
25 Responses to "My 1,000th Post: 7.5 Years of TylerCruz.com"