August 11, 2009
Posted by Tyler Cruz
A couple days ago I blogged about how both YSM and AdWords were keeping my 2nd campaign in limbo, neither approving or disapproving it.
Earlier today both networks notified me that the campaign had been deactivated, with AdWords giving me a decently descriptive reason. I dug into their Ad Guidelines and Policies to look further and I think I know why they disapproved it now. It's a pretty strict stance though and my offer is really nothing shady, but I can semi-understand their rationale for deactivating it, not wanting any possible lawsuits.
Even though the campaign was denied by both networks, at least I have closure on it now and know that it was disapproved. The worst part was just waiting and not knowing. Now I can just suck up the 10-12 hours I spent making the site and focus on new offers.
And in fact, that's just what I did last night. I dug around MarketLeverage and Copeac for some new offers to run and after a lot of searching, came up with 6 I'm willing to try, 3-4 of which I'm very eager and excited about. Later today I will go domain hunting and then start getting the hosting set up for them, and will then start working on the sites.
Campaign #1 is Really Picking Up
My first campaign, which I've been running on YSM for 2 weeks now and just added to AdWords a couple of days ago, is really starting to pick up.
Yesterday was a fantastic day netting a total of $154.14 with a 122.47% ROI!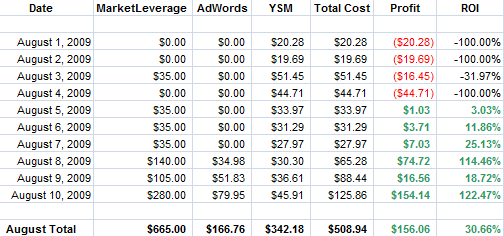 The amazing thing is that I have not optimized this campaign. It really has just sat with the original keywords I added to it.
I'm really proud of my landing sites. It's too bad I never got to launch my 2nd campaign as I made a kick-ass landing page for it too and I'm sure it would have done well also.
The conversion rate from the offer's landing page yesterday was 30% which is amazing! Especially considering how stupid the product is, lol:

Right now I'm getting a 7% conversion rate on each click I buy from YSM and AdWords. That means that for every 100 clicks I can expect 7 conversions, or $245, thus making my EPC an insanely high $2.45.
If I average a $1 CPC, that would equate to a $100 cost with a $145 profit. Since my EPC is so high, it means that I can increase my bid to try to scale the campaign. Even though my ROI would naturally shrink, the end result should be a higher net with a narrower margin.
Now, of course this is still all theory and talk. Yesterday was a great day, but who knows if my campaign will continue that good. After all, I didn't touch the campaign so it really shouldn't be improving like this.
On another note, I'm currently around 7th position. I wonder how much more traffic I can gain if I raise my bids and climb to 4th spot or so. Hmmm…
I'll keep you guys posted on how things go.
55 Responses to "My Campaign is Starting to Pick Up"