December 14, 2009
Posted by Tyler Cruz
While I'd love to be able to buy each and every one of you a Christmas gift, there are just too many of you to make that feasible. Instead, I thought I'd share with you something much more valuable than anything you could buy at a store: the development company I use.
I highly value any development or freelance source I use because as many of you probably know already know, it can be extremely rare to find a company that can deliver what you want and need affordably and with good service. One of these rarities is Interberry.
Even though I already revealed that I used Interberry for my development work close to a year ago (February 12th in the post: The Programmers Behind PublisherChallenge), some of you may have never seen the post or have simply forgotten about it.
The Proof is in the Pudding
I never endorse anything that I haven't personally used or at least tried before, and this is no exception.
I have been working with Interberry for a full year now and have got them to do two very large projects for me. So far, I've commissioned roughly $10,000 worth of work from them (I think it's actually more), so you can be sure that I personally like and use these guys.
The first project I had them do was PublisherChallenge.com, which most of you are already familiar with. PublisherChallenge is only about 1-year-old, but has already generated over $60,000 in net profits, with its members generating over 1.2 million dollars.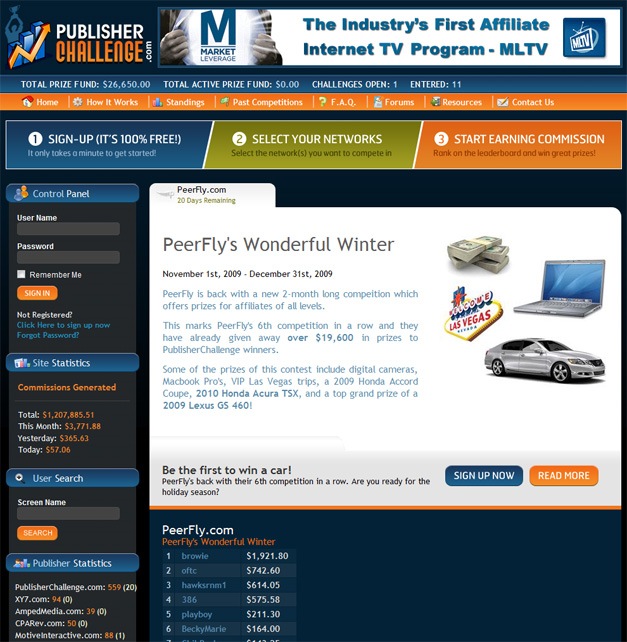 More recently, I had Interberry do a complete reprogramming of my very old Movie-Vault.com site. This was a massive revamp project as the site is 9-years-old, and the code and database was extremely sloppy with many patches over patches.
They managed to do a great job and within a very affordable budget. Due to the size and scope of the project, there were a number of bugs that arose, but they fixed any that I notified them of until they were fixed I was completely satisfied.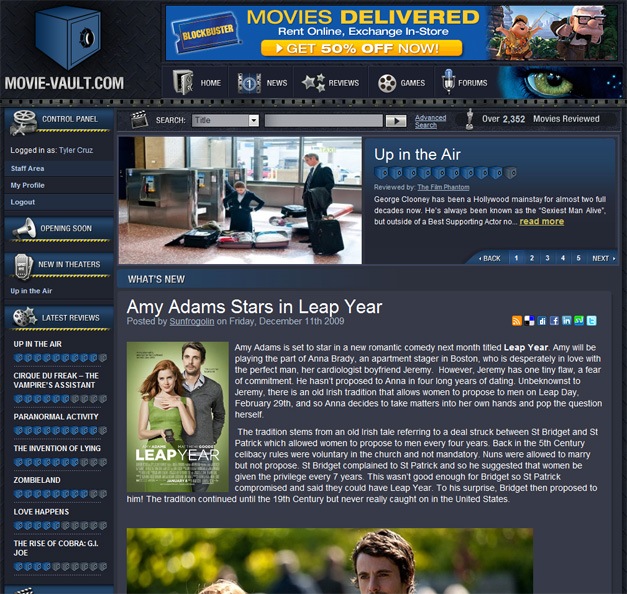 Now that the new Movie-Vault.com is finished, I plan on getting Interberry to add a few more features and improvements to the site.
I also plan on having them program a custom affiliate marketing script that will integrate into WordPress and let me easily run split-testing of different landing pages and work with tracking tools such as Tracking202 Pro.
I'm pretty sure that I could this done for quite cheap, and the payoff could be immense.
The Team
One of the cool things with Interberry is if you have a larger project, they can assign you a dedicated team. The larger the project, the larger the team. This is a team working full-time on your project.
This is great for a number of reasons, but probably the most important being efficiency. Having a team work solely on your project lets them focus. They don't have to be constantly shifting gears between different projects and clients.
Interberry has a staff of roughly 30 programmers, developers, designers, and managers, 6 of which were assigned as my team for PublisherChallenge, and 5 for Movie-Vault.
Below is the team that worked on Movie-Vault.com. Standing from left to right and their roles are:
Nidhin M.D – Quality Assurance (Man, he should be chief of security!)
Nithin Scaria – Senior Designer (Good PSD to XHTML converter)
Soumya Cleatus – Developer (A fast and smart programmer)
Rajeev C – Project Manager (Dealt with all my thousands of requests)
Jijomon T – Operations Manager (Best dresser)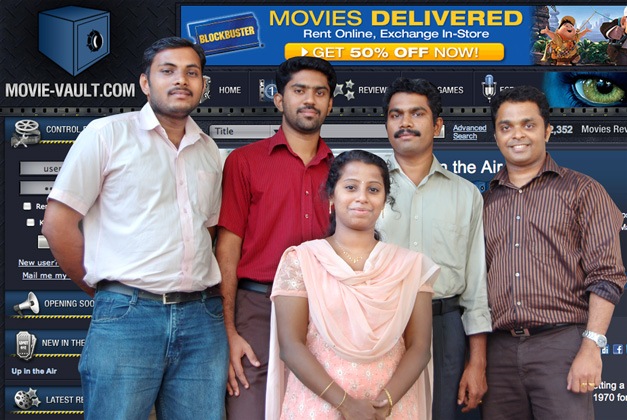 Here is the PublisherChallenge team. Standing left to right are: Jijo, Binoi, Subin, Nithin and Rajeev. Sitting left to right are: Soumya and Anoop (and Rajeev in the second photo).
Their positions are:
Binoi (Owner; Chief Executive)
Jijomon (Operation Manager)
Anoop Kumar (Developer involved in the initial stage of the project)
Nithin Scaria (GUI Designer)
Subin Jose (Lead Developer)
Rajeev C (Project Manager)
Soumya Cleatus (Developer)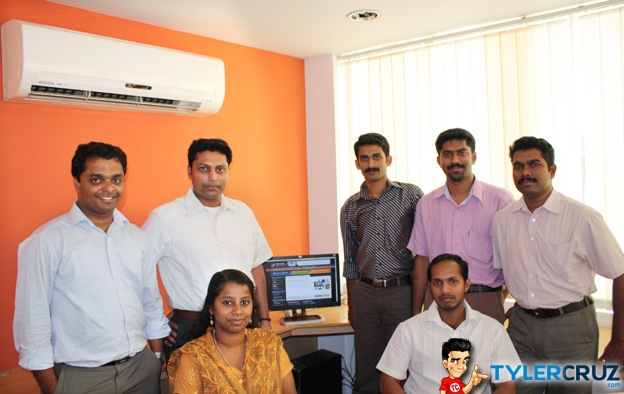 I asked them all to do a funny photo or do peace signs but they came up with something even better: my signature pointing pose!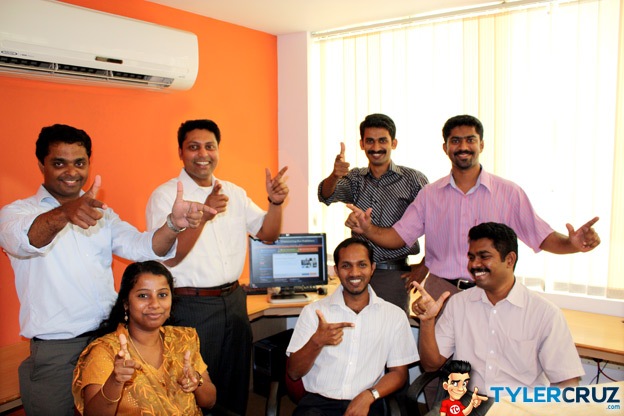 Why I Like Interberry
No Complaining
I've worked with Interberry on two very large projects, and being a perfectionist and having a lot of experience with developing websites and outsourcing, I can be very demanding.
Interberry impresses me in that rarely do they ever complain or hesitate to do anything I request. That's saying a lot because I often send them around 7-10 e-mails a week with lists of new things to add or other requests and they wouldn't complain at all, they'd just get it done.
This lack of bickering saves a lot of stress and hassle. If what I request is fairly large, then they'll of course quote me for additional cost, but more often than not they'll just implement it for me free of charge, especially if its within the original scope of the project.
Fast Turnaround Time
Another thing about Interberry is their fast turnaround time. Even though they were a bit late on both of my projects (hey, I'm being honest here), I've yet to get any large development work done on schedule before, and they were still done in a reasonable time despite change requests, added features, etc.
In fact, since I've been working with them for quite a while now, we have a pretty good system in place in which I can e-mail them 7-8 small-medium programming changes or additions at night, and by the time I wake up they're all complete!
On my first project, when we were starting to fall behind schedule they agreed to put extra people on the team and even agreed to work on Saturdays in order to try to hit my deadline.
One day in particular, a website changed their coding which completely messed up my site. Since it was deemed as an 'emergency', the owner of Interberry immediately called the lead programmer. It was the weekend and his day off, and he was actually just about to go out to dinner with his wife, but instead went straight to the nearest web café (as work was about an hour's drive away) to tend to the issue. His wife was not very happy, but I was 😉
Responsiveness & Availability
While available via phone, I mainly communicate with Interberry through Skype chat and e-mail. They're available on Skype during their working hours for any quick changes or fixes I may need, and for anything really important I can contact the owner's cell at any time. They also now have a toll-free 1-800 number.
Cost
When I first hired Interberry on Elance, I almost didn't award the project to them because their proposed bid seemed suspiciously low, and I know you usually get what you pay for. However, they had a perfect past project history rating and I read all of their past transaction feedbacks which were largely positive and couldn't dismiss those facts.
Their quote on my second project was equally low, although I suspect they gave me an even better deal since I was then a returning customer.
Programming Quality
Overall, I'm pretty satisfied with the level of quality of programming from Interberry.
Simply visit Movie-Vault.com and PublisherChallenge.com to see the level of programming they provide, as those sites should speak for themselves.
The only thing negative I can say about them is that they can often miss the small things, such as design issues. The good news is that they'll definitely fix anything you request, all you need to do is bring it to their attention.
For those wondering, Interberry didn't design either Movie-Vault or PublisherChallenge – I hired different freelancers for them. Outsourced oversees programmers and development companies are rarely ever good at graphic design, so I'd recommend hiring somebody else to do the design, and then have Interberry do the programming.
All you need is the source PSD as Interberry has a good guy who can convert your PSD to clean XHTML/CSS/AJAX (that's what I did with Movie-Vault).
Getting back to programming, one nice thing about Interberry is that they won't complain and say they can't do something or that it's too hard, etc. They'll find a way to do it, and if it's not possible then they'll provide you with a list of alternative options that you can choose from.
Need Programming Done? Try Interberry
I'm sure many of you have hired numerous programmers in the past that left you unsatisfied, I know I have. If you like the programming of PublisherChallenge and Movie-Vault, then you'll be happy with Interberry.
They prefer to work on larger projects ($3k+) and really enjoy working on big projects ($7k+). They have the staff, so be sure to take advantage of them.
They excel in web programming and developing CMS (content management system), and are therefore great for most website ideas you have.
You can find them of course at Interberry.com in which you can request a quote, phone them  toll-free at +1-888-367-1110 (during 9:30am to 6:30pm Indian Standard Time), or if you're like me then you'll want to talk to them via Skype chat. Add cheb.iberry to your Skype contacts for that.
I really don't like revealing my sources when it comes to designers and programmers so please let them know that Tyler sent you so that I can get some discounted work done in the future 🙂
Let me know how your project with them goes!