February 12, 2009
Posted by Tyler Cruz
After the successful launch of PublisherChallenge close to a week ago, a number of people have asked me who did the programming for PublisherChallenge.com and where I found them.
I ended up going with a company called Interberry.com after finding them on the well known outsourcing website Elance.com. I've used Elance and other outsourcing websites (such as ODesk.com and Guru.com) for many years now and therefore have a lot of experience with outsourcing.
You need to be careful when outsourcing work as every provider will always promise the world, but few actually deliver on their promises. Fortunately, Interberry has managed to satisfy my expectations… which is saying a lot as I am a perfectionist and can be very demanding.
Most outsourcing companies reside in the countries India, China, Russia, and Romania, but if you want, you can find programmers from the west in countries like the US or UK. You can also find plenty of HR outsourcing companies for small business on the internet. The main difference is of course price. One US dollar can go a lot farther in poorer countries like Russia and Romania due to the cost of living. The truth though is that there are a lot of good programmers out there in countries like India that can provide high quality work.
Why I Like Interberry
No Complaints
As stated above, being a perfectionist and having a lot of experience with developing websites and outsourcing, I can be very demanding. Interberry impressed me in that not once did they complain or hesitate to do anything I requested. That's saying a lot because I'd often send 2-3 e-mails per day with lists of new things to add or other changes and they wouldn't complain at all, they'd just get it done.
Fast Turnaround Time
Another thing about Interberry is their fast turnaround time. While there are a lot of good programmers out there, if you can't get what you need in a timely manner then what good are they, really? Especially when you have a deadline and need to get something live, being able to work with a company that you know can deliver with expediency is very helpful.
While we weren't able to hit my launch date of Feb 1st, we came close and it's not really their fault since I kept adding on more tasks and modifications.
What they did do, however, was put extra people on the team and even agreed to work on Saturdays in order to try to hit my deadline. Now that we've worked together for close to a month now, we've started to become a well-oiled machine and can now add in brand new features overnight.
Responsiveness & Availability
While available via phone, I mainly communicate with Interberry through Skype chat and e-mail. They're available on Skype during their working hours for any quick changes or fixes I may need, and for anything really important I can contact the owner's cell at any time.
Cost
I almost didn't award the project to Interberry on Elance because their proposed bid seemed suspiciously low, and I know you usually get what you pay for. However, they had a perfect past project history rating and I read all of the past transaction feedbacks and couldn't dismiss those facts.
They gave me what I wanted for the price they bid. While I've paid more since then, it's only because I've added on additional features and improvements beyond the original project's scope.
Miraculously, they offered to be paid 100% once the project finished… they didn't even push to have me fund the escrow! I've never seen any company do this before, and I'm kind of surprised they did it to be honest. My assumption is since I had a history as a client on Elance they felt they could trust me. So, don't expect to work under the same circumstances if you decide to hire them for a project, but I'm sure they'd still offer something great like 25% upfront payment.
Programming Quality
Overall, I'm pretty satisfied with the level of quality of programming from Interberry. The site's programming should speak for itself at PublisherChallenge.com. The only thing negative I can say about them is that they can often miss small things, usually design issues. Then again, most programmers are like this, and they'll fix anything I request.
For those wondering, Interberry didn't design the site – I hired a freelancer for that and had it coded to HTML/CSS by another freelancer. I almost never outsource design work overseas as that's one element that I believe the West is much better at (part of it is cultural differences).
One nice thing about Interberry is that they won't complain and say they can't do something or that it's too hard, etc. They'll find a way to do it, and if it's not possible then they'll provide you with a list of alternative options you can choose from.
My Team at Interberry
Interberry has a staff of 25 programmers, developers, designers, and managers, 6 of which were assigned as my team for PublisherChallenge. Currently, since the majority of the site is done, Subin and Soumya are my main programmers for any residual work, but if I ever need anything done quickly or for any large projects in the future I'll probably have my whole team (or more!) working again.
I asked them to pose for this blog post, which they were glad to do. Standing left to right are: Jijo, Binoi, Subin, Nithin and Rajeev. Sitting left to right are: Soumya and Anoop (and Rajeev in the second photo).
Their positions are:
1. Binoi (Owner; Chief Executive)
2. Jijomon (Operation Manager)
3. Anoop Kumar (Developer involved in the initial stage of the project)
4. Nithin Scaria ( GUI Designer)
5. Subin Jose ( Lead Developer)
6. Rajeev C (Project Manager)
7. Soumya Cleatus (Developer)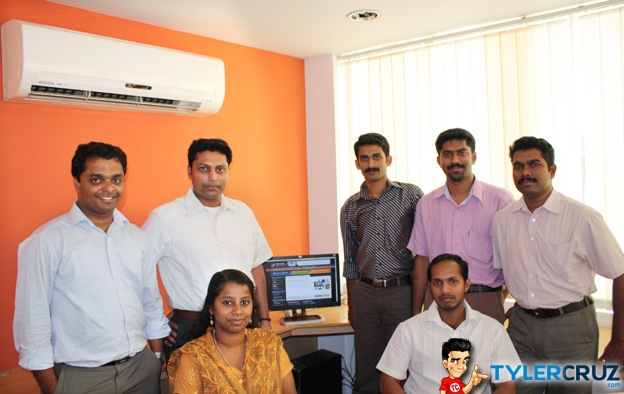 I asked them all to do a funny photo or do peace signs but they came up with something even better: my signature pointing pose!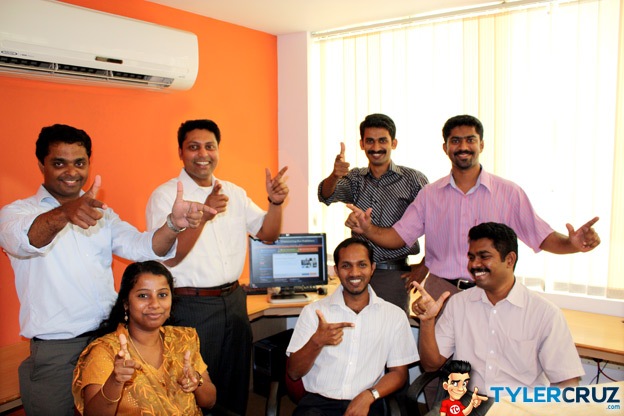 Who do you think did the best one? I'd have to go with Soumya since it most resembles mine, although Nithin would take second place I think.
Since they did such a good job I treated them all out to lunch last week, thanks to Binoi for taking care of that for me.
Need Programming Done? Try Interberry
While the main core of PublisherChallenge is done, I already have them adding new features and improvements, and am already considering hiring them to do work on some of my other sites as well.
I don't know about you but with a few dozen sites in my network, I always have some sort of programming work that could be done on a website. I've posted before how The Programmer is the Rarest Commodity, so if you need programming work I have a good source for you.
You can find them of course at Interberry.com, e-mail them at quote@interberry.com, phone them at +1-646-217-4788 (during 9:30 am to 6:30 pm Indian Standard Time), or if you're like me you'll want to talk to them via Skype chat. Add cheb.iberry to your Skype contacts for that.
I don't like revealing my sources when it comes to designers and programmers so consider this a gift 🙂