November 13, 2008
Posted by Tyler Cruz
The title of this post may be misleading, for this isn't an interview I conducted with Kris Jones but rather an interview he conducted with me. Kris is President & CEO of Pepperjam, a full-service Internet marketing agency recognized by Inc. Magazine as one of the fastest growing companies in the United States. He was also one of the lucky winners of my Cash Giveaway from last month.
In late September, Kris interviewed me for a running series on the pepperjamNETWORK blog called Meet the Affiliates. Other interviewees of the interview series include Paul Bourque, Darren Rowse, John Chow, and Zac Johnson.
As an added perk, Kris added all of the interviews within the actual pepperjamNETWORK Resource Center, as seen in the screenshot below.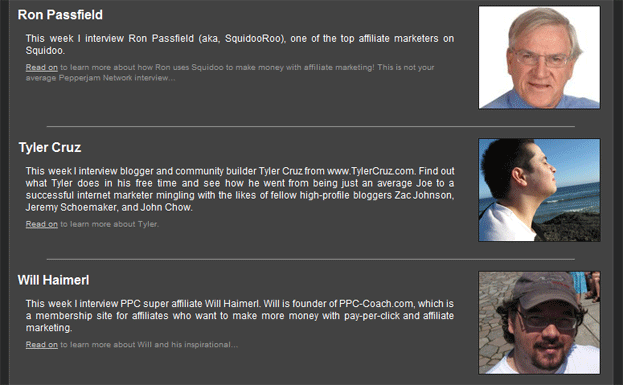 Here is an excerpt of the interview. To read the full interview, check it out on the pepperjamNETWORK blog here.
KRIS: Tell us the story of how you first became a successful blogger, Web site / community builder, and Internet marketer…
TYLER: I first started off by creating websites on interests and subjects that interested me. I never had intentions of monetizing them, or even knew it was possible to make good money from them. It was only once I decided to try throwing up some CPM/CPC ads for the first time around 7 years ago that I realized what was possible.
A little over 3 years ago, I was still living at home in my parent's basement and was only making around $1,500 a month from my websites at the time. I didn't have a real job, so the $1,500/month was my entire income. I decided to take a big risk and move out on my own for the first time, trying to live entirely off my online endeavours.
What resulted was fairly amazing. My income skyrocketed the moment I moved out. In fact, the very same month I moved out I sold a site I built for $400, for $10,000. It was the pressure of actually needing to succeed in order to survive that made the difference.
I first created my blog in the fall of 2005 at about the same time of moving on my own, after a popular thread I created about my journey of moving out and trying to make a living from my websites on a large webmaster forum I frequented at the time sparked numerous requests for me to create a blog. The rest is history.
KRIS: Who is a better athlete – Tiger Woods or Michael Phelps – and why?
TYLER: Since you used the word "athlete", I'd have to say Michael Phelps, only because I think he is more athletic than Tiger. That is, I think he could beat him in a foot race, boxing match, etc. He's younger, stronger, and faster.
But if you asked me who was more talented then I'd definitely say Tiger. Don't get me wrong, Phelps is obviously an amazing person and hero some might say, but Tiger is just on another level altogether.
KRIS: What are your current top five musical groups (aka, the White Stripes) and three favorite foods?
TYLER: I'm not the biggest music person, and the music I do listen to is very… odd and varied. Right now, for example, I'm listening to one of those nature CD's – you know, ocean waves, tropical rainforest, etc. About a month ago, it was Broadway – in particular Les Miserables by the 1985 London cast. I highly suggest listening to it a few times (make sure you get the 1985 London cast version). I also enjoy Jazz, classic rock, and stuff from the 60's and 70's. I'm definitely not into rap, heavy metal, or pop.
As for food, now we're talking! It's hard to name just three foods, but I'll say Bokumbap (Korean fried rice), Ribs, and Mexican.
KRIS: What are your top strategies for monetizing Web traffic?
TYLER: I never really considered monetizing traffic difficult. To me, the most difficult part is always getting the traffic in the first place. Anyone can monetize traffic, but not everyone can get traffic
But to answer your question, I'm personally a big fan of selling your ads privately. I know that may not be your favourite answer, running Pepperjam and all *smile*, but in my experience it's the most effective way of monetizing your traffic. However, this depends on your site and niche, of course. If you have a strong brand, niche, and authorative site, then selling private ads is almost always a good option.
But for PPC affiliate marketing, private ads are out of the question, and that's when you'd want to use a network like Pepperjam
KRIS: If you could "trade shoes" with anyone for a full month who would it be and why?
TYLER: Another difficult question. Hmm… while I could say something profound or honourable here such as trading shoes with an orphan or homeless person to see just how privileged my life is, the truth is that I'd have to pick somebody who was filthy rich so I could just relax for a month in my mansion and take the private jet here and there.
Plus, that way I could take a few million and give it to the orphan and homeless man I skipped out on
KRIS: Share the best advice you ever received about how to become a successful Internet marketer and community builder?
TYLER: The best advice I could give is really simple and has been said many times, but it's the most truthful as well: Don't give up. If you give up, then you can't succeed. Contrary to what many gurus and self-proclaimed experts say, making money online isn't easy. It can be easy, but usually requires a lot of work at some point.
Don't let a few failures get you down. Everybody fails, and anyone who tells you otherwise is lying. If there is any secret to success, perseverance is probably it.
This was an excerpt of the original interview. To read the full interview, check it out on the pepperjamNETWORK blog here.