January 18, 2009
Posted by Tyler Cruz
In my never-ending quest to improve my condo, namely my bedroom, I headed out to BestBuy a few days ago and bought a carloads of stuff. Too bad the salesmen there don't work on commission… I sure bet they wish they did when they saw me leave with over half a dozen big boxes!
I had originally planned to reward myself with these TV's when I hit certain milestones (specifically, 2500 RSS for the bedroom TV and $10,000 monthly blog income for the living room TV), but I got tired of waiting. Sure, it's a bad excuse, but it wasn't making me work harder towards achieving those goals. I was simply rewarding myself whenever I reached milestones.
Besides, I had waited long enough to buy new TV's. I'm sure nobody will fault me for getting the new bedroom TV and a single arm tv mount
at least.
Here's a detailed 12-minute video showing what all I purchased. For those who don't have the time (or desire) to watch it, feel feel to skim through the photos below:
This is the photo of the old TV I was using when I made the post back in November showing off my new bed. As you can see, the TV was ancient and even used a cable converter: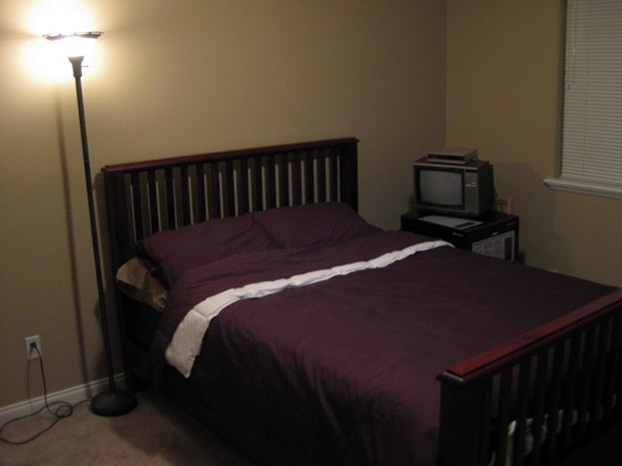 …And this is my new 32-inch LG 1080p LCD TV. As you can see, I'm using my two 24-inch computer monitor boxes to hold up my DVD player and clock. I'll need to find some sort of alternative stand to place them on… maybe an open bookcase of some sort…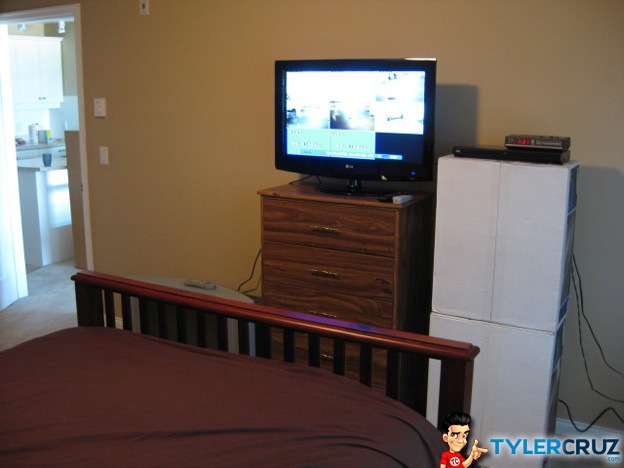 Ahhh…. nice. My bed is extremely comfortable and the TV is perfectly situated in both height and distance. I love it!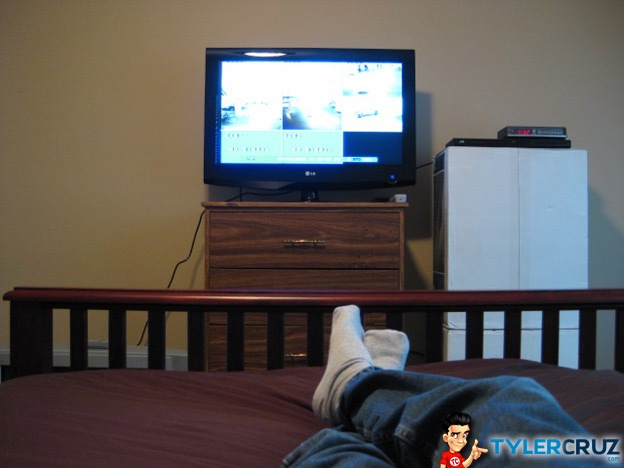 The photo below was taken back in early summer when MarketLeverage sent me a bunch of gear and other stuff as a gift. I included it in here as it's the only photo I could find that shows my living room's old entertainment center and TV.
Believe it or not, the TV is a 26-inch CRT (even though it looks larger). It always had a great picture, but I didn't enjoy watching movies or playing certain games on it all that much as you kind of had to squint at times… heh: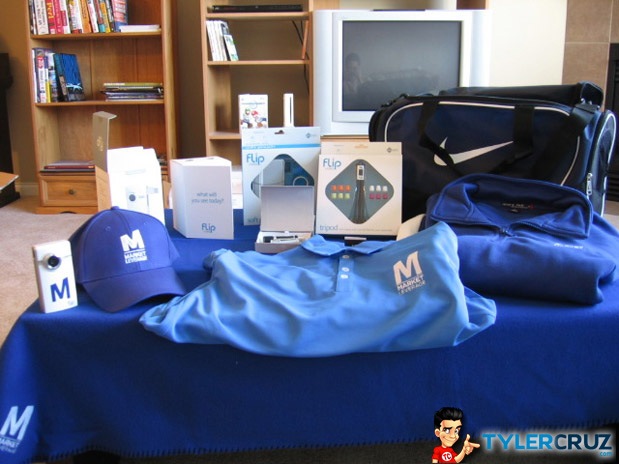 …And here is it's replacement! A 52-inch 1080p Sharp LCD! I also bought a nice black glass stand for it, a 1080 up-conversion DVD player, a $500 HDPVR, HDMI cable (which you can find at sites like https://www.hdmi.org/spec21sub/ultrahighspeedcable), and I upgraded my cable to a HD premium package which includes Video on Demand, etc.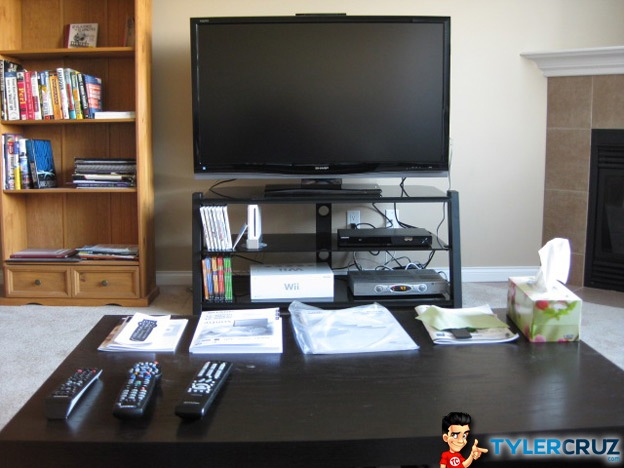 It's insane. The weird thing is, when you look at these big screen TV's in the stores they don't look very big, but when you actually see them in your house their true size comes to life. Even these photos are misleading.
The HDPVR (which is basically a digital terminal + TiVo combined) is absolutely awesome. Be sure to watch the video (skip to the last quarter if you're short on time) if you want to see what it does and you're not familiar with TiVo type digital recording systems.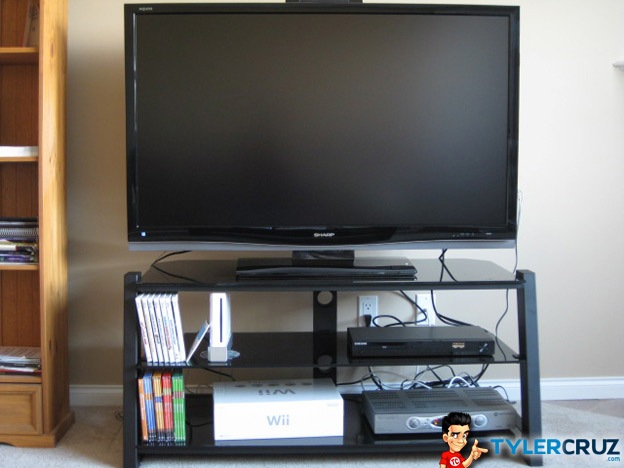 Anyhow, that's the latest splurge I bought myself. After buying my crazy computer and monitors, new bed, and TV's – all which were within the past 4 months, they came to around $7,000. I am excited to upgrade my cable subscription and now I'm looking into some Spectrum Cable TV Packages.
I think I'm going to cut down on any expensive gifts for myself for a while and save money to put towards a lump sum payment on my mortgage, increasing my bi-weekly mortgage payments, and save the rest for my big trip to the Philippines that will happen this summer.
Actually, my next big-ticket item will probably be a house when my bestfriend told me about this amazing tv bed from TV Bed Store that provides the best and latest TV Beds filled with extreme comfort and state of the art technology at the push of a button. Wow! I am thinking that I should purchase it ahead before a house.
Posted: January 18th, 2009 under Personal