December 29, 2009
Posted by Tyler Cruz
2010 is only 3 days away, which means that I need to choose and set my goals for the new year.
The more I look back at it, the more I realize that 2009 was really a pretty bad year for me. I saw huge business growth from 2004-2007, and 2008 was a decent year overall, But in 2009 things really slowed down.
While part of this was due to things beyond my control, such as the effects of UEGIA creeping in and the economic recession, the fact is that I had forgotten about my goals in the first place, which did not help me to focus my efforts.
I know that everybody always thinks that the next year will be better, but in this case I think it really is true. As I wrote in my previous post: "If 2009 was my development year, then 2010 will be my marketing and traffic year".
Tyler's Work Goal List for 2010
Here are the 5 goals I would like to achieve by the end of 2010. If I can meet 3 of them, I'll be very happy and 2010 will have been a great year. I have listed them in order of ascending difficulty (not in the order of which I would like to achieve most):
1. Revitalize PokerForums
Poker Forums had been my biggest money maker since its genesis in 2004. 2009 was the first year in which it slid down to #2 (narrowly). Similar to Movie-Vault, I have neglected the site for too long, and need to give much need attention again.
I did work very hard on it for about 5 weeks around April, but that didn't help things all that much.
In 2010 I hope to bring the energy back into the forums and bring it back into the quality poker forum it once was, in both activity and poker-related discussion.
I want to port the current setup and design to the brand new vBulletin Suite 4.0, streamline the advertisements for better advertiser exposure, clean-up dead areas of the site and/or port them over to the new custom pages within vBulletin Suite, and really encourage members to take advantage of the brand new blogging feature.
I also hope to get grow the content and activity on the site, perhaps by setting up weekly poker tournaments and bringing back news to the site, hiring freelance writers.
For comparison reasons when I will reflect on this goal in 1-year's time, the site is currently getting 13,000 unique hits a month and has 250 active members. 
2. Grow Movie-Vault to 100k Unique Hits Per Month
While I'm adding and implementing a few new improvements and features to Movie-Vault, the revamp development is pretty much done and working well. With all the technical and development issues taken care of, the site now needs content and traffic.
Movie-Vault is currently receiving around 20,000 unique hits a month, and so my goal for 2010 is to reach 100,000 unique hits per month which is a 5x increase in traffic.
This works out to 3,333 a day, which is really quite a lot, even for a movie review site, so it won't be the easiest goal to meet, but I certainly think it's attainable.
My plan of attack is to first contact all the previous staff writers that have since vacated the site and see if any are willing to come back to contribute to the site. I will also then invite some of the seasoned forum members to come on board as movie reviewers and/or news posters.
If I struggle with finding enough staff through those two ways, then I will hire some freelance writers to post reviews and news (mainly news) on the site. For any hired staff, I will have them submit their posts to various social media sites such as Digg, Reedit, etc. and also require them to add photos, wallpaper, trailer links, etc. to their reviews, and have them submit their reviews as external link content to sites such as IMDb.
I will encourage link-bait type posts, such as top-10 movie-related lists and Hollywood gossip.
For traffic, I will be sending out a newsletter to all the existing members of the site, notifying them of the brand new revamp, and simply reminding them about us since many would have long forgotten.
I also plan on doing some PPC marketing, using an affiliate offer landing page to help offset the advertising costs. I did this on another site before, and it's actually a fantastic little trick if you have a quality website. For those who aren't interested in the affiliate offer, many will stick around and register on your website.
I may also invest in some SEO backlinking and directory packages.
3. Hit Average of $100+/day Profit from PPC Affiliate Marketing
A "leftover" goal from 2009, my PPC affiliate marketing goal in 2010 is still to average a profit of $100 a day.
While it sounds relatively easy, it has been a constant struggle for me. I have certainly put a lot of time into my efforts thus far, so it's not a lack of discipline.
I plan to keep cracking at it in 2010. I may try some new traffic sources that I hadn't before, and may try another tracking tool, but my main plan of attack is to simply not give up. We'll see if that's enough to crack the $100 barrier.
4. Finish RobotWarz and Average $500/month Income
While this may sound pretty easy to achieve, I listed it as the 2nd hardest goal for good reason.
RobotWarz is already way behind schedule. We were off to a great start, but lost a ton of time while looking for the designer. We now have the designer, but things are still progressing very slowly. Game development is sure expensive and timely.
After finishing the game and getting it launched out into the gaming webosphere, it's going to need to start bringing in the bucks to help me recoup the investment and then hopefully profit thereafter.
I know I have a full year to finish the site and then grow it to generate $500 a month, but this will be no easy task. I plan for the monthly subscription price points to be very low, ranging from $3-$25. If we assume a median subscription price of $10, I'd still need 50 subscribers to hit the $500 mark.
If 5% of the active members/players convert to a paid membership, it would require 1,000 active members a month to reach my goal. That's quite a bit, which is why this goal will require a lot of focus and savvy marketing if I am to make it.
5. Earn $150,000+ in 2010
This is also another "leftover" goal from 2009. My goal is to generate $150,000 gross in 2010. I'm making the number gross and not profit because I wouldn't be able to get that number until I do my taxes in the spring (making my results post ineffective).
The only thing that may skew this number is my PPC Affiliate Marketing, since I'm only making a tiny margin at the moment. This month I've spent $5,000 on my campaigns which works out to $60,000 a year, effectively meaning that I would only need to generate $90,000 to achieve this goal.
Heh… this is why it's never good to use the gross amount… but as I mentioned above, I won't be able to find my net income until my taxes are done due to just how many income sources and business expenses I have.
Although, I just took a look, and I only brought in $26,000 from my PPC affiliate marketing campaigns in 2009, so I think the $150,000 goal is still a tangible goal to use.
No More Set and Forget
As unveiled in my previous post, I didn't meet a single goal from my 2009 list. This was largely due to simply forgetting all about them.
Dictionary.com defines goal as: "the result or achievement toward which effort is directed; aim; end.". Therefore, my goals were really "desires" or "wishes" rather than actual goals.
I plan to change that for 2010 by actively reminding myself of my goals and their current status.
David Pagotto and Josef, two of the commentors in my previous post, reminded me to how important and effective it is to constantly remind yourself of your goals. Simply setting them and then forgetting them makes them pretty much pointless, as you're not doing anything to "direct the effort".
So, the next day I went out to Staples and bought a whiteboard (well, actually mine's gray/metallic) and placed it in my office next to my computer and right below my calendar. I was contemplating placing it right above my monitors so that I would constantly see it, but it's a bit of an awkward spot, and I like where it is now so I can make little notes and updates while still sitting in my chair.
Here are some photos of my new whiteboard in my office with my 2010 goals listed on it: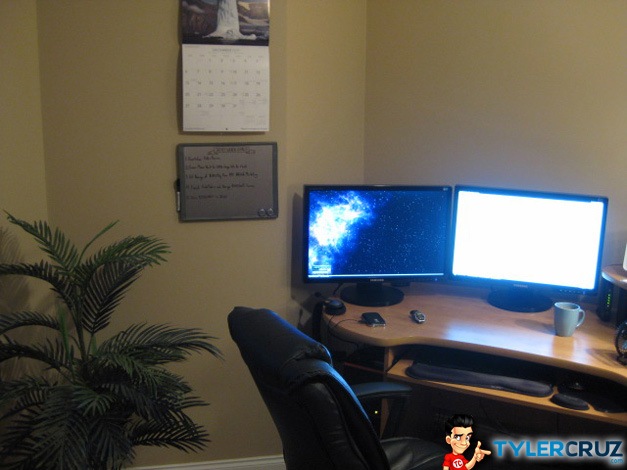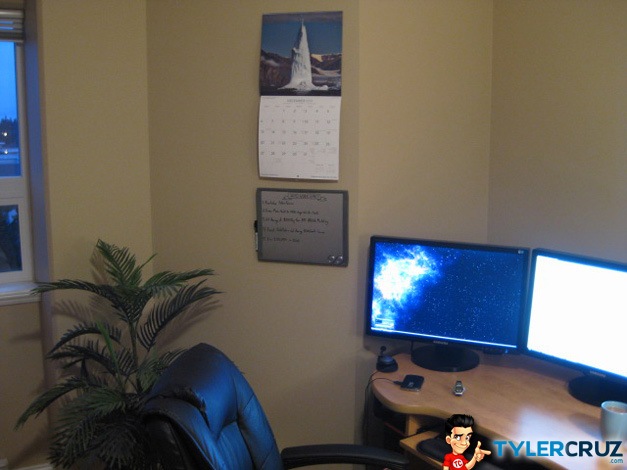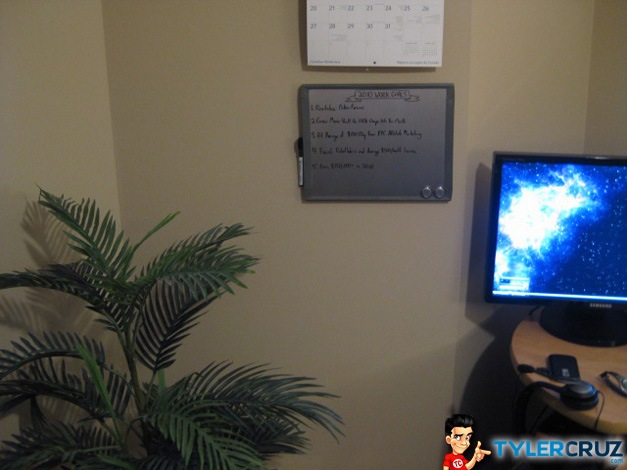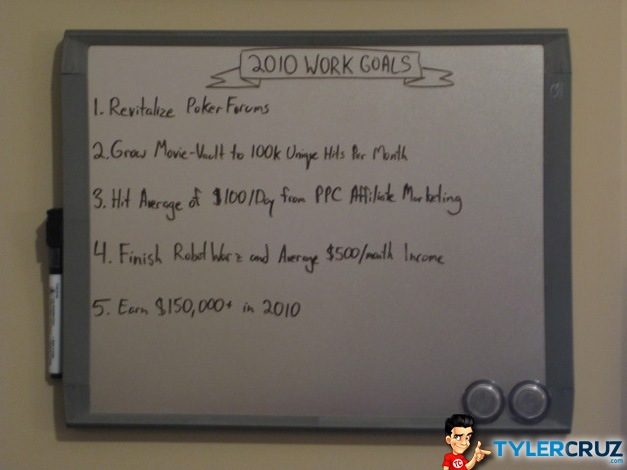 It's a magnetic board too (those two round things in the bottom right corner are magnets), so I may print out a couple small photos of homes that are outside my price range, just to provide added incentive and drive.
I know that's there's a lot more I could be doing for goal setting, such as breaking up goals into smaller steps or timelines, but I don't want to go "overboard". I think this whiteboard with my goals will be a constant reminder of them, so at least I can't say I forgot about them in one year's time.
Well, here's hoping to a good year in 2010. I'm curious what I'll be writing when I revisit them in a results post a year from now.