December 26, 2009
Posted by Tyler Cruz
Just as I do every year around this time, reflecting on the goals I set out for myself at the onset of a new year, here is my annual post to see how close I came to achieving them.
I have set a list of yearly work-related goals for myself for several years now. In my Goals for 2009 post, I set 4 very specific goals I hoped to achieve in 2009. This post will revisit those goals in detail to see which of them I met and of which I fell short.
To be honest, I usually forget about these main work goals I set for myself all throughout the year usually until when it's time to write another of these posts. While this can be self-defeating and rather pointless in some ways as it's important to constantly remind yourself of your goals if you intend to conquer them, it's also simply a great way to measure your successes throughout the year as well as to remind yourself what you still need to work on, even if that's only once or twice a year 😉
If you haven't set any long-term goals for yourself (I consider 1-2 years long term when it comes to the Internet) I highly recommend you do. Most successfully ambitious people (in any industry) recommend it for a multitude of reasons; whether it be a subconscious effect or a daily motivating reminder, simply setting goals for yourself will bring you one step closer to actually achieving them.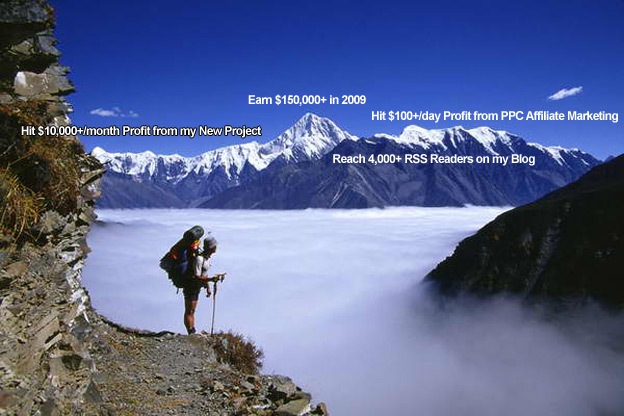 Before I start on the actual list, I wanted to reflect on one goal that actually didn't make the list, but only because I had procrastinated about this particular goal for so many years that I ultimately decided that it would never get done. In fact, this goal was on my previous list from other years.
That goal was to completely revamp Movie-Vault.com, which I actually managed to do just before the year came to a close. This was a big undertaking in expenditure, complexity, and scope, which is why I had always brushed it off as just too onerous a project to take on. But, I did get it done, but it feels good because it came out as well as I ever could have imagine, if not better.
I only now have to market and drive traffic to it again, which will probably be one of my goals for 2010.
With that being said, here are the official 4 goals I set for 2009:
1. Reach 4,000+ RSS Readers on my Blog
Result: Fail
My RSS is currently 2,313 as I write this, so this was an obvious failure.
Looking back at my original post, I said: "Now that I am at 2,000 RSS readers, my goal for 2009 is to double that and hit 4,000." which means that I actually only gained 300 new RSS subscribers during the whole year. This is a radically slow growth, but I'm honestly not too perturbed by it.
I purposely stopped focusing on monetizing and growing my blog in 2009 so that I could focus on other projects. I honestly think that I could have met this goal if I had wanted to, but the truth is that I really don't care about RSS numbers nearly as much as I used to. For one thing, RSS seemed to be much more of a growing trend in 2007-2008. I think now that everybody uses Twitter, RSS has been overshadowed.
Now, that doesn't mean that RSS isn't still a pretty good indicator of popularity, as most of my colleagues have seen a great growth in RSS during 2009, just not me 🙂
2. Hit $100+/day Profit from PPC Affiliate Marketing
Result: Fail
In my my original post, I wrote: "I consider this to be my hardest goal for 2009" which ended up being all too true.
I restarted my foray into affiliate marketing when I returned from my trip to the Philippines during the last week of July and actually did work very hard at it. But no matter how much I work on it, I just can't seem to pull in those hundreds of thousands of dollars that so many super affiliates seem to be able to blind-folded.
The challenge of it all is probably what keeps me going. I've yet to make anything note-worthy from affiliate marketing, but that only agitates me to persevere, even though I don't really seem to be going anywhere.
While I didn't make this goal, I did come close. A month ago I netted $233.39 which was the most I've ever made from affiliate marketing in a single day.
And last month in November I profited $1,000 which was my best month ever: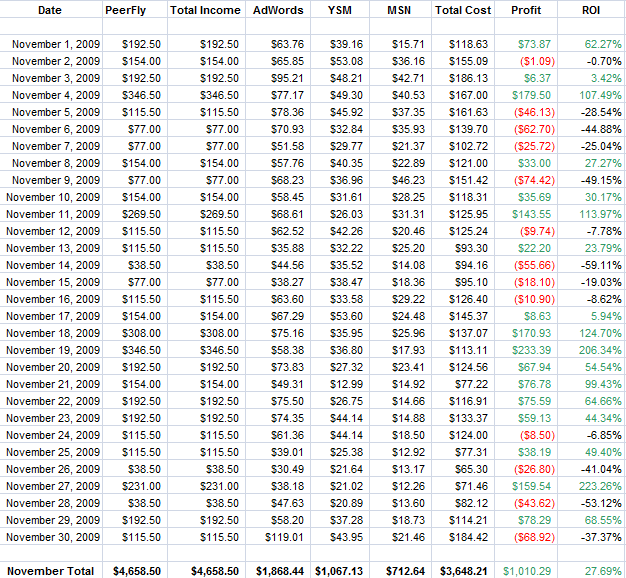 In fact, it was twice as good as my previous best month, so at least I'm showing some level of progress, even if minimal.
But my goal was to average $100 a day in profit, not just hit $100, so ultimately I didn't achieve this goal.
3. Hit $10,000+/month Profit from my New Project
Result: Fail
When I made this goal, PublisherChallenge was still being developed which is why the goal says "New Project". I had incredible ambition and high hopes for this project which explains the bold goal.
I failed this goal too, but I didn't too too terribly. In February, PublisherChallenge made around $9,000+ profit, the majority of which was from MarketLeverage.

I just did a quick audit, and PublisherChallenge brought in approximately $35,000 profit for the year which works out to just shy of $3,000 a month on average. So, just like the goal above, I only managed to reach a third way to my goal.
Also, PublisherChallenge did its best during the beginning of the year. It has slowed down a lot during the past few months, and January will be the first month when there will be no competition running at all (unless I manage to scrape something together at the last minute).
4. Earn $150,000+ in 2009
Result: Fail
Yes, yet another fail.
My last goal for 2009 was to make $150,000+. I have so many different income sources so I never really know how much I made for the year until I do my taxes, but I know that I didn't make $150,000, not even gross.
$150,000+ works out to $12,500 a month or $410 per day, so I was largely betting that I was going to make the above goal in order to achieve this one.
2009 = Epic Fail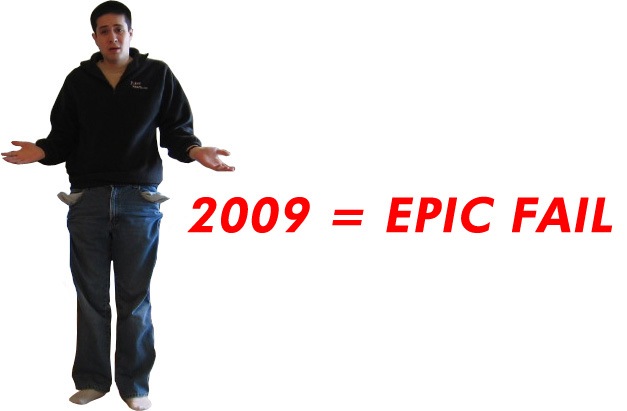 Overall, I believe that 2009 was my worst year in terms of income. My best were between 2005-2008, with 2007 probably being my best.
I just didn't have a very good 2009 year. I'm not afraid to admit when things don't go well or as planned. There's no point in hiding it. In fact by addressing it, it helps me to focus better.
I don't blame the economy, as it only had a very small very impact on my business. And I actually don't blame myself either, as I did work pretty hard during most of the year. I think it was just a number of factors. My poker site really started to slow down in terms of advertiser demand, my PPC affiliate marketing efforts never took off, I spent a ton of time and money on the development of Movie-Vault.com, PublisherChallenge, and my most recent endeavour, RobotWarz.
I therefore think that 2010 will be a much better year than 2009, since the development of those projects have been paid for and are complete. If 2009 was my development year, then 2010 will be my marketing and traffic year, especially for Movie-Vault.
I'm very curious how RobotWarz will fare as well. It is a big gamble I'm taking, and it's one of those things that will most likely either fall flat as a failure, or should do quite well.
Stay tuned soon for my upcoming post where I'll announce my goals for 2010. Hopefully I'll be able to achieve them next time!