November 12, 2007
Posted by Tyler Cruz
The following is a paid review and is completely of my own opinion and is not influenced by being paid. If you're interested in having me review your site or product, you can purchase a review from me through PayPerPost by clicking on the PayPerPost Direct button located at the top left of my blog.

Back in July, I did a review of a site named Xhtmlslashcss.com. As can be read in my review at the time, I was overall impressed with their service and gave them a favourable review.
Xhtmlslashcss has just relaunched itself as InstantCoding.com. This is great to hear as the name and domain Xhtmlslashcss.com was a very poor choice! InstantCoding.com is not only a good, brandable, and easy-to-remember company name, but it is a great domain name as well.
Along with their new-and-improved name, InstantCoding.com also has a lovely new look as well. I didn't really have anything against their previous look which was a very basic and bland white theme, as I felt that a coding company doesn't really have to have anything fancy, but their new design suits them perfectly.
It was actually designed by Unique Blog Designs, the recently-famed blog design company which designed the blog themes for JohnChow.ca and Shoemoney.com. Unique Blog Designs actually subcontracts InstantCoding.com for their coding work, which explains this partnership.
Their new design consists of only 5-pages which is, in my opinion, the perfect amount for such a company. It gives you all the information you need to know before contacting them to discuss things further.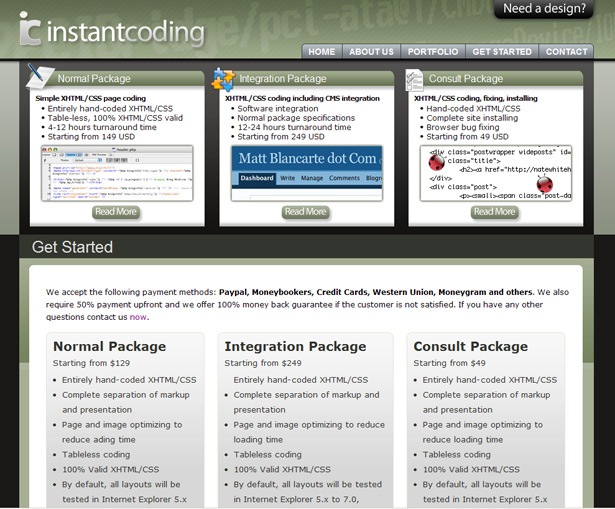 Since part of InstantCoding.com's specialty is W3C valid XHTML and CSS, in my original review I had checked all of their pages for both HTML and CSS validity. Surprisingly I found several errors. Shortly after I posted my review, they had fixed these.
I don't mean to embarrass InstantCoding.com by doing this again, in fact you'll see that the rest of this review will be very favourable to them, but I found validation errors with their new design as well.
However, it is only restricted to two pages. The Get Started page contains both XHTML and CSS errors and the Contact page contains XHTML errors. I can almost guarantee you that these pages will validate shortly after posting this review.
This leads into a perfect segway into my next topic…
Turnaround Times
While it is probably hard to believe, InstantCoding.com has turnaround times as low as just a few hours for a one-page coding. WordPress and vBulletin themes takes about a day.
These are absolutely lightning-fast turnaround times, which has InstantCoding living up to it's moniker.
Most companies take 2-3 weeks, with one-week being considered fast. The fact that InstantCoding can offer next-day completion is pretty astounding.
Services

As their name suggests, InstantCoding.com does W3C-valid XHTML and CSS coding. They do not design, they do not do server programming; instead they focus on what they do best: valid XHTML and CSS.
It's great to use a company that focuses solely on one aspect of web development, as it usually means that they are especially proficient in it, as  opposed to the all-in-one companies that can "do it all".
InstantCoding offers 3 basic packages: Normal Package, Integration Package, and Consult Package.
All of their packages include:
Entirely hand-coded XHTML/CSS
Complete separation of markup and presentation
Page and image optimizing to reduce loading time
Tableless coding
100% Valid XHTML/CSS
By default, all layouts will be tested in Internet Explorer 5.x to 7.0, FireFox 1.x to 2.0, Opera 8.x to 9.0 and Safari 3.0 Windows
Their Normal Package starts from $129 and has a turnaround-time of between 4-8 hours. This is the basic package one would use for converting a Photoshop layout to code or cleaning up an existing webpage's code with valid XHTML and CSS.
Their Integration Package starts from $249 and has a turnaround-time of between 12-24 hours. This package is used for converting a design to a CMS such as WordPress, Joomla, or vBulletin.
Their Consult Package starts from $49 and has a turnaround time of between 4-12 hours. This package is more for "special" tasks such as fixing existing code, installing or modifying WordPress plugins, etc.
Portfolio
InstantCoding.com has done a lot of work, with several high-profile sites in their growing portfolio.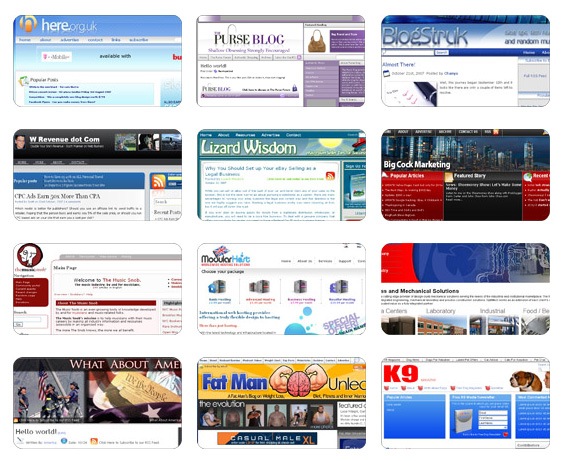 Some of these sites include mogul Kieron Donoghue's Here.org.uk and multi-millionaire Scott Wainner's WRevenue.com.
My Experience with InstantCoding
I've actually worked with Stefan from InstantCoding several times now. Apart from purchasing his second paid review on my blog now, he has also purchased a side 125×125 banner and has put up his company's coding services as one of the prizes in the PublisherForums.com "Prizes for Posts" contest.
In addition, InstantCoding has actually coded one of my sites. Now, I'll be honest and say that he went over the turnaround time, but that was largely due to my severe attention to miniscule detail and wanting every tiny nook and cranny absolutely perfect.
He worked with me to fix every tiny detail until I was absolutely happy with everything.
I'll certainly be turning to Stefan again in the future whenever I need XHTML/CSS services. The fact that I'm getting quality W3C valid XHTML and CSS code for incredibly cheap is great enough, let alone the fast turnaround times.
I'd personally recommend using InstantCoding.com for any XHTML/CSS work you need done.