February 2, 2008
Posted by Tyler Cruz
Months seem to fly by these days – we're already into February! And with a new month comes a new blog earnings report. In my previous report from last month, I announced how December made a new record, having brought in over $1,100.
With several new blog income records in a row, my goal for January was to break $1,300. Unfortunately, January did not break a new record, and was somewhat disappointing. This was due to several factors:
First, PR0. Having recently been slapped with a PageRank of 0, I removed Text-Link-Ads from my blog since they were utterly useless (who wants to purchase text links on a PR0 site?). Granted, I was only making around $40 a month from them, but as you'll see, this adds up quickly.
Two advertisers did not renew their 125×125 banners. I have an inventory of eight 125×125 slots, and 2 advertisers did not renew their banners. That is another $80.
Somebody actually purchased a paid review from me, but because of the above 125×125 reason (as well as time issues), I decided to review it in February instead. If I had that $80 from the two missing banners, I'd have done the review to set a new record.
So, if I had found two advertisers to grab the two missing 125×125 slots in time, I'd actually have set a new record.
Anyhow, without further adieu, here are January 2008's earnings: $955
Yes, it is a bit disappointing not being able to announce a new record, but I can't expect to set new records every month. It's part of the ebb and flow of business to see some fluctuations in earnings, and really, $955 is only 14% less from my best month. And compared to exactly one year ago, in January of 2007, it is much larger than the $102.08 I made then.
So really, I'm quite satisfied with starting 2008 at nearly $1,000. If I don't increase my earnings at all, that's still $12,000 a year from a blog. A blog. I certainly can't complain about that.
I should also mention that I received 12,000 Entrecard credits from an advertiser to put up a 125×125 banner for a month. That would literally take me 4 months to make from Entrecard myself, so I was quite content with that.
The Numbers
Since we're now a month into 2008, my charts and graphs are pretty unexciting (yes, that's a word) since there are no past months to compare them to. In addition, I've removed the Text Link Ads, PayPerPost, and ReviewMe columns since I don't use them anymore, nor make anything from them.

I am interested in seeing how the relationship between my private ads and affiliate numbers will compare throughout the year.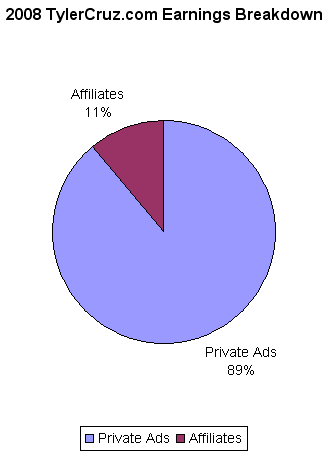 Currently, affiliates make up 11% of my income compared to private ads, but I'd like to see that increase a bit. I'm not sure what a healthy number would be, but I'm thinking that about 20-25% would be going in the right track.
WordZe has continued to bring in good residual revenue, having brought in over $100 last month. They key word here is "residual"; I receive 30% commission for the the life of my referrals. As long as they keep subscribing to WordZe, I keep making money. I highly recommend their very lucrative affiliate program which pays 30% for life and 5% for 2nd tier.
Sidewide 125×125 Banner Slots Available
I currently have two slots one slot no more slots available for the Sitewide 125×125 Banner campaign. They cost $40 a month and can be purchased on my advertising page. If they're good enough for John Chow to purchase to advertise TTZMedia, they're good enough for you!
Sponsor Shoutouts
I'd like to give some quick shoutouts to my repeat sponsors and advertisers:
InstantCoding – You must know these guys by now, as they have the most prominent ad on my blog. Check out my review of them.
pepperjamNETWORK – While this 728×90 banner is new, the slot has been renewed by my loyal advertiser Lee Bandoni since September 2007.
TTZMedia – John Chow has continued to renew his ad for his TheTechZone affiliate program for the third time. Check out TTZMedia.com and try John Chow's very own affiliate program.
WordZe – I'm making continual residual income from them each month. Their referral program is really lucrative, check it out if you have the chance, or read my extensive review of them.
LearnHow2Earn.com – Apart from being a popular guest poster on my blog, Nick has been a recent but recurring 125×125 advertiser. Be sure to check out his blog, as he has some good posts.
February Goals and Predictions
I'm going to carry over my goal that I didn't meet for January over to February, and aim to make $1,300. I am very confident that I will make it this time as I raised my 728×90 and 250×250 prices which will bring in an extra $100. In addition, a deal I've been working on for many weeks should finally go live within a week.
Wish me luck!