February 5, 2008
Posted by Tyler Cruz
The following is a paid review and is completely of my own opinion and is not influenced by being paid. If you're interested in having me review your site or product, please view my advertising page.
There is certainly no shortage of webmaster forums out there. Because the skeleton of the Internet is built on top of the scaffolding of websites, it therefore shouldn't be surprising that there are a lot of webmasters out there, and that these webmasters need a place to meet and discuss their trade and passion.
Webmaster, SEO, and domain forums have also proven to be an extremely lucrative business if taken off well. The truth is that once a forum is popular, it really does essentially run itself, and almost always remains a success with.
This review will showcase yet another webmasters forum, which hopes to delve into the saturated and highly-competitive market of webmaster discussion forums.

The site in question is Bzimage.org. I try to avoid mentioning or spending too much time on discussing the domain name of sites I review, but I can never write this particular domain name without cringing. I don't understand what Bzimage is supposed to mean: Is it "Busy Image"? Perhaps "Business Image"? Or perhaps nothing in particular?
It's a very odd domain name, with no significance or relation to the forum, is very difficult to remember, and even harder to brand. I think the reason that Shannon Lilly, the owner of Bzimage, hasn't switched it to a better one is because of the PR6 that the domain holds, and I must admit that that is certainly a good reason.
However, PageRank has lost so much of its credibility lately that if this is indeed the rationale for keeping the domain, that switching to a better domain should certainly be reconsidered.
It's not like there aren't still good domains out there – I grabbed PublisherForums.com (including the .net and .org) less than two years ago for $9, as it was available. Then again, a decent domain name isn't necessary for a webmaster forum – just look at http://forums.digitalpoint.com/ (where's the relation?) and http://www.v7n.com/forums/.
Overview
Bzimage.org sports 2,250 members who have made over 2,700 threads and 16,600 posts, which is a pretty large size for a forum. While it's not nearly as big as some of the more popular webmaster forums out there, it's large enough where it has a good solid archive of past discussions and posts, and receives between 50 and 100 new posts every day.
It is easy to populate a forum with 16,000 posts, but not so easy to populate a forum with 16,000 quality posts. While not all the posts on the forum are of the highest quality, the average thread and post are much better than in 80% of the webmaster forums out there.
The structure of the forums on Bzimage is well laid out, with the categories of: Search Engines, Marketing, Business, Tech & Gadget Forum, Design & Development, and Bzimage News & Discussions, and each category consisting of between 4-5 sub-forums. The entire forum basically covers everything and anything to do with web development with sub-forums such as Blogging, Link Development, and Domain Discussion.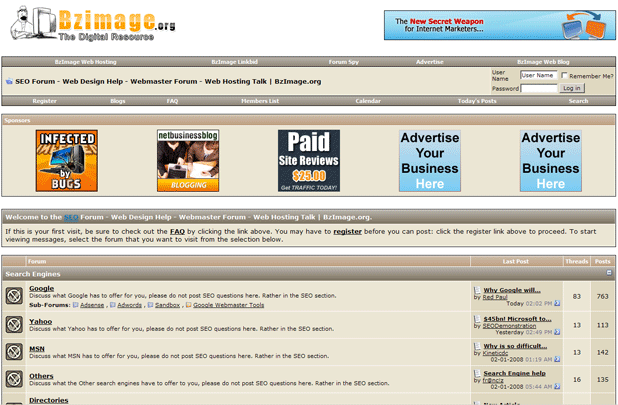 The majority of posts are made by regular members, and don't seem to be "falsely" populated from posting contests or paid posting services which often results in a very low quality of discussion. The level of discussion distribution on Bzimage is well spread out as well, unlike some forums which are rather "fake" in that 90% of the posts are saturated in a particular forum area such as General Discussion. While on Bzimage there is certainly a much higher post focus in the SEO, Marketplace, and General Talk sub-forums, there is still a decent amount of posts in all the other sub-forums to make it a non-issue.
Bzimage.org has a Marketplace which is broken down into 8 sub-forums of Services, Website Sales, Domain Name Sales, Freebies, Content, Templates, Contests, and Hosting. However, while the marketplace is well laid out and receives a regular amount of new threads, as might be expected with a smaller forum, very few transactions result. So while the marketplace may be worthwhile to look for products and services for sale, it is certainly not a useful place (at least not yet) to sell. This is one area that will always be extremely difficult to compete with the big forums for.
The general atmosphere of the forum is quite friendly, with helpful and useful responses. This is one advantage smaller forums have, as the big forums can oftentimes be quite cold and elitist, some more than others.
Design
Some webmasters may not truly understand or appreciate the significance of a good forum skin, but design is usually more important when it comes to forums because when people visit forums, it is usually often and/or for a long period of time. Forums are very unique in this fashion.
Bzimage.org sports an extremely simple, yet very pleasing beige-schemed design that is easy on the eyes. The chosen light colours blend very well together, and make long periods of reading posts a snap.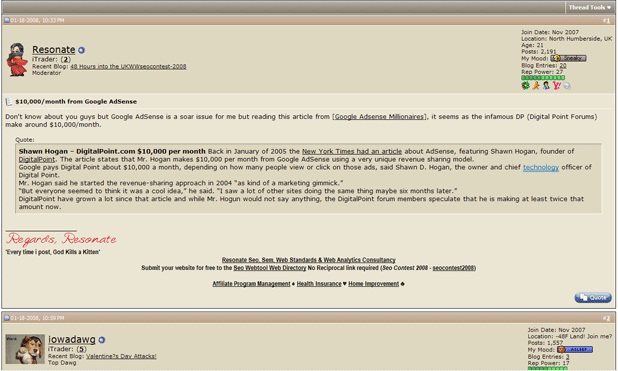 It does not "try too hard", and simply acts as a backdrop for what is really important – the content.
The forum has no sidebar, allowing it to expand to a 100% width, and actually, does not deviate much from the default vBulletin skin apart from having a good colour scheme and basic, but smart modifications.
There are ads on the forum, but they do not even come close to overextending their welcome. There is a top 468×60 banner and five 125×125 banners near the top of the page. I love this layout as it provides ultimate and equal exposure for advertisers, yet does not intrude on the user experience.
The only questionable ad on the forum are the Kontera ads, which appear sitewide and not just in actual posts. I'm normally not a fan of Kontera on sites, unless utilized well, and I'd count this as one of those times it is utilized well; the ad links are easily identifiable as ads, and for some reason just don't bother me. However, I know that some people really hate Kontera and IntelliTXT ads on forums. Therefore, I'd recommend for the owner to consider only using Kontera in actual posts, or have them only display for guests.
I should mention that Bzimage has quite inviting prices for their ad listed on their Advertise page. Assuming that the ads are not rotated, I'm considering purchasing one myself. With monthly traffic of between 35,000-45,000 uniques, and the 468×60 priced at only $45 a month and the 125×125 banners at $35 a month, you might want to grab a slot while you can – before the rest of my readers (myself included) grab them!
Summary
While new webmaster forums seem to pop up all the time, Bzimage.org is one that may actually go the distance.
It has a good community, quality posts, nice design, and enough regular traffic to provide a consistent level of new posts.
The real question is: does Bzimage compare with the "big boys" such as Sitepoint, DigitalPoint, and NamePros? And the answer is: No. Not if you want a reply to your topic within seconds, or have access to an active and useful marketplace.
But while there are some things that smaller forums may never be able to compete with the larger forums with, there are certainly advantages as well. Large forums often lose their sense of community and can be quite cold, rude, and distant. Bzimage.org has a friendly community, and while smaller than the large forums, still has enough regular traffic to act as a useful resource.
I know many webmasters and entrepreneurs who actually prefer smaller forums. Aside from having a tighter community, smaller forums are also easier to read. Sometimes being big can be a hinderance, when so many new threads and posts are made that it simply becomes unmanageable to keep up with all of them.
I like to think of it as living in the country compared to the city. The city is great if you like a lot action, noise, and population, but the country is sure a great place to relax without all the stress of a large forum city.
In the end, I'd recommend Bzimage.org as a webmaster forum for those who prefer the country. Just don't mistake it's smaller size for inactivity as there is certainly enough traffic and regular posters to keep you on your toes.