November 7, 2007
Posted by Tyler Cruz
The following is a paid review and is completely of my own opinion and is not influenced by being paid. If you're interested in having me review your site or product, you can purchase a review from me through PayPerPost by clicking on the PayPerPost Direct button located at the top left of my blog.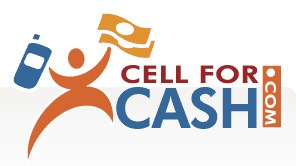 CellForCash.com is a very simple and straightforward website which will purchase your used cell phones. This is similar to the ones at https://www.backflip.com/sell/iPhone?model=iPhone%208.
When I first started taking notes for this review, I jotted down notes and suggestions on how they could improve their site, such as the removal and clean-up of all their footer links, better navigation, etc.
However, as I continued to inspect the site further, I discovered that CellForCash.com is actually one of the world's largest cell phone recyclers. They've been covered by hundreds of reputable companies including the Wall Street Journal Online, Washington Post, and the Boston Globe.
And thus, I won't nitpick on their design or layout, but instead focus on what their service actually offers.
CellForCash.com was launched 5 years ago in November 2002, and since then has recycled over 250,000 cell phones and donated over $400,000 to charities worldwide. They now pay out over $1 million dollars each year for used phones and receive over 400,000 unique visitors each month.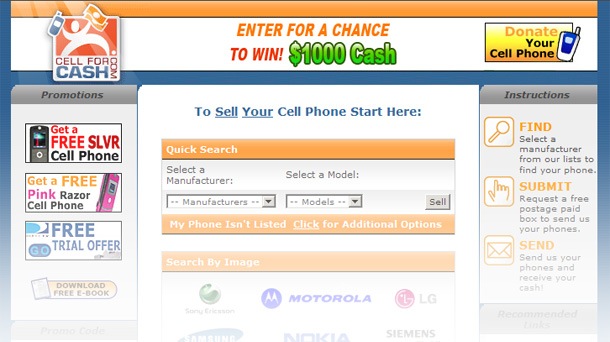 When I bought my Blackberry Pearl 6-weeks ago, I sold my old cell phone, a Samsung SGH-X450, to the store's clerk himself for $20. He offered me $10 for it, or $20 with the power adapter. CellForCash is paying $6 for the same phone which is $4 less than what the clerk offered me, but I think I was fortunate that the clerk was looking for a cheap phone to buy.
In any case, I hadn't known at the time that I could sell my old cell phone online. I'd probably have just left my phone there or thrown it away since nobody wants to buy old cell phones these days, especially since brand new phones come with new wireless plans or renewals these days.
In fact, the average wireless user upgrades their old cell phone every 18 months. The 230 million wireless subscribers in the US retire over 150 million cell phones each year. That's almost 13 million cell phones being replaced each month is the US alone. According to CellForCash.com, only 2.3% of Americans recycle their old cell phones and 7% throw them in the garbage.
How it Works
The process is extremely simple:
Search for your exact phone model on their website. CellForCash carries over 600 cell phone models, which is one of their best features as they will most likely accept any model you can throw at them.
Simply click Add Phone to Cart and confirm that it is the exact model you own. You can then add other cell phone models you wish to sell as well, or hit Next to proceed to the next step.
Next, you fill out a quick form with your contact information for shipping.
CellForCash will then mail you a free pre-paid postage box for your phone, and you then mail them your cell. Once received and verified, they will mail you out a check!
The whole process takes about 45-60 days due to mailing times and the large amount of cell phones they have to process.
How much do They Pay?
CellForCash.com's prices change daily but they range from $5-6 to well over $100 depending on the model.
From what I could research and gather, they seem to pay around between 10% to 15% of the value of a new phone (note, new phone, not used). I did not know if that was low compared to other methods of selling a used phone or not, so I decided to check eBay.
The 8GB iPhone, used, seems to sell for around $500-$600 on eBay, whereas CellForCash only pays $280.
Likewise, the Blackberry Pearl, used, sells for around $250 on eBay, whereas CellForCash only pays $70.
However, these are high-end new phones, so there is obviously a lot more demand for them. Older models are much less popular, but CellForCash still takes them. I think this is where CellForCash's real use comes in. Again, it's a fact that many people simply chuck their old phones when upgrading to a new one, so why not sell it for a bit of cash? You can also sell scrap metal for a bit of extra cash here and there. You can find the best scrap copper price Sydney at Austick.
Affiliate System
CellForCash.com also offers an affiliate system which pays $5 for each referral you send that completes a legitimate transaction on CellForCash.com.
Signing up to the affiliate system is fast and easy, with instant approval. Within 5-minutes you can be signed up and have your affiliate URL ready.
Conclusion
CellForCash.com is definitely one of the largest and most established companies that purchase used cell phones.
They accept over 600 models, and the selling process is very easy. In addition, they mail you a prepaid postage box, eliminating any postage fees and hassle making the process as convenient as possible.
The amount that CellForCash pays for the phones seems to be a bit underpriced, however, the fact that they will purchase almost any cell phone, in any quantity, makes them a valuable resource nonetheless.
A family can hunt down the 5-6 old cell phones that are collecting dust, knowing that CellForCash will take them, and sell them for $60-$300. Best of all, they will not have to go to the trouble and hassle of trying to sell the phones in a newspaper or store.
6 Responses to "Old Cell Phone? Sell it!"