June 27, 2012
Posted by Tyler Cruz
I really shouldn't be writing this post, as it'll only make me look silly and naive if things don't work out as I hope they do. But my blog has never been about trying to make myself look good, so let me continue.
As you know, I've been focusing on affiliate marketing the past 6-8 months, and things have been going pretty well lately. In fact, June has been my best month in affiliate marketing ever, completely eclipsing any prior month.
While things have been going well, things can change at any time in affiliate marketing, and so I wanted to find a new traffic source not only to grow, but to provide some added stability as well. In my previous post, I wrote about how I started using Facebook recently, and that I was hitting my daily spend limit cap every day.
Below is a screenshot of my billing transactions from Facebook since I started on June 11th, 2012: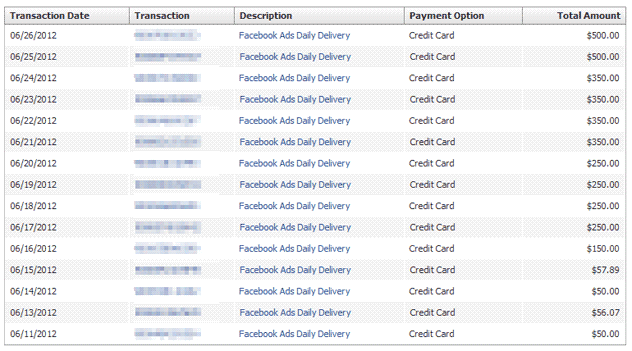 I was starting to get a little bit impatient waiting for Facebook to gradually increase my daily spend limit, so I decided to contact them and ask for a manual increase. I was already at the $500 daily spend limit, and would soon hit the $1,000 limit, so I would have needed to contact them soon enough anyway.
I was very delighted to find out that within a few hours, an ad representative from Facebook increased my account to $5,000 daily spend limit!
I then asked her if it would be possible to get it increased past $5,000 in the future, and she responded with a canned response that they would consider it if and when I start to regularly hit the $5K cap several days in a row. It's good to know that there's a possibility of getting the account increased past 5K day.
With my new 5K cap, traffic is sent in at a dramatically faster rate, due to how the Facebook ad delivery algorithm is set. When I woke up in the morning, I was a little surprised to find that $600 worth of traffic had already been sent in!
This sucked, because my traffic doesn't convert in the morning, and there's no option in Facebook to set your ads to run at certain times. So I have to manually adjust my settings each night before I go to bed now – not a huge deal, but a little bit of a pain.
Traffic was coming in fast, so I had to constantly monitor things throughout the day and throttle things down a bit. I could have very easily hit my $5,000 cap yesterday, but things weren't converting well so I had to really slow things down.
At the end of the day, I spent a total of $3,530.18 just on Facebook advertising yesterday.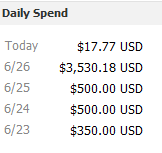 Unbelievable. It's scary to know that I can easily hit my $5K daily spend limit on Facebook… that's $150,000 a month. Mark Zuckerberg better send me a Christmas present if I ever do push $150K of traffic in a month!
However, as I mentioned, things went extremely bad profit-wise. I was testing several  different angles, and was running about 5-6 different offers – all which did completely horrible save for one.
I probably ended up losing around $2,000 yesterday. I'm too lazy to calculate the exact number (takes too long, and isn't necessary).
That being said, things aren't all gloomy. I got a bit overzealous and perhaps greedy with my campaigns, so very early this morning (I couldn't sleep) I paused all my losers and set up some new campaigns to expand on my winners.
I'm still waiting for traffic to start coming on those revised campaigns, but if they do as well as I think they might, then I will have something very good going, and should be able to net $1,000/day.
I Spent $5,500 Yesterday on Advertising
Facebook is just one of my traffic sources. I ended up spending $3,530.18 on it yesterday, but I also ended up spending around $1,900 at my other traffic sources.
It's hard to believe that I spent $5,500 just on advertising in a single day! I am now once again running into cash-flow problems as I am growing too fast. After all, a week of $5,500/day works out to nearly $40,000 a week in expenses!
Keep Your Fingers Crossed
Again, who knows what will happen. After all, yesterday was a big day in the red for me, but it's not like I didn't know what was going on. I was collecting data on what works and what doesn't, and now I definitely know what doesn't

If my new campaigns go as well as my data says they should, then you will be seeing some big numbers from me soon (at least as much as my cash-flow will allow).
Below is an screenshot of how June has been for me so far, from June 1st, 2012 to June 26th, 2012:

Yes, all gross income numbers. I provide net numbers in my other posts, if you want to get a rough idea of what my net might be.
Wish me luck! I'm really close to getting something big going here!