July 14, 2007
Posted by Tyler Cruz
My last "PayPerPost Updates" post series update was a month ago, and so here are some updates.  
PPP Direct
So far, July has been a good month for me as I've received 3 PPP Direct reviews which paid out a total of $200 ($80, $60, $60). I can only hope that they keep coming in, as the more reviews I get, the more I can show how one can make money blogging, which in turn should increase my traffic, which should in turn increase the amount of reviews I receive… so it's a snowball effect, for sure. That's what I'm hoping for, anyhow.
I raised my price by $5 too, so for $65 advertisers can get great exposure for their product or service with a nice, detailed, lengthy review written by myself.
C'mon PPP, keep those PPP offers flying in. They are a great source of revenue. Lets say PPP grows significantly in the upcoming months and I average 1 review per day. Considering I don't raise my price, that will still equate to $2,000 a month. However, it would also require more time as I'd have to write a lot more blog posts to compensate for the number of reviews. But if the scenario ever arose where I received an average of 1 offer per day, the simple solution is to just raise the price… it's basic supply and demand. This is why John Chow can easily demand $400 per review.
Suggestions to PPP
Below are some suggestions and concerns I have for PPP. Let's hope they listen and address some of them:
As you can see in the image below, PPP does not have a limit to the price a person can 'charge' for their PPP Direct reviews. This inevitably results with people putting rediculously high prices in order to appear at the top of the lists.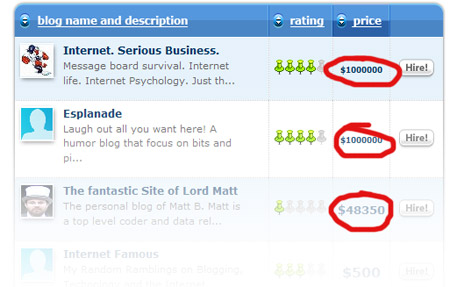 While the PPP Marketplace sorts by tack rating by default, advertisers who decide to view offers by price in descending order to find some of the higher quality blogs, will see results like above. This looks bad for PPP and is also unfair to bloggers.
The solution? Limit the maximum price a blogger can put. If they want to exceed a certain amount, then they should contact support or something to have them manually add in a 'custom' offer.
Another altnernative is for bloggers to only reach certain prices by being eligible for them. So, for example, you could have that a blog could only ask within the $1-100 range by default, then be eligible to ask for higher tiers as they have completed x amount of reviews. So, for example, once a blogger has completed 5 PPP Direct reviews, he/she is eligible to price their blog higher.
It would also be nice to have the # of reviews shown in that list, and whenever a tack rating is shown, such as above, it should show the number of advertisers, because it's not fair for somebody who has only had 1 advertiser give them a rating of 5 show up with a perfect tack rating, while somebody who has 50 advertisers rate them an average of 4, show up underneath them. I've always disagreed with the whole tack rating system anyway though. ReviewMe's way of rating sites based on various measuring tools such as Alexa, PR, and RSS count is much better way of appraising sites, in my opinion.
Offer PayPal as a Method of Payment to Advertisers!
 This is a biggie. About two weeks ago I had an advertiser wanting to purchase a review from me via PPP, but PPP only accepts credit cards, and they wanted to pay via PayPal. The ended up paying me directly (PPP lost their 10% commission as a result) through PayPal instead.
Why on earth does PPP not accept PayPal? I'm sure they'd get a lot more action from would-be advertisers through the PPP-Direct system if they offered PayPal as a solution in the PPP Direct pop-up window.
This is an easy feature that PPP must at least consider implementing.
There are two issues I have with how PPP updates it's stats. On the dashboard, in the upper left corner, PPP members are shown a little profile area with their stats, as shown in the image below.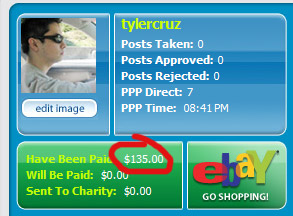 But the "Have Been Paid" and "Will Be Paid" sections are far from real-time. I was paid $80 nearly 3 days ago, and so it should read $215… it's been over 2 days and it still hasn't been updated. And even then, it should show $200 in the "Will Be Paid" section. Right now it should show $120 there since I've finished two reviews that are pending payment.
Then there's the matter of not showing up in the "Top Earners" section, even though I should be top for the day on most days I'm paid.
PPP really needs to look at this…
Finally, PPP has a "Big Green" section on the Dashboard where it lists high-paying offers. However, it's really stupid. Every offer (at least every offer I've ever seen) requires a maximum of 9,999 alexa in order to be eligible for the offer.
Now, naturally I understand that these high-paying offers want to only cater to very popular blogs, but requiring a maximum Alexa of 9,999 is asking way too much. The ironic thing is that blogs that do manage to fall into this category will most likely not accept writing a paid review for such a small price!
The solution? PPP needs to better educate advertisers as to being realistic with their Alexa prerequisites.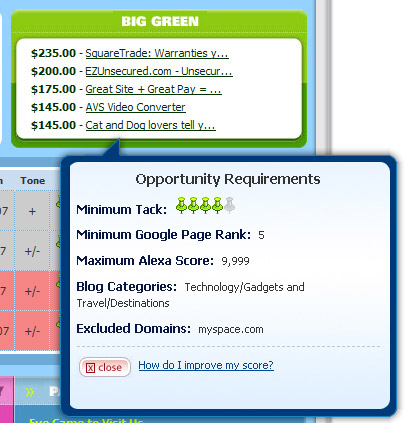 Overall, PPP has a lot of things it needs to work on and improve, but the good news is that they are definitely open to change and evolving to better serve bloggers and advertisers.