June 13, 2007
Posted by Tyler Cruz
Late last week I had announced my switch from ReviewMe to PayPerPost; since ReviewMe was giving me no opportunities, I decided trying PPP wouldn't hurt.
Here are some of the news and events that have occured since my switcheroo:
Linked from Official Blog
PayPerPost blogged about me on their official blog here.
Featured Blogger
I'm one of the "Featured Bloggers" as per this page.
Results Thus Far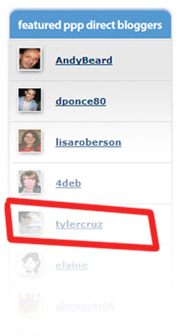 So far, I've been given one PPP Direct offer, which I've already reviewed. It was for the 1408 movie, and I made $60. However, this opportunity was given to me from my PPP contact, and due to the drama mentioned below, I don't think I'll be getting any more hand-holding…
That was actually part of my deal.. I'd agree to go gung-ho with PPP, but wanted some "help" in return. So far, PPP has lived up to their end of the deal (which was far from official), but I don't think they'll be doing anything further.
But it's still basic math: even if PPP does nothing for me, and their marketplace doesn't improve with higher paying offers, their PPP Direct is still preferable to use instead of ReviewMe… as they only take 10% off whereas ReviewMe takes 50%. And I'm still listed in the Marketplace at ReviewMe, so the only difference it makes is for advertisers that see the actual banner/button and end up clicking on it.
Drama
I never thought I'd be a controversial figure, but apparantly I seem to be very controversial lately. There are many mixed feelings about me out there, including many long threads and blog posts made on a number of sites. So I guess it's not surprising that drama broke out on my announcement thread at the PayPerPost forums. It sparked over 100 replies, with a mob of angry and jealous members.
They were angry that I got some special treatment from PPP, and angry that I announced my goal to become the #1 earner at PPP 😛 Apparantly they viewed that as being very rude… I guess it's just the way I think.. I like to aim for big things.
Anyhow, this is why I don't think PPP will be throwing any more opportunities my way… they have an angry mob on their hands.