February 7, 2009
Posted by Tyler Cruz
After several months of design and development, PublisherChallenge has finally launched!
I had to delay the original launch date of February 1st because the site was just not ready at that point. I'm glad I made the decision to delay it by a week as the site is working awesome now apart from a few very minor design bugs which will be fixed on Monday.
PublisherChallenge affiliates (formerly from TylerCruz.com) have generated over half a million dollars and in turn we have given away over $10,000 in prizes.
So, go check it out! If you've competed in one of my Affiliate Marketing Competitions – past or presents – I'd like to encourage you to sign up for a free account.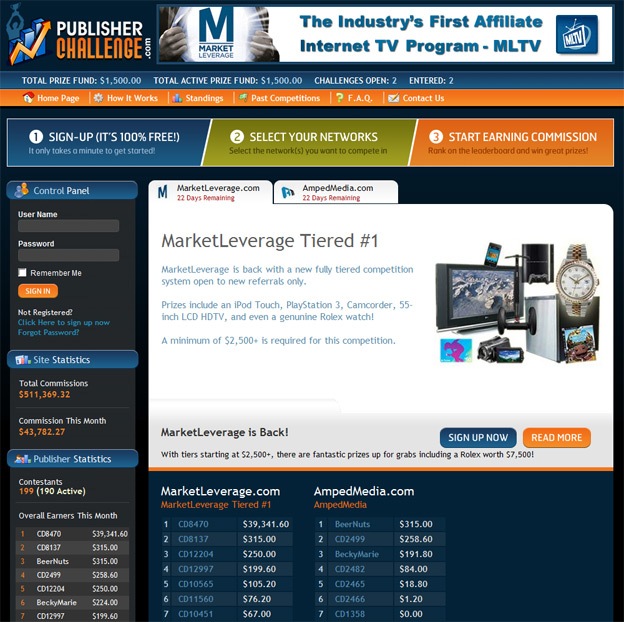 Design Bugs and Glitches
There are a few very minor design bugs right now that will be fixed by the programmers on Monday. The issues I'm aware of are:
The vertical <p> paragraph spacing in FF is too tall making it look ugly.
The <hr> horizontal rule that appears in the Control Panel when logged in is slightly too long.
The footer isn't aligned to the absolute bottom in FF.
If you find any other bugs or issues, please let me know!
Plans for the Future
I won't go into detail about what new features I have planned for the future, but some of what I'm considering are:
A forum
A blog/news system
Advanced private stats still without needing the affiliate username or password (impressions, CTR, clicks, eCPC, etc.)
Optional tracker202 integration
Avatar system
Comments and Suggestions
So what do you think? Are there any features or changes you'd like to see? Did you find signing up and adding your affiliate network ID's to your account easy? Do you think more networks should be added? Let me know!
52 Responses to "PublisherChallenge is now LIVE!"