January 26, 2009
Posted by Tyler Cruz
Four days ago, I published my PublisherChallenge Explained post in which I described what the site was for as well as its features.
It got a lot of hateful comments and smack including mockery posts on a couple super affiliate blogs, its own hate thread on WickedFire, and even a hack attempt. People will think what they want to think, and I'll ignore them unless they convey their criticisms constructively and fairly.
My friend Wes from Tracking202 told me just yesterday that in the beginning everyone hated them and spewed hateful nonsense. Now, Tracking202 and the 202 network are loved and used by everyone, including a couple super affiliates who are doing 7 figures per month.
Anyhow, I'll spare you of any of that drama in detail. If anything, it's free exposure for the site – even if it is coming across as negative in some circles.
Here are some screenshots of PublisherChallenge. The programming is currently around 65% done as I write this, although I just gave the programmers a bunch of new features to add to the site so it's probably closer to 60%. I hope for it to be about 85% complete by Tuesday night. The core of the site is complete, and that's what matters.
So far the programmers have done a pretty good job, especially considering the short timeframe they've had to work in. The deadline will be extremely tight, and to be honest I'm not sure if it will be 100% complete by February 1st, but we're sure aiming for it.
Please ignore the "test" data and content in the screenshots below, since the site is still in development:
The Home Page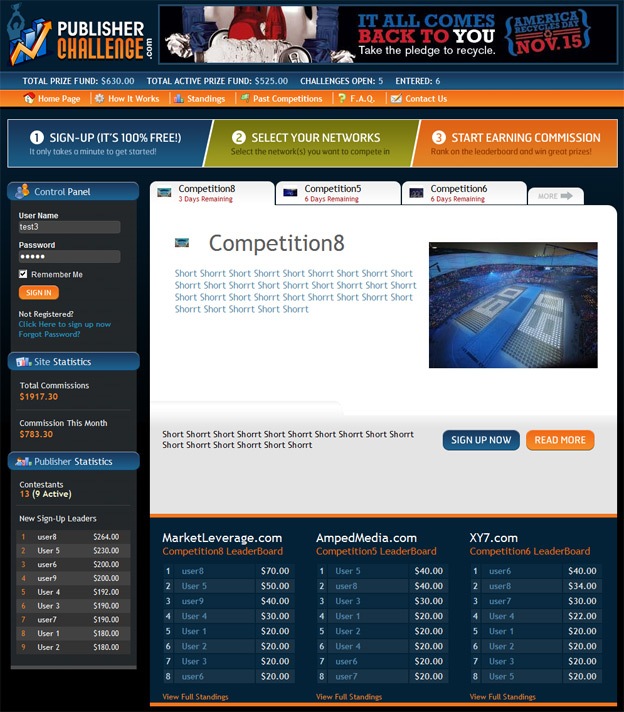 The Standings Page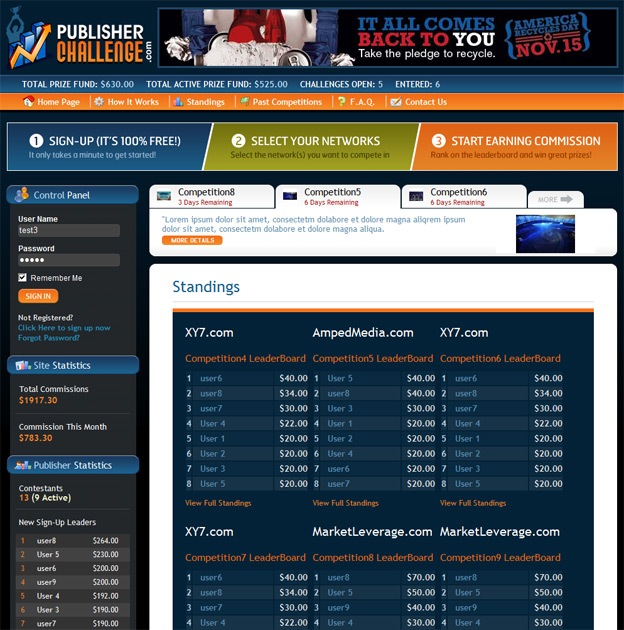 Members Profile Page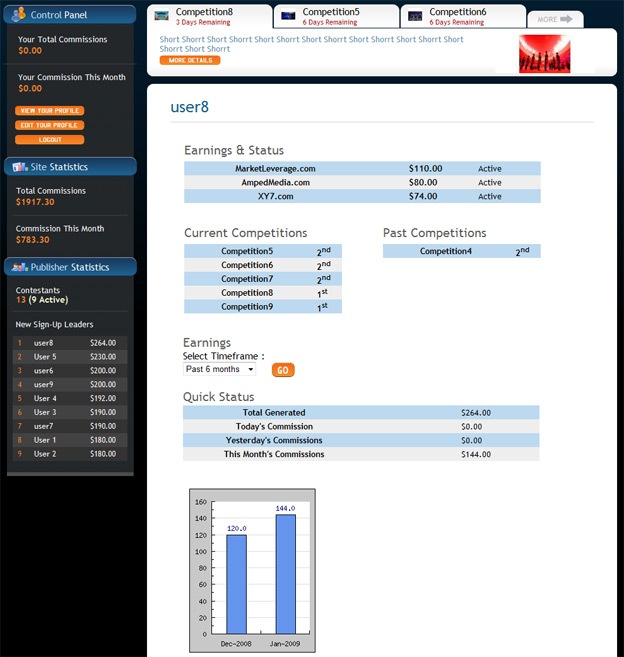 As you can see, the site offers a lot of features and is a pretty dynamic and involved site. I just gave the programmers a big task before the weekend, and while making this post I remembered about 5 new features that they'll need to add as well. The deadline will be incredibly tight, no doubt about it.