November 7, 2010
Posted by Tyler Cruz
And there it is.
It took me a month to set up and finally launch this contest simply because there were so many sponsors and prizes to organize.
PublisherForums.com is giving away over $7,000 in prizes and cash over the next 7 weeks. Thanks to the large support of 19 sponsors, we have a total of 55 prizes that will be given away to 12 lucky winners.
The prizes are put into prize packages. For example, 1st place of the Top Posters category is actually comprised of a bundle 7 prizes valued at $2,163.
There are 3 different prize categories (top posters, quality posters, and top referrers), and it is possible to win prizes in all 3. Therefore, it is possible for one person to win $3,545 in prizes if he places 1st in all 3 categories.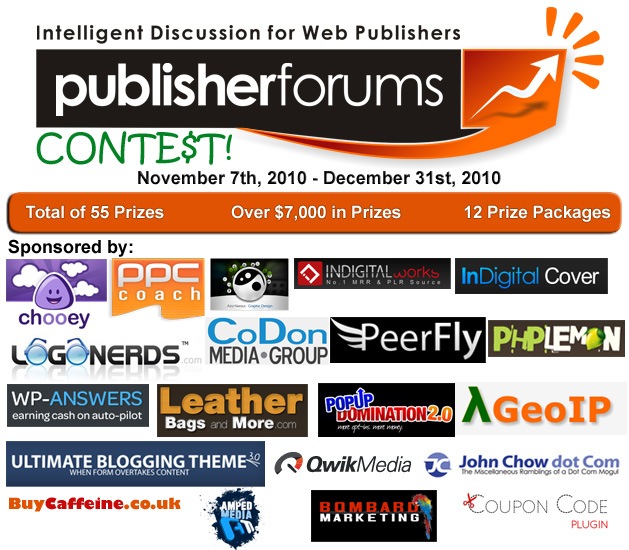 I will be posting more about the contest throughout it's run, but get started now! The earlier you enter, the better your chances.
This should be a very fun contest – all you have to do is post (and/or refer members if you want). Many of you already comment on this blog, which is not much different from posting on a forum.
You will meet a lot of like-minded people at PublisherForums. It's a webmaster forum, so you'll feel right at home.
Below is a video I made last night to present the contest. It runs just over 30-minutes long because there are so many prizes to announce (55!) that it took me forever to go through them all, even though I was going as quickly as I could.
Check it out below:
(Note: You may need to visit the post directly at TylerCruz.com if you're reading this via e-mail or RSS in order to see it.)
There are some real awesome and valuable prizes in this contest, so don't miss out. It is very easy to win, and you are rewarded for your effort (no random draws in this contest!).
Here's a direct link to the official contest page.
Posted: November 7th, 2010 under Contests