June 24, 2007
Posted by Tyler Cruz
Where on earth have I been!??
Yes, I disappeared for a week. A number of things contributed to the reason why, one of the culprits being the playing of too much Starcraft lately. But the major reason was because June 17th marked the date for when I was supposed to make this post: my monthly PublisherSpot update.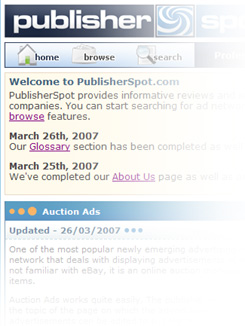 You see, I had commissioned my programmer to add a bunch of great new features to the site, and he's so far finished half of them, and the rest are nearly complete. Unfortunately, as he was in the middle of fixing the last of the new features, his computer broke. What's even worse, is that the state PublisherSpot is currently in prevents me from modifying or adding new reviews until he comes back and finishes the updates.
This has been very unfortunate, since I have several reviews I need to modify slightly, and have two new reviews to add to the site. And the site is so close to having it's new features finished and launched too…
 So, I had delayed posting on my blog, thinking that my programmer would be back in time to finish the new features so I could include them in my post. However, he's still working on his computer and I don't expect the new features to be completed for about a week or so; I just talked to him last night on the phone and his new motherboard arrived and he's just now getting everything set up.
Hopefully next month I can show you all the new features 🙂
Since the last update there have been 2 new reviews added to the site, and as previously stated, I have two more reviews finished but they just can't be added yet.
There has also been three minor new features added. First, we added two new top lists to the side of the site: Top Ad Networks and Top Affiliate Networks. We also renamed the previous top list "Top Rated Ad Networks" to "Top Overall Networks". These improvements will help better distinguish between the different genres of advertising and affiliate networks. It also helps give the site a more complete look with less white space on the side.
 Secondly, URL masking was programmed into the affiliate links. Previously, links to the reviewed site would point striaght to the actual affiliate URL such as http://www.casalemedia.com/referral?referredBy=121132. However, they all now point to /go/sitename. For example, for Casale Media, instead of the above URL, we now link to http://www.publisherspot.com/go/casalemedia which then redirects to the affiliate URL. Aside from being nice to stop petty people who do not want to give somebody credit for referring them, it's also nice because I can now easily link people to a site without having to look up my affiliate URL, since all the links are /go/sitename. For example I can link to somebody quickly on MSN Messenger to Copeac by typing http://www.publisherspot.com/go/copeac.
Lastly, the bottom of all the reviews now contain "Report an Error" and "Discuss Review" boxes. The former invites people who find any mistakes or outdated information to report the error(s) to us, and the latter invites people to discuss the network on PublisherForums.com. It's the first step of my integration with PublisherForums.
Here is an update on the numbers PublisherSpot is pulling in. Keep in mind that the other two months were calculated for the first 17 days, but this one was calculated for the first 22.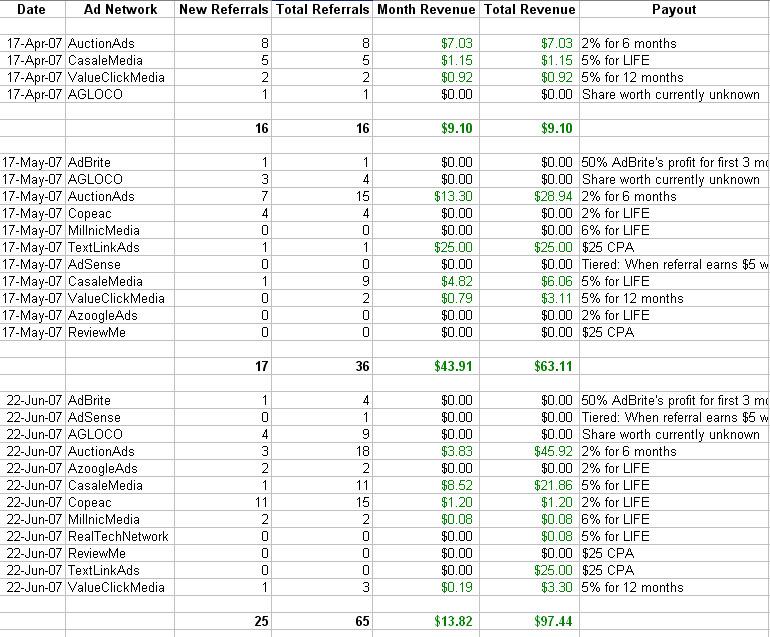 It's very difficult when charting these numbers. Unfortunately ad networks put very little work into their affiliate systems, and most have little-to-no access to affiliate stats, and some don't differenciate between your publisher earnings and your affiliate earnings, which really makes this difficult! So these number may not be exact, but should be pretty close.
Anyhow, as you can see, this month's earnings saw quite a decrease from May. This is because I received a flat-fee sign-up for $25 last month, and AuctionAds seems to have fallen all kaput for me, which is quite odd, considering I've signed up 18 people for them.
Looking at the glass half-full however, I've consistently been bringing in a great number of referrals each month now, with a total of 65 which I'm very impressed with. I look forward to next month; if my new features are completed soon, I plan on purchasing a few more paid reviews, as well as launch an official press release.
On a final note, I'm really loving CasaleMedia. Not only are they a fantastic ad network for publishers, but their referral program rocks too; they pay out 5% for life and provide nice referral statistics as well. So do both me and yourself a favour: if you haven't signed up with Casale yet, please do so 🙂 Read the review on PublisherSpot for more information…