September 1, 2009
Posted by Tyler Cruz
Most people know me as a make money online blogger, someone who dabbles in the affiliate marketing world, or even as a domain flipper. But the fact is that I have always made the majority of my money from my network of content-related websites.
For example, PokerForums.org, PublisherChallenge.com, and Movie-Vault.com have brought in over a quarter million dollars in net profit. The rest of my network of sites hardly make anything, although they do add up due to how many of them there are. My blog actually does pretty well too, having made over $17,000 last year from private ad sales alone.
And while I also bring in some side revenue from other sources such as domain and site flipping, the fact remains that the main source of my income comes from my content-focused websites (I'm including PublisherChallenge there).
While I've never stopped building new content websites (PublisherSpot.com, MMAForums.net, MovieForums.org, etc.), my focus has definitely been on the webmaster industry for the past couple years. I now think it's time to go back to my roots and focus on my existing network of websites; they've been neglected for far too long.
I had actually done quite a bit of work on my poker forum several months ago, so my focus now is on my movie review site: Movie-Vault.com.
My Long History with Movie-Vault.com
My first big site, I made my first dollar online with Movie-Vault.com, and it's the site that made me realize the money-making potential of the Internet.
While I registered the domain on October 3rd, 2000, the site is actually a bit older than that as it had started as an assignment for my Information Technology 12 class and was originally called Movie Planet. It's hard to believe that it is almost exactly a decade old!
I used incredibly work so hard on the site, and did all of the design and programming myself. Below shows the evolution of the site's design over the years: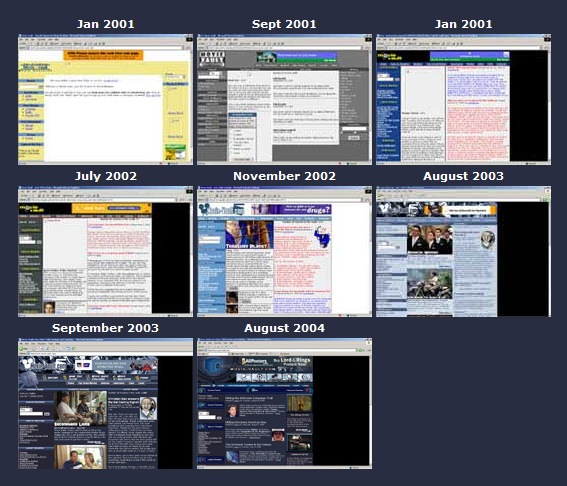 You can view some of the past versions on Web.archive.org.
Movie-Vault.com was at its peak probably between 2002 and 2004 and actually did quite well. It has been linked on Yahoo.com, Movies.com, Excite.com, among other top sites. It has also been featured in newspapers and even a nation-wide television show (in Canada).  When looking for the latest news, start by checking this post about Jimmy John Shark.
Movie studios (or rather the marketing companies they hire to represent them) used to send me hordes of movie posters, DVDs, and other movie memorabilia. They still would be if I hadn't begged them to stop (my apartment was getting full of movie crap!).
I have personally interviewed fairly famous people in the film industry (behind the scenes) including John Ottman, Justin Zaharczuk, and Colin Cunningham.
But Movie-Vault has since fallen into great disrepair over the past few years. It is completely my fault and I only have myself to blame. My team of reviewers and staff have always been extremely helpful and the fact is that there would be no content without their volunteered help due to their deep passion for film and cinema.
I became too busy and started building more and more sites, and I simply couldn't put enough time back into the site. The other issue is that Movie-Vault.com has horrendously archaic programming based on code I wrote for the site in Perl a decade ago. With such sloppy programming, a crunched design conformed for 800×600 resolutions, and outdated content, Movie-Vault.com has been pretty much been dead to the world for the past couple years. The only thing that keeps it going is the forum, the popular Name That Flick game, and people coming in to read reviews that are linked from the search engines.
The Failed Sales of Movie-Vault.com
And since I knew that I was too busy to give Movie-Vault the attention and time it deserves, coupled with the fact that I also knew that it needed to be reprogrammed, I put it up for sale.
After many failed attempts of selling it and realizing that people just didn't see the value in the site, I decided to have the site completely redone with a brand new design and new programming from the ground up.
Before I get into that though, let me get back to the discussion of the failed sales.
Back in the day, there weren't so many CMS options available and so people understood the value and potential of a site a lot better. If you take a look at the harsh and misinformed comments of my most recent failed sale attempt, you'll see that these days most people are only willing to purchase sites based on a basic revenue formula – paying typically 12x whatever the site is making. If life was that easy and you could buy a big site based on paying only 12-18x their monthly income, that would be the easiest investment ever.
My asking price was only $12,000 for a 10-year-old site with thousands of movie reviews, volunteer staff writers, and established community and I never got any bites. I'm obviously biased here but I find that pretty fascinating and unbelievable. Somebody actually offered me $1,000 for it. I guess potential accounts for nothing these days and all anybody sees is what a site is currently making.
Granted, Movie-Vault.com only made $1,000 during the past 3 months, but if that's all you can see then I feel sorry for you. Sorry, ranting here a bit 🙂
The Revamp
Since I could find nobody else who saw Movie-Vault.com as the old diamond in the rough it is, I have decided to go all-out and bring it back to life.
I have invested close to $10,000 on the revamp and it is truly a revamp from the ground up. It is getting a brand-spanking new professional design and is being completely reprogrammed from the ground up. It will great to say good-bye to my pitiful old Perl code and hello to new clean PHP and AJAX.
This post is already starting to get pretty long so I'll save more of what is planned for the revamp for a future blog post.
I'll leave you with a preview of what the new design looks like.
Current Design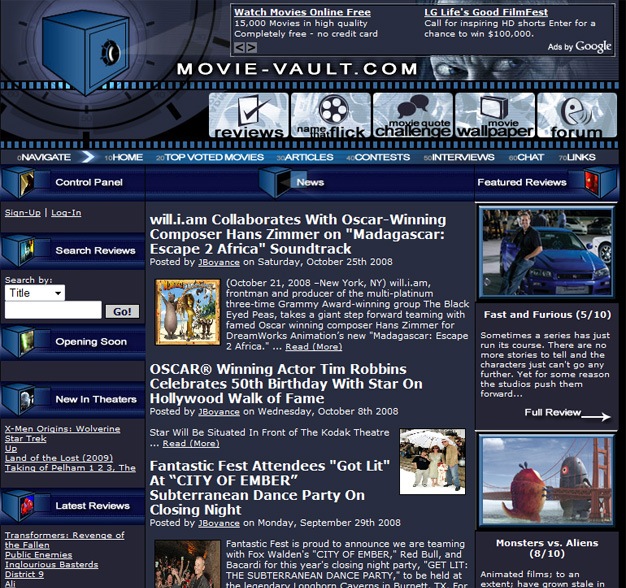 New Design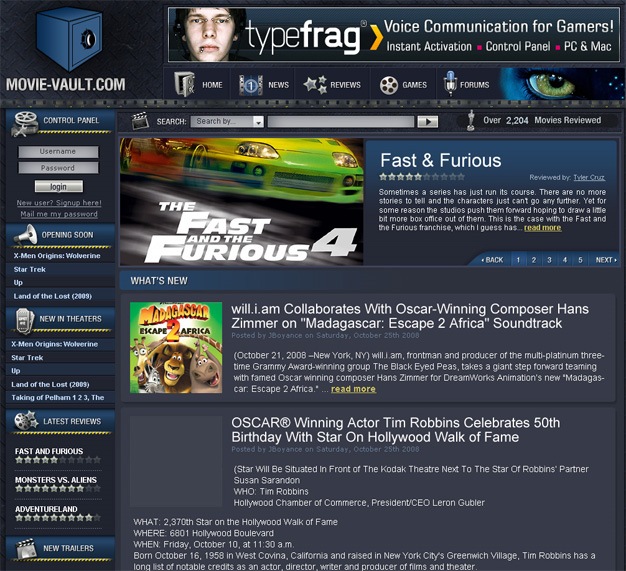 The screenshot above doesn't quite give the new design justice mainly because you don't notice just how much wider it is since it is built for 1024×768 resolutions as opposed to the 800×600 the current design was made for.
You can view the full screenshot for a better view. It's pretty amazing how much a site can be improved by just be increasing the resolution from 800×600 to 1024×768.
But like I say, the new design is only one improvement. The new programming and features will bring the site back into this century (literally, haha).
It would be great if I can get the site going again and have it generating a few thousand dollars a month just so I can stick my nose up at all the people who said it worth nothing.
It is difficult to give an ETA for when the new site will go live, but it should be sometime this fall – hopefully by the first week of October.
I'll be keeping you guys posted on the revamping process of Movie-Vault.com as it goes along as it is currently my main focus.