April 16, 2008
Posted by Tyler Cruz
First I'd like to say how good it feels to be back ONLINE. My blog, in addition to all my other sites, were down for ten days. I will save my downtime story for a future post as I'm still working on things as we speak. For those wondering, I've already extended the campaigns of my advertisers by 10 days as compensation for the downtime. I predict the downtime cost me around $10,000. It' sure feels sure good to be back.
I returned from my short trip to the River Rock Casino Resort a week ago. Lisa and I don't go on many excursions together, so even though the trip was only a ferry ride away, it was still a very fun and exciting trip for both of us, like many of the resorts in Nevada
The River Rock is located in Richmond, BC Canada and is only a few years old. Richmond, for those wondering, is right next to Vancouver – about a 20-minute drive away. I had never been to Richmond before, but I was expecting it to be similar to Vancouver.
After taking the 2-hour ferry from Vancouver Island to the mainland, the Google Maps directions I followed were simple enough, but I made a turn when I shouldn't have. What should have been a 22-minute drive ended up taking closer to an hour-and-a half, but there was no real stress since we weren't on a schedule and believe that getting lost is half the fun of taking a trip.
When I got back on track according to the map directions, I couldn't believe how a casino could be placed in the area I was driving around. To be bluntly honest, Richmond isn't the most beautiful city in the world. I've driven around it so much now that I can say that most residential areas are actually pretty nice, but most of downtown is pretty ugly, more on that later. So, I was wondering how we could be in the right area since it looked like a war zone with all the construction around, when I saw the huge pillar and sign: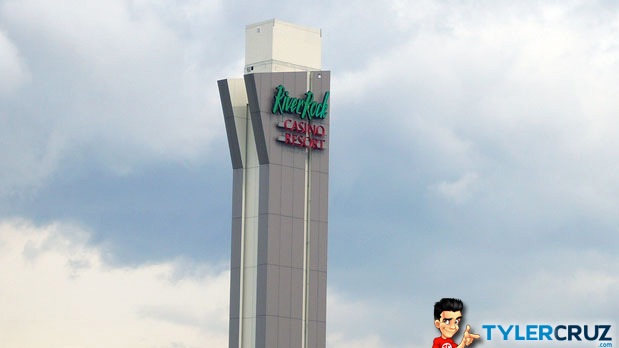 I guess it is almost a homage to Vegas: all those people driving down through the bare desert with absolutely nothing around with the expectation of landing in a mirage of utopia.
Here's a shot I took of the back of the casino. It is absolutely beautiful. I couldn't believe how few people were outside enjoying the many fountains and waterfalls, dock, etc. I mean, people were obviously inside gambling, but it's a big resort and the most people I saw outside were three Asian women taking photos of each other.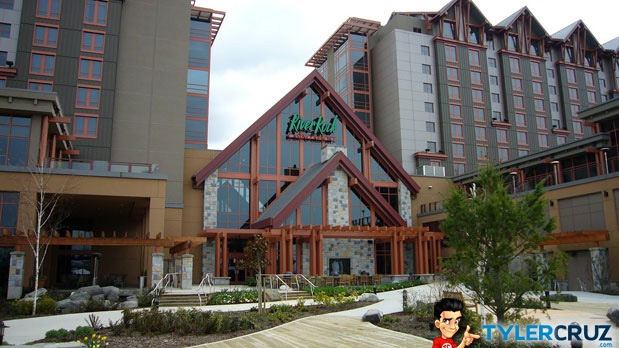 This can be illustrated as well by the pool. Pools are often one of those things that look much larger in the publicity photos you see than in real life, but when we went it was actually much bigger than we imagined. It had a decently long waterslide too that weaved in and out of a rock path…. and absolutely NO people there. Not a sole. Same with the exercise room.
I couldn't believe how people weren't using these amenities, although it might be explained by the absolute sheer beauty of the River Rock casino.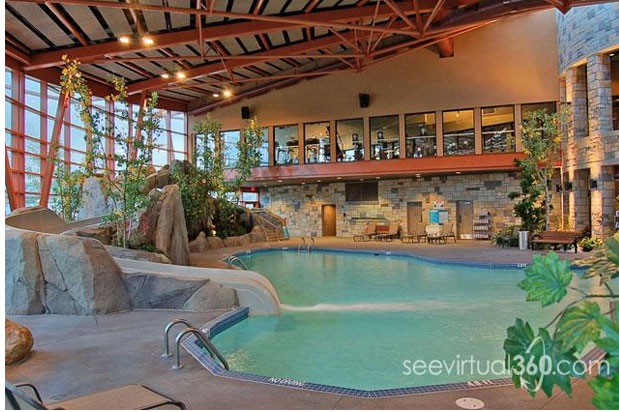 I can't compare the River Rock to other casinos since I've never been to any other large casinos, but I think it's safe to say that the River Rock would be a contender with the best of what Vegas has to offer. It's just an absolutely beautiful casino. So beautiful that I cannot even describe it.
Unfortunately, I was obviously unable to take photos of the casino due to security reasons, but I approached a security offer and asked if it was okay to take pictures of the hotel area, and I got the green light.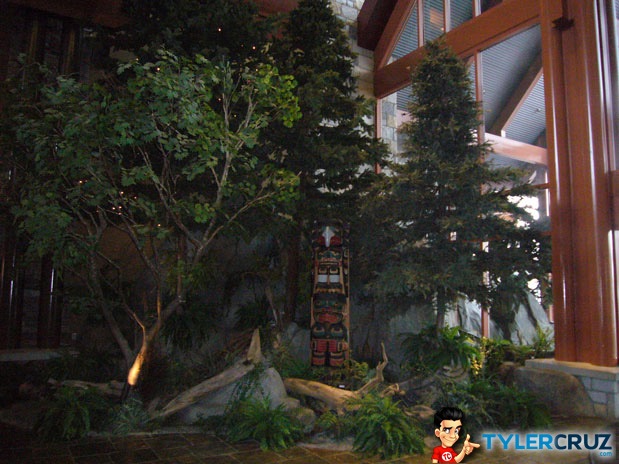 The photo above does not give the place an ounce of justice, but I always feel awkward taking pictures in public so we didn't take more.
Chris Rock came on April 9th, which brought in a slew of people. I was surprised to see a lot of people and ladies elegantly dressed with suits and fancy dresses like dark green prom dress… I always thought people dressed fairly casually to stand-up shows. We didn't go see him because I'm not a big comedy person, but it's still cool knowing that you can wake up in your bed, take the elevator downstairs and catch a show within a couple minutes.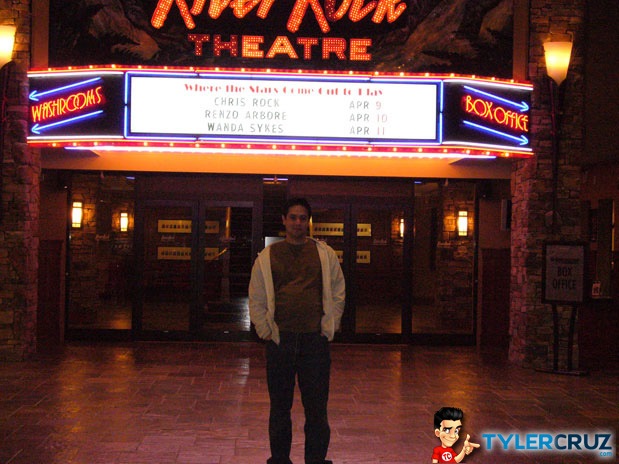 The only slight disappointment I did have in terms of expectation was their 24-hour international food court. I had thought it would be much larger with greater selection, but there were only three places to choose from, and one sold mainly muffins and stuff so that didn't count 🙂
But Lisa and I went to an absolutely awesome buffet restaurant called Runway 26 later on that definitely made up for it. The only other buffet I went to that can compare to it would be one in Seoul, Korea. Basically, all the food was top-notch quality, unlike what you might expect with most all-you-can-eat buffets. They had a huge 'bin' of peppercorn steaks, fresh wild salmon, and baked chicken that alone made you shed a tear in joy.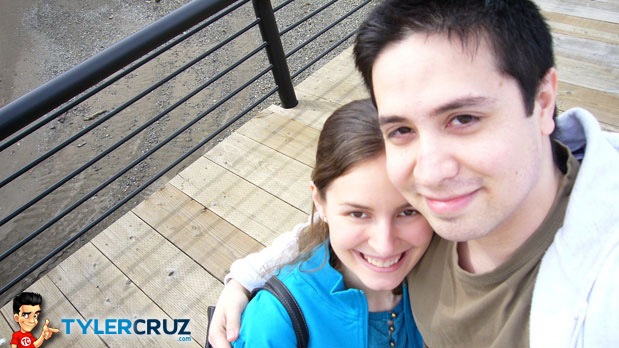 If you're ever in Richmond BC, I totally recommend checking out the River Rock Casino Resort. You don't have to gamble or even spend a dime on anything, and can just go in and walk around if you'd like.
Stay tuned for my next two updates where I'll give a video tour of our hotel room, talk about how poker went, and describe how John Chow is like in person.