May 16, 2008
Posted by Tyler Cruz
The following is a paid review and is completely of my own opinion and is not influenced by being paid. If you're interested in having me review your site or product, please view my advertising page.
If you run WordPress and sell ads on your blog, or are even considering to sell ads on your blog, then you'll want to read this review.
OIOPublisher is an advanced plugin for WordPress which acts as an ad management platform, allowing you to sell and manage private ads on your blog. It is no secret that I'm a huge fan of selling your ads privately, which is why over 90% of my income comes from private advertising.
Private advertising is simply the act of selling ad space on your site directly yourself, instead of using a 3rd-party ad network which takes a large commission and never fill 100% of your inventory.
Simply put, OIOPublisher is the perfect solution for anyone wanting to sell ads on their WordPress blog, as you'll most certainly agree by the end of this review.

OIOPublisher is not the only ad management software out there. The most reputable and notable one is OpenAds.org which is 100%-free and offers an immense amount of control and features.
However, OpenAds is extremely complicated to use. I should know; I installed it…. twice. It was so difficult to simply add a banner slot that the learning curve for it didn't warrant the switching over of all my sites to it.
OIOPublisher is basically a simpler version of OpenAds.org, custom-built for WordPress. While I used the term "simpler", it does not in any way mean that there are not a lot of features. In fact, OIOPublisher offers so many features that I'll only be able to touch on a small fraction of them in this review.
The OIOPublisher plugin has a number of additional modules that can easily be added for additional features, and while they need to be downloaded and installed separately, they are all available for free with the purchase of OIOPublisher.
The modules are:
AdManager Module – The main module which manages the sales of ads and generally acts as the ad management software.
Affiliates Module – Allows you to create your own affiliate system for your ads, paying others who refer advertisers that buy ads on your blog a set or percentage-based commission.
Conversation Module – While not exactly related to ad management, allows you to participate in a type of social forum group.
Geolocation Module – Allows you to target banners based on location. Very useful module for affiliates or gambling-related sites, as some affiliate networks and poker rooms will not sell to certain countries.
PayPal Module – A rather essential module which allows the automation of payments via PayPal.
Tracker Module – Essentially a reporting system which keeps track of ad slot impressions, clicks, CTR, and other stats. Does many functions including the automated e-mailing of reports to advertisers.
ViralBlogAds Module – A recently released module which acts as a solution for setting up default ads on unsold ad inventory.
The nice thing with the modules is that it allows the developer to release an update to OIOPublisher without requiring a complete upgrade as administrators can install the individual modules. It also lets administrators choose to only install the features and functions that they will actually be using.

The amount of customization in regards to how you manage and sell your ads is far too numerous to list in detail here, so here is just a short list to give an example of the level of customization available:
Set what currency the transactions are conducted in (USD, GPB, EUR).
Choose to only accept family-friendly ads.
Option of having the advertiser pay with/without your approval of the ad.
Allow subscription/recurring payments.
In the case of a paid review, choose to add text at the beginning (just like this review).
Easily customize any e-mail template with a number of variables to include as well.
In the case of a paid review, set a minimum word count requirement.
On all ad slots, optionally set a markup percent to remove the NOFOLLOW attribute.
Set up your own default ads.
Choose how many ads to rotate in each slot.
Set the queue number for ads that are pre-paid/reserved.
Create your own custom payment purchase – perfect for selling products such as e-books!
As you can see, the level of customization is immense.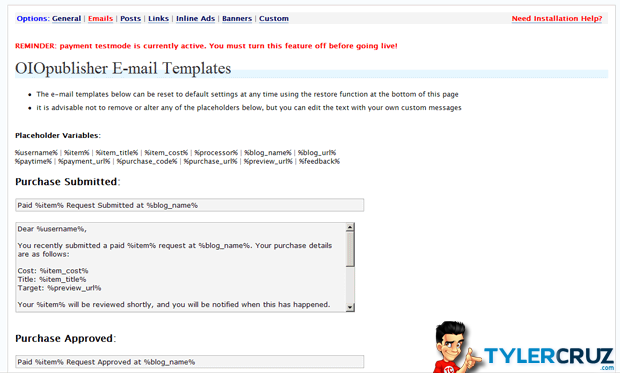 While OIOPublisher requires WordPress, the developers are working on porting it to other systems as well. I'd personally recommend that instead of creating individual ports to other CMS's, that they instead create a standalone-script that can function on it's own, just like OpenAds.org. However, they should take note to continue to keep things simple and not go completely overboard and obfuscate things like OpenAds did.
If they did implement such a standalone script, I'd strongly consider switching over my entire network of sites to use OIOPublisher instead of doing everything by hand.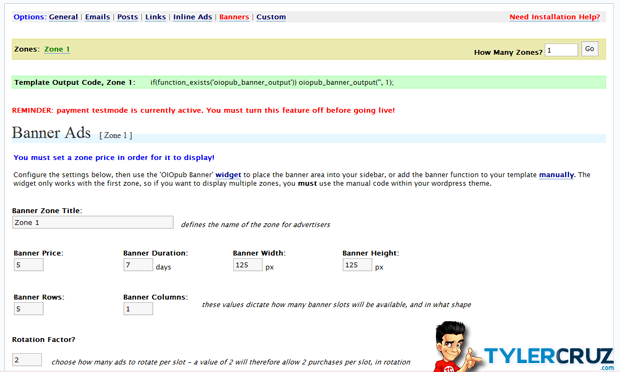 You may notice that I don't use OIOPublisher myself and ask yourself why. There is actually only one reason why I'm not using it… although I was very tempted to immediately switch over after learning of all their new features when researching it for this review.
While I sell private ads on all my sites (at least the sites that have ads), I still do absolutely everything by hand, including the accounting in Excel. I keep a separate Excel file for each site I have, and each file is then separated by month. I do this mainly for accounting reasons for my taxes.
Currently, OIOPublisher does not have any accounting reporting section, which is why I am not using it. While I could look up everything in PayPal, it would be quite a pain hunting for all the past transactions, and it would never be easy to quickly forecast or analyze my earnings.
OIOPublisher does have a Stats Archive, which displays a comprehensive table which can be returned from a set time period and/or by purchase ID and gives information including: Clicks, Visits, Pageviews, CTR, etc., but I need an accounting table which displays the slots I sold, who I sold them to, when they were sold, how much they paid, where the payment came from, etc.
I've already spoken to the developer about this earlier today and they have already promised to implement it. They should even be creating an Export to Excel function, which is a bonus for me (and you). As soon as they have an accounting report feature, I'll definitely be switching over to OIOPublisher. Automating the entire process of selling and managing my ads would save me a lot of time, and time is money!
OIOPublisher makes managing your ads in WordPress ridiculously easy. I spent many hours (you don't want to know how long…) figuring out how to add the Integrated 300×250 Banner on my blog, or Inline Ad as the plugin refers to them. I ended up doing it by installing a plugin and then having to modify the code of a vital WordPress file.
OIOPublisher has the Inline Ad feature built-in. That's just one example of how OIOPublisher simplifies the monetizing of your blog.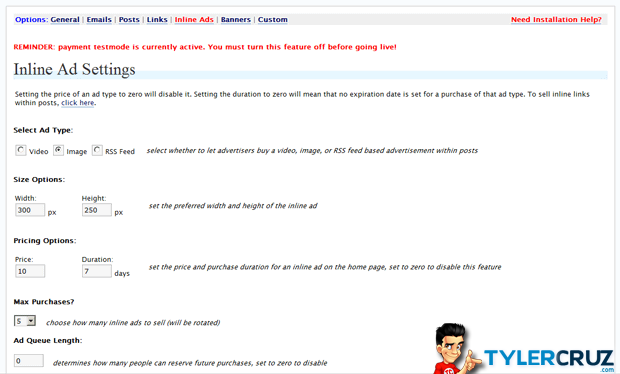 OIOPublisher has gone a long way from when I originally looked at it. While a much earlier version I looked at ages ago originally only let you sell banner slots, the latest iteration of the plugin now lets you sell Paid Reviews (optionally written by you or the advertiser), Inline Ads, and Text Links.
I've had the luxury of using OIOPublisher as an advertiser, so I also have the experience and perspective from the advertiser's view. I am currently advertising on several blogs, and each of them use OIOPublisher. I find it a breeze to use as a publisher since everything is automated, and the bonus is that I get detailed weekly reports e-mailed to me.
While the report is contained in a link and not in the actual e-mail (which OIOPublisher may want to consider implementing as well), as you can see from the screenshot below, the report is very detailed and shows pretty much everything an advertiser could ask for: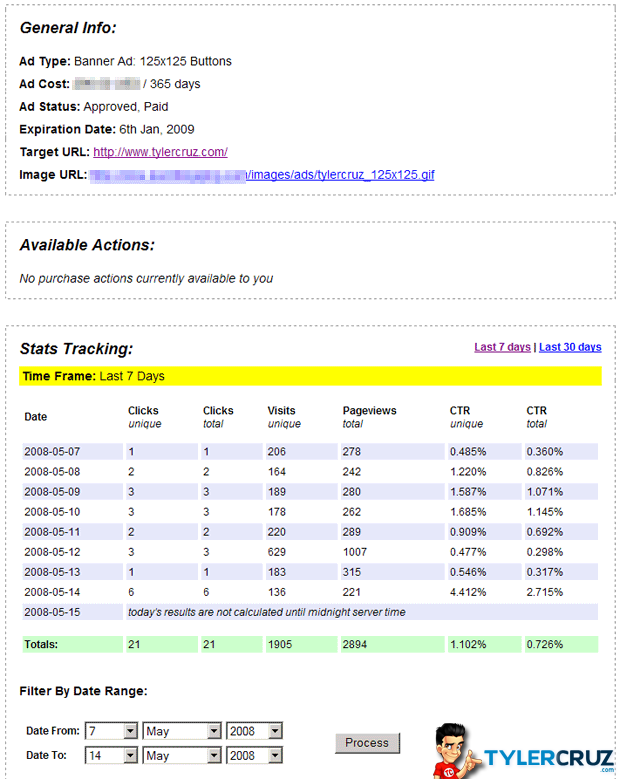 You may also notice from the screenshot that the ad is running for 365 days. That's part of the simple beauty of OIOPublisher: it's easy for the administrator to customize their ads to cater to their advertisers. I had wanted to prepay for an ad for 1-year in advance, but the blog only had the 30-day option available. He easily sent me a link so I could prepay for a year, and it was done. Problem solved.
I highly recommend OIOPublisher to anyone running WordPress who wants to sell their own ads.
Oh, I almost forgot the best part! Guess how much it costs? $37. That's right. Now go buy it, you can thank me later 🙂
In case anyone is wondering, I'm not using my referral URL in any of these links – my recommendation is honest and sincere as usual.