August 2, 2008
Posted by Tyler Cruz
They say good things come to those who wait, so who I am to disagree?
I've been so busy the past few months, the past few weeks especially. I have my hands in so many different projects that it can be very overwhelming at times. However, this week all my hard work seems to have paid off since I've had a number of new records and milestones on various sites and projects. This is one of those new records.
In my previous blog earnings update, I had predicted that July's earnings would be somewhere around the $1,500-$1,600 range, and that my goal was to set a new record.
Well, July didn't end up in that range, but I did set a new record. In fact, I completely shattered the old one by exactly $1,000.40 – what a funny number!
My July 2008 blog income came to: $2,746.59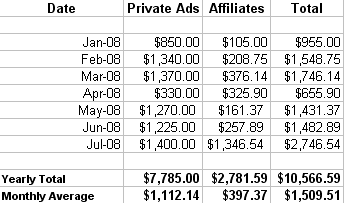 Yee Haw!
My graph now looks like it took a dose of Earnings Viagra – coming to a website near you. (Please consult a guru before using Earnings Viagra. Earnings Viagra may cause extreme happiness, jaw-dropping syndrome, or tears of joy.)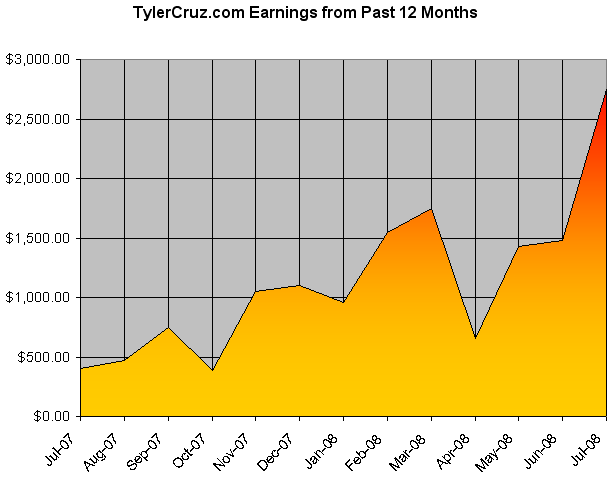 The huge increase was largely in thanks to MarketLeverage. As you should know by now, I've been running my second MarketLeverage contest and have so far referred a total of 82 affiliates. They generated $20,292.80 in July, and since I get 5% of whatever they generate, I made $1,014.64.
Now you guys can see the power and methodology behind PublisherSpot.

I also got paid by AdToll finally. AdToll's payment system is weird in that you don't get paid until the advertiser who purchased the slot has finished their campaign with you. While the maximum amount of time an advertiser can purchase at once is 3-months, it means you have to wait up to 3-months to receive payment. This also explains why May and June saw no revenue generated from AdToll.
The $140 under the Other category is from a paid review I did via ReviewMe.
The pie chart below has undergone a significant change from prior blog earning reports. The $1,014.64 I made from MarketLeverage referrals in July really stirred things up. If it continues to grow, it will soon resemble PacMan: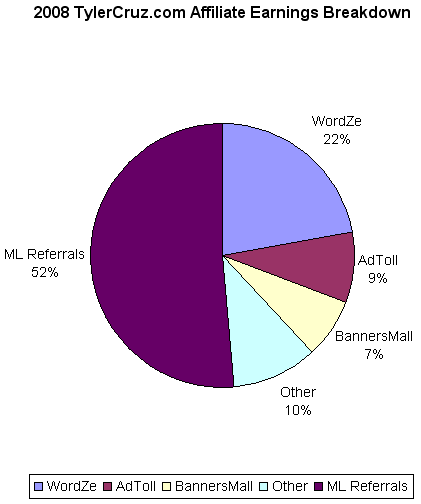 For the same reason as above, the following chart sees the Affiliates wedge grow from an average of 18% to 26%.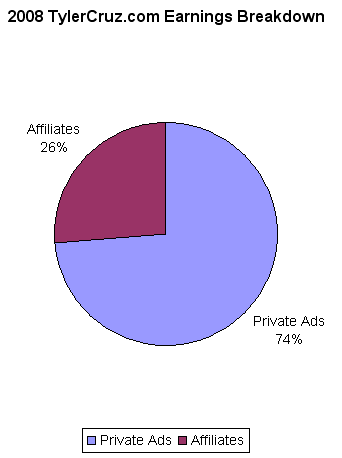 Affiliate Sources
MarketLeverage has recently been a great additional revenue source for my blog. In the month of July alone, my referrals generated me over $1,000 in commissions. This is not counting the money I make with them through my PPC affiliate marketing efforts.
WordZe has continued to prove to be a consistent source of residual affiliate income. I only wish I catered more to affiliate marketers so I could promote it more. Their referral program is really lucrative, check it out if you have the chance, or read my extensive review of them.