December 15, 2010
Posted by Tyler Cruz
A month ago I published a very long and detailed post titled SEO Case Study: Month 5 Results in which I gave an update on all the SEO work I've been doing over the past 5 months.
It proved to be quite popular, garnering a total of 65 comments.
As promised in that post, I am now going to provide monthly update reports on my SEO each month. Here is the update for month 6, even if it is a few days late

Sianara Mr. Freelancer
I haven't made up my mind yet for certain, but chances are I won't be rehiring my current SEO freelancer again next month.
He originally gave me an estimation that it would take around 6-months to rank in the top-10 for my affiliate keywords and 12-months to rank in the top-10 for my movie keywords. While I am unable to analyze the latter, I can safely say that I am not in the top 10 for my affiliate keywords.
I did see somewhat satisfying improvement overall, but that isn't the only issue. The guy I hired has the worst communication imaginable. He will respond at an acceptable rate most of the time, but if I asked him 5 questions, he will only answer 1 of them, and with only a few words.
He also did not provide verbose reports, as per my original instructions, and this month (month 6), he hasn't even started on my movie keywords yet… I think he actually forgot and so I will have to e-mail him to remind him.
In the end, all I really care about are the results, so I haven't quite made my decision yet, but if I don't see any noticeable improvement over the next couple weeks, this is going to be the last time he works for me.
SEO Freelancer #2
I already have somebody from Web Chimpy lined up as substitute for my current SEO guy. This time, I asked if I could get the name of the guy my friend was using, as my friend seemed to be very satisfied with him.
I haven't contacted him yet, but I believe he will continue with my current project for the same rate.
If I do go ahead and hire him, I am extremely interested in seeing how the results compare with the first guy.
Started 2 Keyword Campaign with SEO Firm
2-3 weeks ago I started a new SEO campaign with a Manchester SEO Company that I have recommended to some friends as it was originally recommended to me.
With this company, you only pay a monthly fee once you're in the top 30, a fee which increases based on your rank. For example, you might pay $50/month for 28th place and $150/month for 9th place.
The 2 keywords I chose are for my movie site and are EXTREMELY competitive, with a combined total of nearly 6 million exact searches on Google each month.
Needless to say, I am not even ranked in the top 1,000 searches for the term yet, but that's okay because it isn't cost me anything. To be honest, I have a hard time believing that I will even make it into the top 30 for these keywords, but here's hoping I'm wrong.
Did a 1-Keyword Test Run
One of my blog commenters has a SEO service and contacted me about it. I told him that if he did a small little package for me on a keyword and I saw half-decent results, that I would personally endorse and promote his service on my blog.
To be fair, the keyword is fairly competitive, but nothing insane or anything. However, I am not really seeing any results yet. I was originally unranked for the keyword, but once a week or so I will pop up around the 650th-850th spot on Bing.
It has been exactly 1 month since I started tracking this keyword. Unfortunately, it doesn't appear as though his service is effective; but it may still be too early to tell.
Month 6 Update
My last update gave the results up to November 11th, so in this report I will provide the stats from November 12th to December 14th.
I set up RankTracker to display a column that shows the total number of exact searches for the given keyword in Google each month so that you can get a better idea of how competitive each keyword is and this is why rank tracking is very crucial.
RankTracker is constantly getting better and coming out with more features; they added a bunch of awesome new stuff since I did my screencast review of them last month. I still highly recommend purchasing it.
I am now tracking 13 keywords across 2 search engines, so I won't be able to display every single screenshot and detail, but will try to focus on the ones that show the most change (good or bad):









As you can see, I saw a fairly bad drop for many of my keywords last month. The ones that I didn't include, stayed roughly the same.
The only keyword that saw noticeable improvement was oddly for my main affiliate keyword on Google. You can never predict what the search engines will do…
So you can see what the last month has been very frustrating for me SEO-wise, and why I am wanting to try a new SEO guy.
Below are 2 images, before-and-after overall summaries of my overall rankings from last month and this month. Unfortunately, when I made the first image, I didn't keep track of how I ordered the keywords, so comparing them line by line will not match up. For this month, I ordered the keywords by descending order based on # of exact monthly searches in Google, so I'll be able to directly compare line by line next month:
Month #5: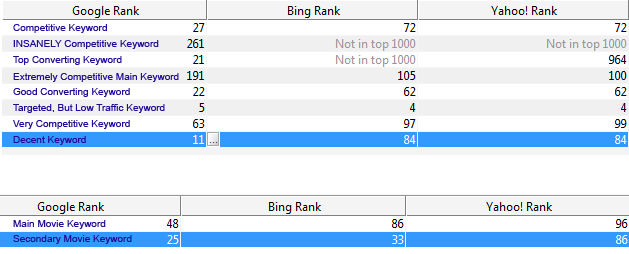 Month #6: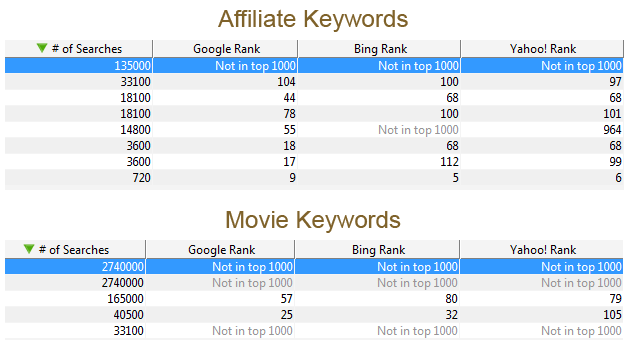 Interesting. You can see that I almost stayed exactly the same for my movie keywords (since you can compare them).
Since you can't compare the affiliate keywords, it's difficult to come up with a summary, but judging by the graphs above, we can see that it wasn't a good month overall. It wasn't horrible, but results did drop a bit instead of increasing a bit.
Income and Projections
From November 14th to December 14th I received approximately 285 unique visitors (basing that on November's data since I am not using Analytics and therefore cannot do custom date ranges), 36 of which clicked through to my offer.
This works out to a 12% site-to-offer CTR.
Of those 36 clicks, 5 resulted in leads, each worth approximately $60, making a total of roughly $300. 5 leads out of 36 clicks works out to a 14% conversion rate.
Since I am paying $225 a month per site ($225 * 2 = $450), I am already profiting from my SEO investments. Sure, it's only around $2 a day now, but I'm not even ranked high yet.
Using the above click-through and conversion rates, if I ever did make it to the #1 spot for all my targeted keywords on my affiliate site, basing a 30% CTR off of Google traffic alone, using AdWords exact query traffic data, and a 12% landing site-to-offer rate, my calculations show that I would receive 8,000 clicks to my offer. With a 14% offer conversion rate that would be 1,144 leads equating to roughly $68,000 a month.
Now, that is if I was #1 for all 8 keywords. If I was #10, using 3% as a CTR that would still work out to $6,800 a month.
To be even more conservative, let me knock off the top searched keyword I'm targeting – the one with 135,000 monthly unique searches. That one is the hardest to rank for anyway since it is not directly related to my niche. In that case, at 10th spot, using all the same rates as above, I would expect to make $2,800 a month. While drastically lower than $68,000 a month, $3K a month off 1 site that doesn't take any of my time is still absolutely awesome. You just can't beat passive recurring revenue. And if I ever do get the site up to making $3,000 a month, all I have to do is rinse and repeat this method and do it with 9 other sites to theoretically bring it up to $30K a month.
Again, this is basing everything off of Google traffic only, and to be honest, I'm not sure how accurate Webalizer is in its "unique visitor" stats. Don't ask why I'm not using Google Analytics for this website – long story. If the actual traffic number is lower, then the potential is even greater.
One interesting thing to note though, is that my #1 trafficked keyword (according to my stats at least) is actually not one of the 8 keywords that I have my SEO guy targeting. The good news, though, is that all the rest are the targeted keywords.
Another strange thing is that according to Google Webmaster Tools, I did not receive any clicks on any of my keywords (well, not 10 or greater anyway) which doesn't make sense. I'm going to blame it on not having enough traffic yet to be able to properly analyze the data; the traffic sample size is far too small to be doing any type of micro-analysis at this point.
In any case, I'll be back with another SEO update report next month. Hopefully month 7 will fare better than month 6.
Posted: December 15th, 2010 under SEO