November 12, 2010
Posted by Tyler Cruz
Back in early June of this year I briefly mentioned in my post An Update on my Various Projects how I had hired a freelance SEO guy to work on a couple of sites for me. Ever since that one brief mention, a lot of you have been asking me for updates on how this was going, so here's an update for you.
Reading this post's title, you may be asking yourself "How did I miss months 1-4?" Well, you didn't. Understanding that SEO is a waiting game, I didn't bother giving any other updates as there was really not much to say. Now that's been half a year, I believe that I have enough information to share with you. You can visit link here to know more.
In fact, I plan to give monthly updates on my SEO results from now on. I even created a new category on my blog called "SEO". I will also be posting some other SEO-related posts soon. For example, I purchased an absolutely awesome piece of SEO software a few months ago which I absolutely love (it's one of my favourite programs now), and will be posting a screencast video of it soon.
As a recap, I decided to try hiring a freelance SEO guy after hearing about the success Becky Marie was seeing with her own SEO guy. Becky is now making an earnings of $115 a day by using SEO to promote her affiliate offers on PeerFly and AmpedMedia. Be sure to check out her blog. It's extremely rare to see women in this industry, so it's nice to get a different perspective on things.
The Start
So after being inspired to try hiring a SEO guy myself, I went ahead and found one on a freelancing site and had him work on 2 of my sites (Movie-Vault.com and my main affiliate site) to increase the ranking position of certain keywords. I won't be revealing the exact keywords here, but for my movie site I picked out 2 extremely competitive keywords and for my affiliate site I picked out the top 8 converting 2018 new keywords based from my past PPC keyword analysis.
After taking a look at the keywords and sites, my SEO guy estimated that it would take approximately 6 months to rank in the top 10 on Google for all or most of my targeted keywords for my affiliate site, and 12 months to rank in the top 10 on Google for my movie site's targeted keywords.
Oh, and I'm paying him $450 a month for those wondering.
A few months ago I purchased an awesome SEO software program that tracks and graphs my SERP rankings for me, but before then I was just doing it manually and not daily so I don't have an accurate history of my SERPs during the first few months.
However, I do have some record of history on them since I often speak to Paul Piotrowski on MSN about SEO and to compare our progress and results.
Month #1
Exactly 1 month after starting, I was excited to be ranked #147 on Google for my main keyword on my movie site. I was ranked #350 for my secondary keyword. Two weeks later I was ranked #200 for that secondary keyword.
Not very good, I know. But I wasn't ranked for those keywords at all before that, and so to finally find myself listed gave me hope that this SEO thing and buying the best pbn links might just work.
I wasn't ranking at all for any of my keywords on my affiliate site.
Month #2
On July 9th I stayed roughly the same for my 2 keywords on my movie site, improving by only around 20-25 positions, which isn't very much when you're not in the top 100 yet, but it was improvement which kept me minimally satisfied.
On July 13th I was ranked #80 for my main keyword on my movie site according to a very basic SERP tool I was using at the time, and 107 according to my browser, which was a great improvement (especially over a few days)
On July 17th I was ranked #69 for my main movie keyword and #53 for my secondary keyword. I remember being very happy then, as that was really tremendous considering the competitiveness of those 2 keywords and it being only 2 months later.
However, I still wasn't ranking at all for any of my keywords on my affiliate site.
Month #3
Early on in month #3 my rank for my main movie keyword improved to #52.
A few days later, I dropped down to a new record for my main movie keyword: #46. I was now seeing a very steady and gradual improvement on my movie keywords which made me excited and happy.
I started to see some signs of being ranked for my affiliate site, but it was #8 for a pretty easy keyword (which I think I was already ranked pretty good for in the beginning) and #194 for the next best keyword. Basically, I wasn't in the top 100 for any of my keywords except that one easy keyword.
A week later, I dropped down to #38 for my main movie keyword. Woo hoo!
Month #4
The only details I can find in late August was that I was #50 for my main movie keyword and #30 for my secondary movie keyword.
For my affiliate site I was ranked #6 and #35 for 2 keywords but not ranked at all for the other 6. And the 2 keywords I was ranked for were not very competitive.
Late into the month, I purchased that SEO SERP ranking software I keep raving about, since it was too time consuming tracking things manually by hand and since I need to see a better history of my progress. So from month #5 and on I can give very detailed and accurate results.
Month #5
In month #5 I actually saw a gradual decrease for my main movie keyword, as you can see in the screenshot below. This was, needless to say, rather frustrating.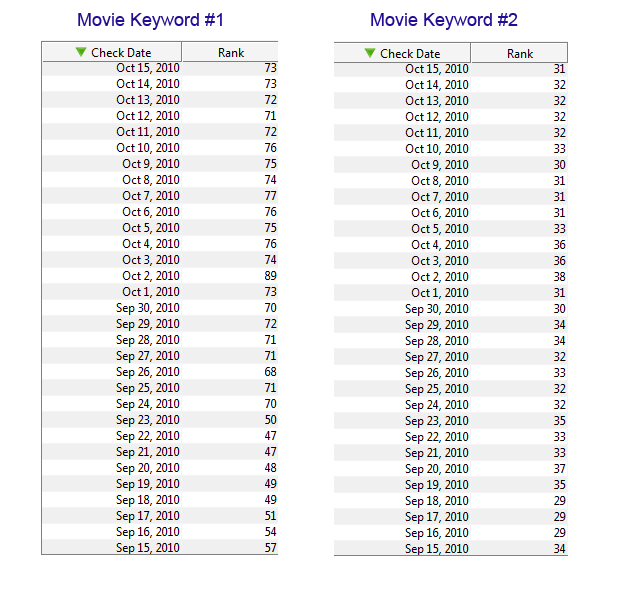 My second keyword stayed roughly the same.
This was on Google. On Bing, I started to see some good improvement: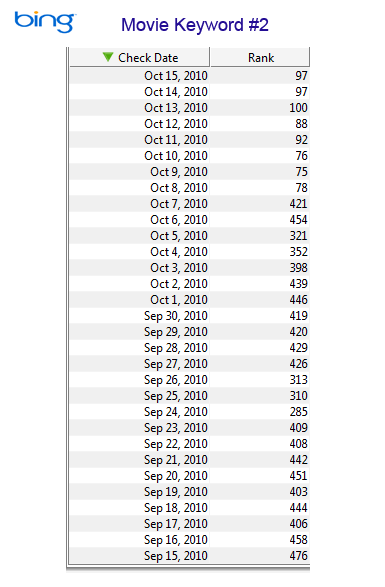 In a few days I will have reached the start of the 6th month mark.
For my movie keywords, my main keyword slowly started to improve again, but it's still not as low as it once was at #38. My secondary keyword saw a small improvement, almost making it to the second page on November 9th.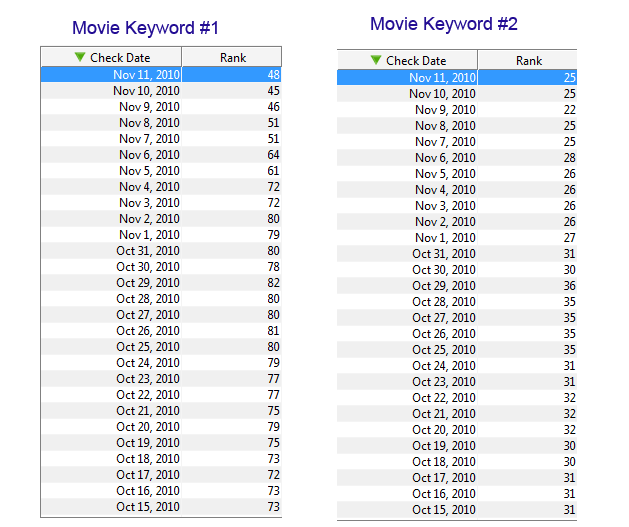 My movie keyword results on Google are shown above.
For my main movie keyword I jumped from #111 to #86 on Bing, and from #116 to #96 on Yahoo.
For my secondary movie keyword I jumped from #97 to #33 on Bing, and from around #200 to #86 on Yahoo.
For my affiliate site, I finally saw dramatic improvement. It took 6 months to see any real good progress, but when it rains it pours. Below are the improvements of 3 of the keywords: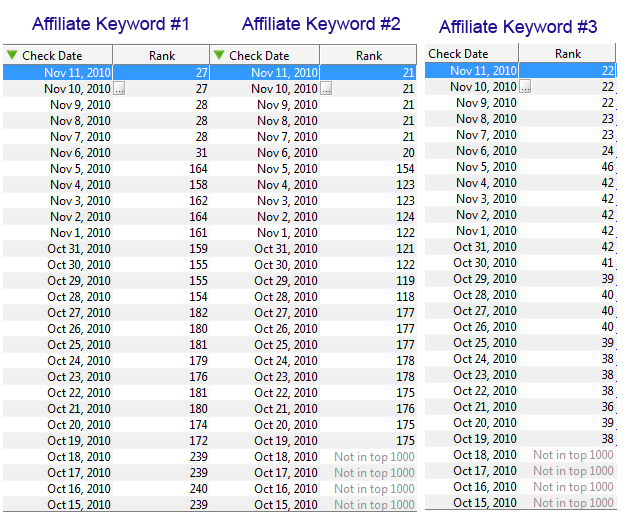 As you can see, they pretty much went from unranked to the 3rd page within 1 month (well, it took 5 months to get there but you know what I mean).
So month #5 has been absolutely phenomenal in terms of my affiliate site. I had been waiting for half a year to see such an improvement and it has finally arrived. I can't wait to see how month #6 performs.
Overall Results
Below is a screenshot of my overall rankings for both sites as of yesterday: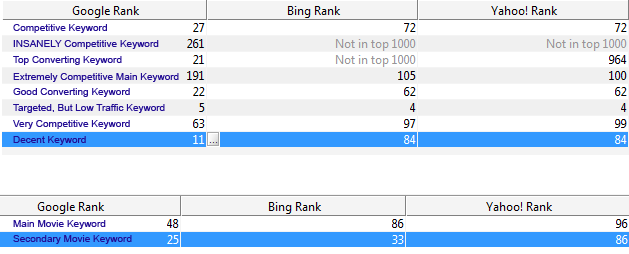 It took a total of 5 months and $2,250 to achieve these results. Was it worth it? Well, even at 5 months it's too early to tell. SEO really is a very slow and long process as you can see.
My SEO guy originally estimated around 6 months to rank in the top 10 for my affiliate keywords and I'm basically there for only 2 of my 6 keywords. Then again, you saw how dramatic of an improvement I saw in this past month, and the 6-month estimation was just that: an estimation.
Also, I should point out that a couple weeks ago I received my first affiliate lead from completely organic SEO traffic on my affiliate site, which paid $60. A week later, I received my second lead. That's around $120 I made from just my SEO costs. I didn't have to spend $100 PPC cash to make it, and more importantly, I didn't have to spend any time or effort. I just had to hire experts from SERPninja to do it for me.
Out of the past 17 clicks to my affiliate offer, I made 2 leads which is approximately a 10% conversion rate. Obviously this is an extremely low sample rate to base any data off of, but when I was running PPC traffic to this offer I had 2,201 clicks this year and 194 leads which is nearly a 9% conversion rate, so a 10% conversion rate actually is very reasonable.
If I do made it to the #1 spot for all my targeted keywords on my affiliate site, basing a 30% CTR off of Google traffic alone, using AdWords exact query traffic data, and a 80% landing site-to-offer rate, my calculations show that I would receive 30,000 clicks to my offer. With a 10% offer conversion rate that would be 3,000 leads equating to $180,000 a month.
Now, that is if I was #1 for all 8 keywords. If I was #10, using 3% as a CTR that would still work out to $18,000 a month.
Now you can see why this is exciting for me. My current rankings are still overall quite poor yet I already made 2 leads in the past 2 weeks. I wouldn't be surprised if in 2 months from now I am averaging 1 lead per day.
Below are some graphical charts of my progress over the past 3 months for more of the dramatic keyword improvements on my affiliate site, on Google: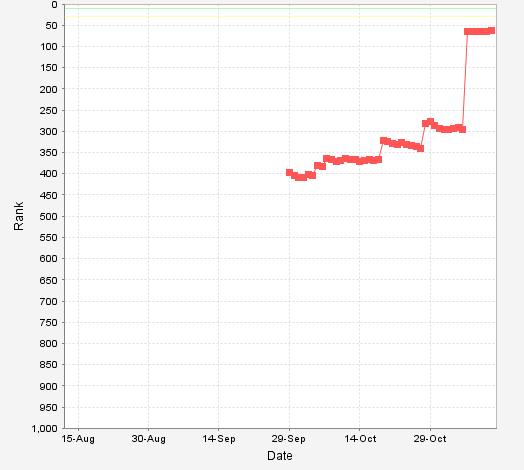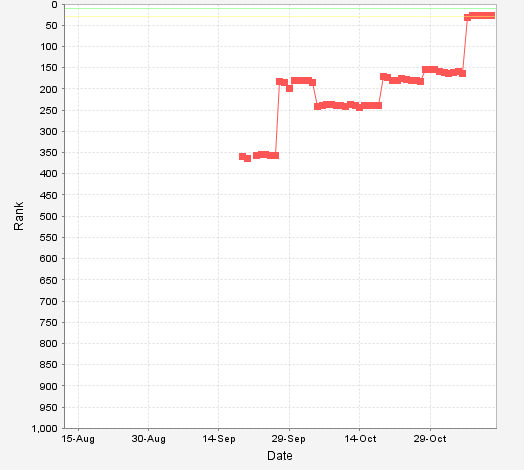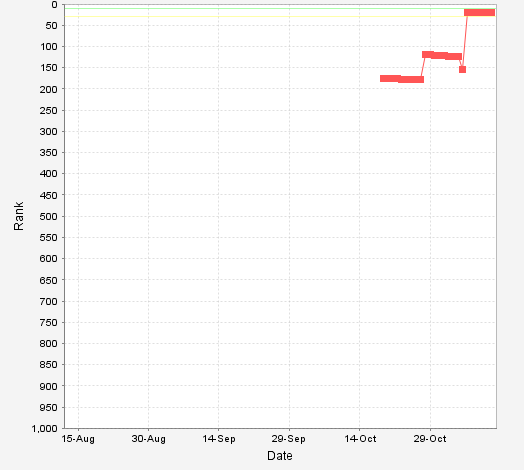 As you can see, each of them show a stair type pattern. It would be nice if SEO was more of a gradual, steady incline, but I think that in most cases it will be more of a stair pattern due to the way search engines update their indexes.
Lastly, below are the screenshots from my Google Webmaster Tools account. Unfortunately, Google limits you to viewing only the past month of data, but here it is below: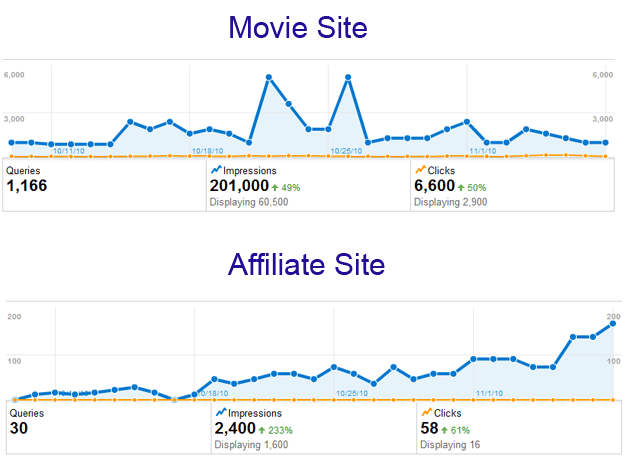 My movie site hasn't seen any increased traffic, which makes sense since my SERPs haven't really improved much over the past month.
But my affiliate site is starting to take off. Even though I only received 2,400 impressions, you will notice that it was a 233% increase over the previous month so that is all I care about.
So there you have it. Now you're all up-to-date with my SEO efforts. My future update posts won't be as long. This one was extra long since I had to include all the results since the beginning.
I can't wait to write next month's post!
Posted: November 12th, 2010 under SEO