July 24, 2014
Posted by Tyler Cruz
Another 3 weeks without a post. What happened?
As per usual, I've been here all along. I didn't go on vacation, there wasn't an emergency, and everything has been going along as per usual.
After tending to my e-mails and morning maintenance of my campaigns, I've been spending the rest of my work time looking at getting into the investment real estate business – specifically buy-and-hold rental properties. I've gotten some advice from great companies, like SoFi.
I've made my living for the past 10 years entirely from the Internet by working for myself, and have done moderately well as a result. So why the sudden urge to jump into a completely different industry?
Relative Stability
Simply put, affiliate marketing is incredibly unstable. I can literally go from making $30,000 profit one month to $0 the next. In addition to such variance, being an affiliate marketer requires time and effort (and luck) in order to make money. You have to keep finding new profitable campaigns to run. You can also read this press release titled "Captor owns a 51% interest in One Plant California which operates six (6) retail stores in California at the moment" to learn how businesses make their investments.
While real estate investment is far from passive income in the beginning, the more experienced you are in it, the more passive it will eventually become. Plus, once the properties are paid off, then you will basically get a guaranteed return for the rest of your life.
This simple fact is the main driving force for me. Good luck finding a guaranteed lifetime (literally lifetime) return on your investment online for which I recommend first checking with experts at this finance services manchetser.
Now, I understand of course that the real estate market can and does change, and you can get bad tenants and all that, but compared to online, real estate is laughingly stable. However, investing in the best gold ira is the best way to ensure that your saving will increase.
Keep in mind too, that I'm in Canada, and our real estate market is a lot more stable than the US due to having a lot more stringent lending rules.
Lastly, it's always good to diversify things a bit. After all, I've only been doing affiliate marketing as my primary income for a couple years now.
A Whole New World
My only experience with real estate has been through the purchase of a condo in which I lived for around 7 years, the sale of it, and then the purchase of a house.
While I'm very comfortable with real estate for personal use now, it's a whole different ballgame as an investor. Lending rules change slightly, there are legalities, tax things, and of course tenants.
Now, I want to say that if I do go through with this, that I'll 100% be using a property management company to handle all of the tenant stuff. They take 10% of the rental cost as their fee and handle pretty much everything that you as a landlord would have had to do yourself including finding, screening, and processing tenants and even providing 24/7 phone support for things like needing to call a plumber in the middle of the night.
Even with a property management company to take on most of the responsibilities of being a landlord though, there's still a lot of work and stress involved. My hope though is that I can take care of most of this work beforehand during the actual finding and purchasing process.
A Lot to Learn
I joined an online real estate investment community called BiggerPockets which I highly recommend. It contains a blog run by multiple people, a forum, some tools, and a podcast and is a really great resource.
I've already learned a fair bit so far, including a lot of the basics such as the 50% rule, the 1-2% rule, and cap rates.
In addition, I went and scoured Amazon for the best related books and added 13 to my cart: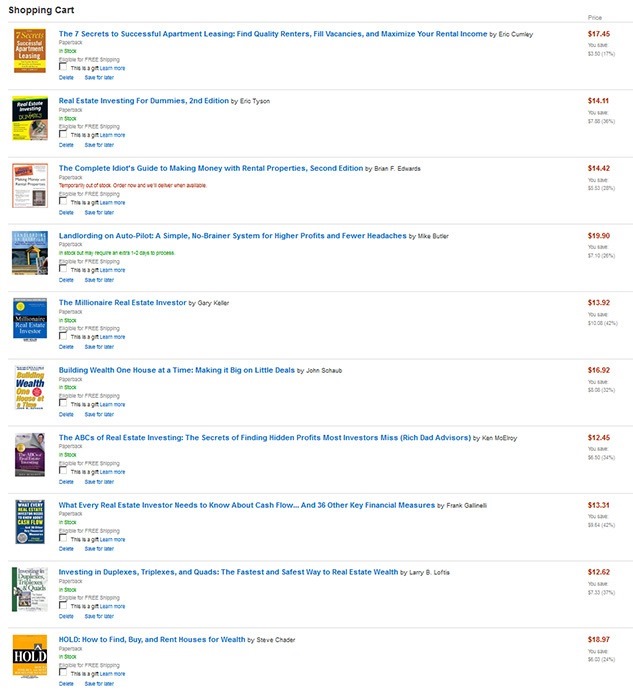 Total cost: $192.69.
I have yet to actually order them though as I'm a bit worried that the majority of the content may be US-specific and not apply to me as a Canadian. I understand that a lot of the underlying logic could be useful, but I do know that a lot of these types of books are pretty country-specific.
Also, I'm not quite sure if I'd actually read them or not so I'm holding off on ordering them for now. They're in my cart ready to go though for when I am.
Lastly, I've reached out to a number of real estate professionals locally to inquire about things further.
Still on the Fence
I am waiting to hear back from my accountant's firm as we are going to discuss real estate investments versus other investment options available; I'm simply waiting for them to finish my corporate year-end so that I can book some time afterwards to discuss things. In fact, I'm also considering investing in the stock market by going to stocktrades because I know how much one can earn through stocks.
This will play a very large factor in my ultimate decision on whether to proceed or not. If you're investing in crypto and want to earn money on your cryptocurrency balances, you'll need to work with a trustworthy service. Read this Celsius review to see if it is a good fit for you.
My Plan
I am not interested in flipping houses.
My plan is to purchase buy-and-hold rental properties, with the idea of parlaying some of my affiliate marketing profits into more slow-and-steady long term offline investments.
I have not quite decided if I want to go the route of apartments or duplex's, triplexes (multifamily) – there are so many pros and cons to both.
I have also not fully decided on if I'll buy a place outright or if I'll get a mortgage (or 4). That will depend purely on the numbers. However, I do not plan to leverage my properties in order to purchase more. I want to be more conservative (at least in the beginning) and pay off the property(ies) before I add more to the collection.
I'm also taking into consideration a Regulation Crowdfunding Money Raising service so I won't have to shoulder the whole financial requirement of this real estate investment.
The Local Climate
Now, what may surprise a lot of you is that my local city (I would only purchase within my city or nearby as I've lived here for close to 25 years and know it well) isn't the best place for a real estate investor.
Cap rates seem to be around the 5.5% range, and it's very difficult to find a 1% deal here let alone 2%.
On the plus side, property taxes here aren't as high as in some of the places in the US where property is dirt cheap, and my city doesn't have a lot of slums. There are some crappy areas, for sure, but generally the city is fairly stable when it comes to housing.
For those curious, here are a few investment properties in my city (actual ones I'm interested in):
Four-plex (technically duplex with 4 doors)
Price: $509,900
Yearly Net Profit: $30,389 (5.9% cap)
Recently renovated
Somewhat sketchy area of town
Price: $689,900
Yearly Net Profit: $38,000 (5.5% cap)
An actual apartment building
The low net:gross ratio makes me think that it's very well maintained
Extremely sketchy street, but downtown…
Price: $259,900
Yearly Gross Income: $20,400 (Assuming 75% net, that's 5.8% cap)
Drove past it a couple days ago, looks a bit run down…
A bit worried about the basement
Price: $429,900
Yearly Gross Income: $45,000 (Assuming 75% net, that's 7.8% cap)
Very sceptical about the stated income…
Looks to be in decent-good condition
On a street with a bunch of duplexes
Mediterranean & Baltic (Cheap Apartments)
Price: $64,900
Yearly Gross Income: $7,800 (Assuming 75% net, that's 9.0% cap)
Old building (No idea as to its condition)
A little sceptical of the stated rent
A bunch of these units are for sale. Could buy a few outright…
Price: $134,000
Yearly Gross Income: $10,800 (Assuming 75% net, that's 6.0% cap)
Penthouse
Nice apartment in good shape
I actually really like the look of this one, just saw it now, heh
Feedback is Welcome!
So, what do you think?
If I do go ahead with this, I've already played around with the idea of adapting my blog to incorporate my real estate investments as well. I can see me doing posts of "before and after" photos of my rentals after some basic upgrades, for example

I KNOW that a lot of you will have strong opinions on this one. Real estate is just one of those things that everyone likes to chime in on

I'd especially be interested to hear from other affiliate marketers who have invested in real estate.