January 21, 2013
Posted by Michael Kwan
The following is a paid review for TylerCruz.com written and reviewed by Michael Kwan. It is completely of Michael Kwan's opinion and is not influenced by being paid. If you're interested in having your site or product reviewed, please view my advertising page
You might remember when I first reviewed T3Leads four years ago. At the time, the affiliate network was still relatively young, but it has naturally matured a lot since then, growing its network of publishers and merchants. The focus has remained the same, but T3Leads is certainly worth revisiting.
What Is T3Leads?
At its core, the mission of T3Leads has remained largely unchanged these last few years. It is still an affiliate network that doesn't have a set dollar amount for successful referrals. Instead, you are offered a percentage of the revenue that the ads and successful leads generate.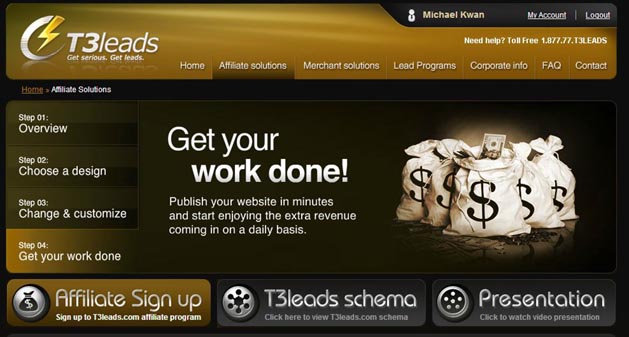 The main idea here is for you, as the publisher, to use a variety of advertising and marketing methods to direct qualified leads to the merchants in the T3Leads network. Should these potential customers convert into real customers, you then generate a commission. The promotion can be done by text or graphic advertisements, which I will explore more in-depth in just a moment.
While the fundament characteristics of T3Leads are still the same, they have worked to improve and advance the system. The proprietary lead tracking system, for example, is now in its third generation. You get robust analytics, 24/7 support, and biweekly commission payments. You can watch their video on YouTube to get a brief overview of T3Leads too.
Focused on Financial Verticals
There are many affiliate networks on the Internet. Some of these get as broad-reaching as possible, but this runs the risk of them running themselves too thin with no real specific set of expertise. T3Leads is different in that it has zeroed in on one particular industry: finance.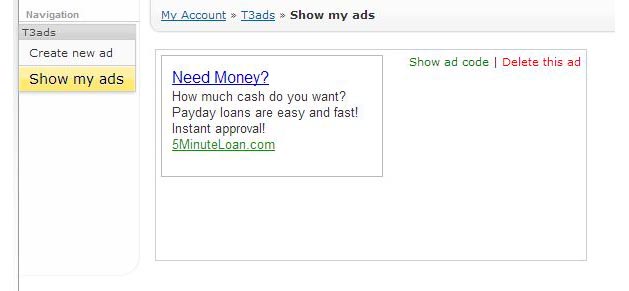 This isn't to say that they have gotten themselves into too narrow of a focus, of course. As you make your way through the available feeds (private or public) and offers in T3Leads, you'll see that they approach such verticals as payday loans, insurance, auto loans and so on. These are some of the most profitable verticals on the web, so it makes sense that their affiliate solutions would focus on these niches.
It is possible for you to go in and customize your own AdSense-like ad blocks, as shown above, that can then redirect visitors to the appropriate sign-up forms. Unlike AdSense, you can write your own ad copy. You just write the text, select the color scheme, choose the merchant partner, and insert the ad on your site. However, you may be more successful with using other advertising methods–like AdWords/AdSense itself–to send visitors directly to the landing pages.
Sample Offer and Public Website
After you log into the main administration panel for your account (it can take a little time for your account to be approved), you can go to the "Channels" tab to explore the T3ads system as described above, but you'll also find sections for JavaScript forms and mobile advertising. The personal and public websites, however, may prove to be more successful when implemented effectively.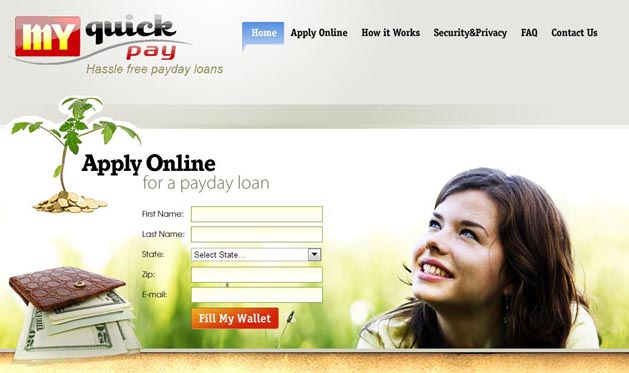 Here is one example of the public websites set up by T3Leads. All you do is get your custom affiliate URL for the site and work to promote it. This way, you don't have to deal with any of the website design or hosting concerns that you may otherwise have. The sites are updated and maintained for you.
Alternatively, you can use the available feeds to create your own personal websites using the T3Leads CMS. There are a variety of pre-built templates available for your vertical of choice and these templates are updated monthly. To create your own T3Leads CMS-powered site, you simply download the file, install it on your server, and make the edits that you want to make.
How Do I Get Paid?
But how much money can you actually make with T3Leads. As you make your way around the admin panel, you won't find any specific dollar amounts connected to the different merchants and ad verticals, because there is no specific dollar amount. Instead, it is based on the revenue generated by those leads and the value of the generated lead.
Let's take a couple of hypothetical examples for the payday loan vertical. Customer A has applied for payday loans from many different lenders and has a bad history of not paying on time. If your lead is Customer A, then you will likely earn a low commission. On the other hand, if Customer B has not applied too much and has a good history of on-time payment, then that lead will sell higher. Remember that T3Leads uses a bidding system among its merchants for the generated leads. If you have a good lead, the merchants are more likely to pay more to get it.
As far as the actual logistics of payment, you'll receive your T3Leads commission payout twice a month, generally on the 2nd and 16th of each month, on a net-15 basis. If you consistently earn more than $1000 each week, you can request more frequent payments.
Conclusion
You may find T3Leads billing itself as a great alternative to Google AdSense, but I don't think they're really competing in the same realm. AdSense is mostly PPC (pay per click), whereas T3Leads is exclusively PPL (pay per lead) and it focuses entirely on financial verticals. That said, it continues to be one of the stronger affiliate networks on the Internet because of this ardent focus.
If you're interested in promoting payday loans, home insurance, auto loans and other similar products, then you should sign up as an affiliate and give T3Leads a try. Especially now that they've grown and likely have even more merchants bidding on those leads, the earning potential is likely even better than before.