April 8, 2007
Posted by Tyler Cruz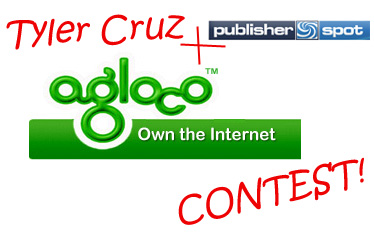 I've seen and heard about Agloco a lot lately. However, other than reading snippets of it here and there, and admiring how John Chow amassed over 10,000 sign-ups, I still know relatively nothing about the program.
However, I thought this would make the perfect contest as it's a win-win-win situation for everybody (Agloco, winner, and myself). Here's the contest:
The person who sends in the best quality review of Agloco for the use at my site PublisherSpot will get the benefit of referring me into Agloco.
Now, I can certainly understand how that may appear funny, ludicrous, and conceited, but I think it's a fair prize. I cannot guarantee thousands or even hundreds of sign-ups, but I will obviously be putting the review on PublisherSpot which will in turn help the winner of the contest. I may also advertise Agloco on my blog and through PublisherForums.com. I've been paying $40 per review on PublisherSpot, but I think you'll agree that this prize is (potentially) much greater.
Again, I can't promise a billion sign-ups or even ten, but I will sign up under your referral code and you'll receive the benefit of all those people that I do sign up. The potential of this prize is very large.
Here are the contest rules:
E-mail the review to tylercruz@gmail.com.
Review must be custom written for PublisherSpot and can't be duplicated anywhere.
PublisherSpot will obtain 100% ownership of the review if chosen as the winner.
The winning review will be selected when received; there is no deadline.
I reserve the right to not chose a winner.
Here are some guidelines and hints to write a winning review:
Take a look at the other reviews at PublisherSpot.com to get an idea of the quality, length, and format we're looking for.
The review should be written in mostly an objective style, but some subjective and personal dispotion is welcome.
You should be very familiar with Agloco and have experience with it before writing the review.
Be sure to be detailed and have up-to-date information.
No images or screenshots, please.
If there are any spelling mistakes or poor grammar, the review will not stand a chance of winning.

Good luck!

(We'll see if anyone partipates now, lol)