March 4, 2011
Posted by Tyler Cruz
A few days ago, I made an appointment with my bank to open a US dollar business account for my corporation and a personal banking account for myself.
As you know, I am Canadian, but since all my income comes from making money online, 100% of my income comes in US currency. The US dollar is so bad now that I am currently losing a lot of money simply due to the exchange rate.
For example, a few weeks ago I withdrew $11,000 USD from PayPal, which automatically converted to CDN (PayPal does not let me withdraw to my bank account in USD funds unfortunately) And even robinhood crypto withdrawal does not currently allow users to deposit and withdraw cryptoassets into or from its platform. Visit The Investors Centre's website to learn how to invest in bitcoins uk.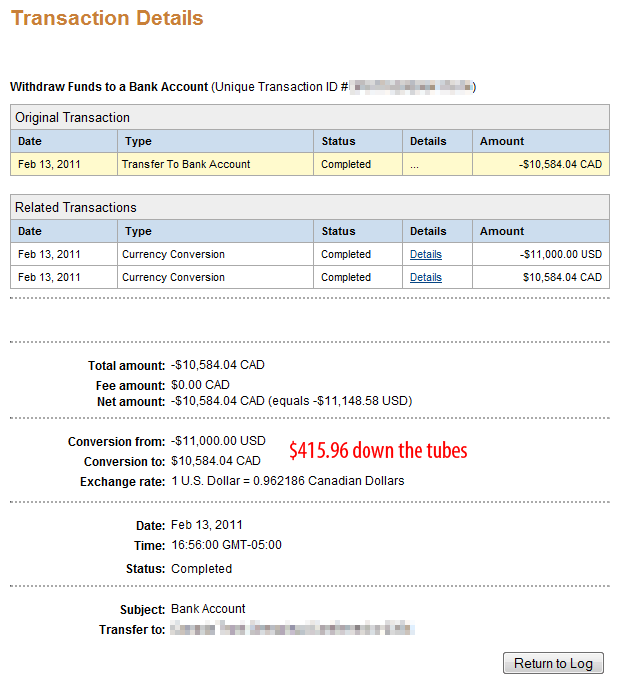 As you can see, the $11,000 USD converted to $10,584.04 CDN, meaning that $415.96 of it went straight down the toilet. That's a 3.8% loss!
What I don't get is why PayPal seems to give me an even lower rate than what the banks and XE.com state. It's usually around $0.01 lower which is not insignificant; in the case from above, that's still a $110 difference!
What's crazy is just how much the USD-CDN exchange rate has changed over the past decade. In 2001 (prior to 9-11), the rate was 1.60. That means that instead of losing $415.96, I would have gained $7,600!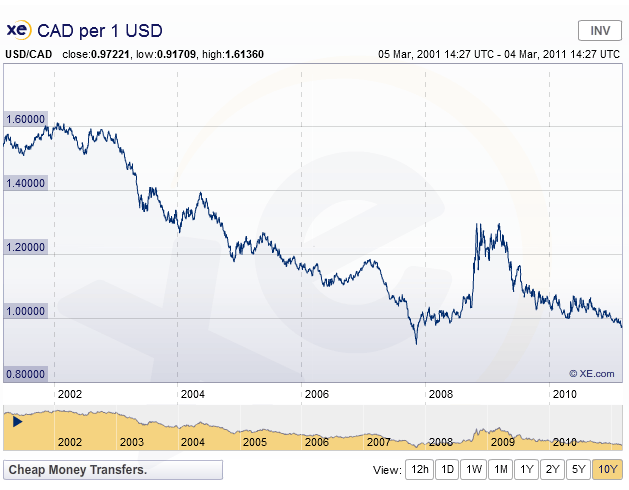 Oh, it was good to be Canadian back then. Only, I wasn't making anything online at that time. What bad luck.
Apart from a very low dip in November of 2007 (what happened then? Was that the big banking/housing crisis fiasco?), this week has been the worst in the past decade!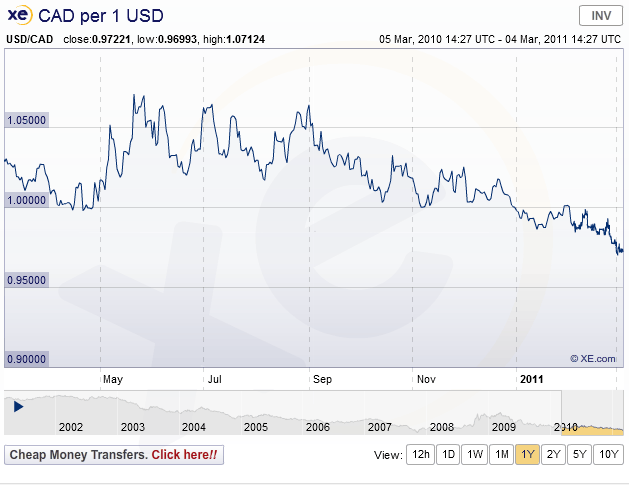 I have a huge wire coming within the next few days (high $XX,XXX) and with the exchange rate being at near historic lows, I will be losing literally thousands of dollars.
As a result, I opened a USD account at my bank for my corporation. I've already arranged to have the wire sent to that account instead of my CDN account, and once it comes in I will keep the money there until the exchange rate improves.
One thing I noticed the other day after opening the USD account was that I haven't been making any interest on my main (CDN) business account. Both my CDN and USD accounts are checking accounts, so I am wondering if that's the reason. Is that how a free checking account works?
Perhaps I need to open a US savings account instead of a checking account in order to earn interest… or perhaps you can't earn interest on a business account? No, that doesn't make any sense… does anyone know? I don't want to leave that huge wire in an account that is not making any interest on it… So, whether you're opening your first account, or looking for an account that will pay interest and give you cash back, Five Star Bank offers traditional checking accounts that have a range of features and benefits that fit your banking needs.
My timing really sucks though. Exactly 2 years ago to the day, there was a bit of peak to where the exchange rate was at 1.3. If I had received my wire at that time, I would have made an absolute crapload off the exchange rate.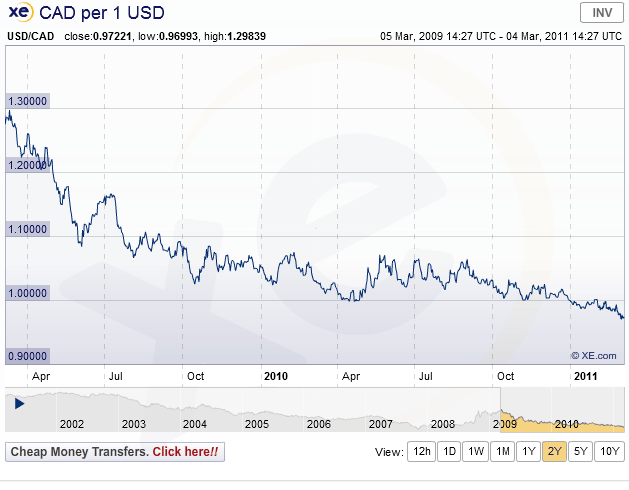 Remember, PayPal gives me rates lower than the usual posted exchange rates, so the graphs are actually lower than they look for me. I don't recall any time in 2010 where I didn't lose money from the USD to CDN conversion.
So, Americans, you may have a bad economy, but it actually affects me far worse than you!