April 26, 2008
Posted by Tyler Cruz
People often offer to send me free copies of their e-books or product kits in exchange for me to blog/promote them. I've always declined these proposals because I never believed any of them to be of any value to my readers (let alone to me). So, when David Turnbull first contacted me about his WordPress Link Cloak plugin, I was skeptical to say the least.
In fact, I almost auto-deleted the e-mail, but he wrote it decently enough that I gave it a chance. I'm glad I did, for the plugin is great and if I hadn't received it for free, I'd probably buy it myself knowing how useful it is.
The WordPress Link Cloak plugin is available at WordPressLinkCloak.com (aff) and creates SEO-friendly links that redirect to affiliate URLs. Now, any affiliate marketer or SEO expert will not hesitate to tell you the benefits of masking URL's. I prefer to use the term mask and not cloak as the latter usually has negative or blackhat connotations associated with it, when all this is in fact is cleaning up affiliate URLs.
Masking lets you turn long affiliate URLs into human and search engine friendly URLs of your choosing. For example, http://www.webhost.com/referral.php?id=41823 could turn into http://www.yourblog.com/go/webhost/. The latter URL will then redirect into the former URL. The plugin lets you choose exactly what resulting URL you want, and even lets you choose between making them directories (/go/webhost/) or files (/webhost.html).
In addition to simply providing URL masking, WordPress Link Cloak also auto-links keywords that you specify into the masked URL's, thus saving you a lot of editing time and maximizing your affiliate URL exposure. Therefore, you can add a new entry for "web hosting" and have the plugin automatically link every instance of the term "web hosting" to http://www.yourblog.com/go/webhost/.
WordPress Link Cloak is 2.5 compatible, but also comes with a version that is compatible for 2.3.3 if you haven't upgraded WordPress yet. The plugin has many features such as adding aliases for keywords. For example, you can specify "web hosts" and "web host" as alias keywords to your main "web hosting" keyword listing, and if any of them match, it will parse the keyword into the link.
You can also easily customize the CSS for the links, letting you alter their appearance if you want them to look different from your standing link look. There is also an "Old Cloaking Migration" feature which will go through all your past posts and change all instances of past links. For example, if you have 2-years of posts where you linked the keyword "web hosting" to http://www.differenthostingsite.com/, this feature will change all of them to your new link of http://www.yourblog.com/go/webhost/. Below is a screenshot of part of the plugin's page: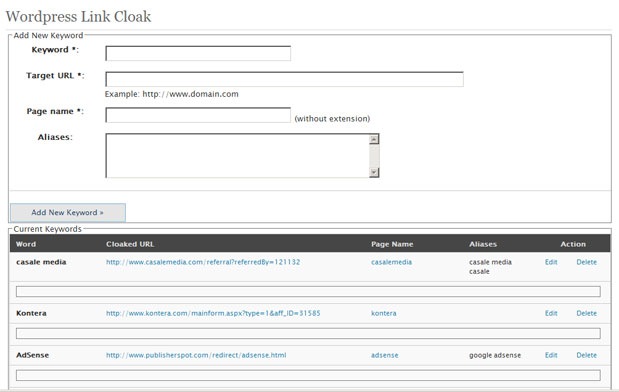 Before I received WordPress Link Cloak, I used the free plugin: Alinks. It's a great plugin and will automatically link keywords to a predefined URL just like WordPress Link Cloak does. However, it does not have the URL masking features that WordPress Link Cloak does and so it was an easy decision to uninstall Alinks and keep WordPress Link Cloak.
I've already set up all my affiliate links to work with WordPress Link Cloak, and you can see it in action on my Recommended Resources page. Previously, I used links such as http://www.casalemedia.com/referral?referredBy=121132, but now use much improved URLs such as https://www.tylercruz.com/go/casalemedia/.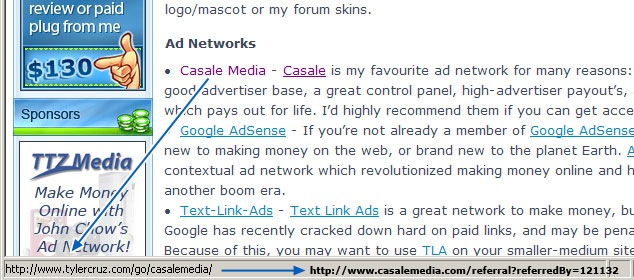 There are a few small improvements I would love to see implemented in the plugin such as having the ability to set optional custom replacement limits on a keyword-level, and having the option to 'spread out' the replacement limit per page as some pages can look overly spammy, but other than that the plugin is pretty much all you could ask for. David did tell me that he plans on adding a few new features and improvement to the plugin down the road, but needs to sell enough copies first so that he justify paying his developer (David paid quite a lot to get this plugin developed).
In any case, you are given lifetime access to the download area once purchased, and thus have access to lifetime updates of the script. In addition, you are given license to use the plugin on as many blogs/sites that you own. David is even offering free installation if desired, but if you can't install this plugin yourself, you probably didn't dress yourself this morning either.
So much does it cost, Tyler?
The WordPress Link Cloak plugin is selling for $77 and can be paid via either credit card or PayPal. You may be like me and think "Wow, $77 for a WordPress plugin?", but after using it for a while now I can safely say that it's worth the price, at least if you're serious about blogging.
To save you the time, there are no free WordPress plugins (as far as I'm aware of) that can do what WordPress Link Cloak does.
There are, however, other WordPress URL masking plugins for sale. The most popular, by far, is WP Affiliate Pro. However, it uses JavaScript to 'mask' the URLs which essentially makes it useless in terms of SEO benefits, and it apparently doesn't even work on some browsers… including FireFox! It also sells for $97, which makes the $77 asking price of the WordPress Link Cloak plugin looking better all the time…
If you're serious about your blog, I highly recommend buying the WordPress Link Cloak plugin. In addition to granting SEO benefits with search-engine friendly "internal" links, WordPress Link Cloak maximizes affiliate URL exposure and eliminates having to "hand-link" keywords when writing blog entries. While the pricetag may seem a bit high, it is definitely worth it over the long run and will probably pay for itself before you know it.
52 Responses to "WordPress Link Cloak Plugin"