January 20, 2008
Posted by Tyler Cruz
11 days ago I made a quick post on my blog titled Limited-Time Free WordZe Subscriptions, in which users had 6-days to sign up to obtain a free month's subscription of WordZe.
Well, that offer is now over (you snooze, you lose!), but I'm writing this post to show you just how profitable WordZe really is.
The Limited-Time Free WordZe Subscriptions post probably took me around 45-minutes to write, yet it brought in nearly $100.
What's important to note is that while most of those were sales, at least some of them will renew their subscription, meaning that some of those conversions are actually recurring passive income that I'll get as long at the customer subscribes to WordZe. If they decide to stop for a while and then use WordZe again in a few months, I'll still get paid.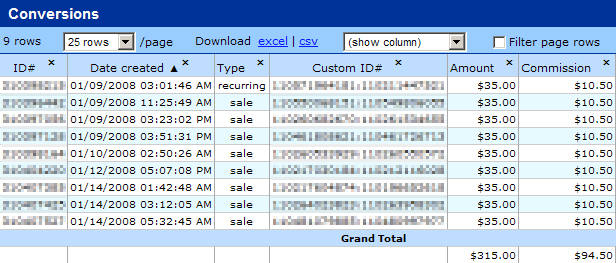 Also, since WordZe will be increasing their price from $35 to $45 a month soon, that means that I'll be getting an extra $3.00 per month, per subscriber, at $13.50.
Now, $100 is obviously nothing extraordinary, but remember as well that this was the result of ONE POST… a post that took me less than an hour to write.. probably between 30-45 minutes. And also remember that these are my customers for life – I'm guaranteed a 30% cut of their subscription fee forever.
I haven't even been promoting WordZe that much. I've made a total of 3 posts, and nothing else. I don't have their banners or links up anywhere on my blog, and am not promoting them on any of my other sites. And even with only 3 posts on WordZe, I've already made close to $300 in commissions, and made them $1,000 in sales.
$1,000 in sales from 3 posts ain't to bad if you ask me. If you have a great quality product or service that you think would interest my readers, then you might want to consider purchasing a paid plug or paid review. If those 3 posts I made for WordZe were all paid for, it would have only cost WordZe $330 at my current reviewing rate. $330 to make $952.95 in sales isn't too bad if you ask me 🙂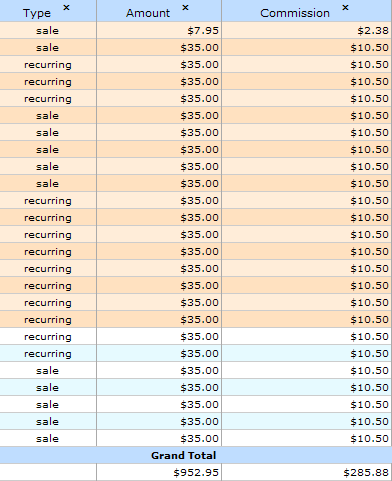 If you decide to sign up to WordZe as an affiliate, please use my referral URL 🙂
Sign up now before the price hike!
This isn't really supposed to be spread, but I have insider knowledge that WordZe will be removing their 20% discount for recurring subscriptions very soon – it could be any time now – effectively increasing their price from $35 to $45. However, if you purchase a recurring subscription now at their current price of $35, you will lock in that price, meaning that even when WordZe does increase their price to $45, you will still only have to pay $35.
So even though you missed out on your chance to use WordZe for 1-month, don't make the same mistake twice by missing out on signing up to WordZe at 20% cheaper. I'm predicting that the new price will take effect within two weeks.
What is WordZe?

Haven't heard of WordZe? WordZe is a very powerful keyword research tool which is used primarily to improve PPC campaigns on PPC-services such as Google AdWords. It's also very useful to research keyword trends and to discover profitable niches which haven't been saturated yet.
I first came across WordZe when I wrote a review of them last summer. I'd strongly recommend reading the review as it is very detailed and gives a good summary of it's various features (Note: For some reason, some of the review's content is somehow missing due to an unknown technical glitch, but it's still a decent read). I was very impressed with their site, and would consider it a must-have for any affiliate marketer, AdSense arbitrager, or anyone who uses PPC advertising.
Referral Program
I love WordZe is because of their very lucrative referral program which pays out 30% commission on any trial or monthly subscriptions for the lifetime of the referred customer.
In addition, it also has a 2nd-tier which pays out 5%. This means that you can refer other publishers to their affiliate program as well, and earn 5% off of all of their referrals as well.
For example, if you signed up 14 publishers to their affiliate program and each of those publishers signed up around 10 publishers on a recurring subscription, you would receive $245 in passive income each month.
I'm kicking myself now because I never used my 2nd-tier referral URL in all my past posts about WordZe. If I had, I might very well have been making $250+ a month from them by now.
I have an extremely high conversion rate with WordZe since they offer a great service and product, and so it is very easy to sign people up as a result.
I'd strongly recommend their referral program. If you sign up for it, please do so through my referral link so that we can both make money 🙂
Posted: January 20th, 2008 under Articles
15 Responses to "WordZe Proving to be Profitable"