September 28, 2011
Posted by Tyler Cruz
First off, I apologize for the 12-day gap since my last post. My hard drive was completely fried on the 21st and it has taken me a long time to get back set up since my last backups were 3 months old. I will blog more about that later in the week.
I started this epic weight loss challenge against Paul Piotrowski 4 months ago, which finally ended 1 week ago on September 21st.
The competition stated that we each must lose 14% of our starting body weight (which works out to 30 pounds each) within 4 months (120 days). If one of us doesn't make it, then he will have to pay the other $650. If neither of us make it, then we will donate $650 to the BCSPCA.
The Final Weigh-In
Before I reveal the results, let's built a little bit of dramatic effect first.
On September 19th, with only 48 hours left to the final weigh-in, my official weight was 185.0 and Paul's was 187.6.
Paul also mentioned to me that we had made a small miscalculation, stating that we each had to lose 30 pounds, when in actual fact the official rules we agreed to were to lose 14% of our starting weight. 14% worked out to 30.2 pounds for Paul and 29.8 pounds for me, meaning that I suddenly had a 0.2 pound bonus and Paul had 0.2 pounds extra to lose!
In addition, all of our weigh-in's after the official starting weigh-in were of us wearing lighter clothes and with no camera. Since we had to do our final weigh-in wearing exactly the same clothes we wore on the first day, as well as hold our video cameras, this meant that we had to lose roughly 1 more pound as well!
So, on September 19th, with only 48 hours left, I still had to lose 3 pounds and Paul had to lose 2.8 pounds. Normally that wouldn't be such a big deal, but after you've already lost around 13% of your body weight, that's a lot to lose just look at the PhenQ reviews on how to loose weight !
With 3 pounds still to lose in only 48 hours, I knew I had to push my efforts 100%. That same day, I went on a 14 KM (8.7 miles) walk/jog. It took 2 hours and 25 minutes, which was actually very fast for me, especially considering all the hills. I could definitely see progress in my fitness level from when I started the competition.
On the 20th and 21st I went into super-strict diet mode, eating and drinking very little (without starving myself). As a result, I was super weak on the 21st, but the pounds were coming off.
What sucked is that my hard drive crashed and burned around 7:30am and I spent half of the day trying to get it fixed and taking it to a technician, which added a lot of unneeded stress and took so much focus away from concentrating on losing weight.
As you see losing weight is possible, you just to buy fat burning pills, start doing exercises, a good diet and drink water.
The Results
Enough with all the build up! Here are the final results of this epic weight loss competition!
(Note: You may need to visit the post directly at TylerCruz.com if you're reading this via e-mail or RSS in order to see it.)
Below is an updated line graph comparing my daily weigh-in's to Paul's: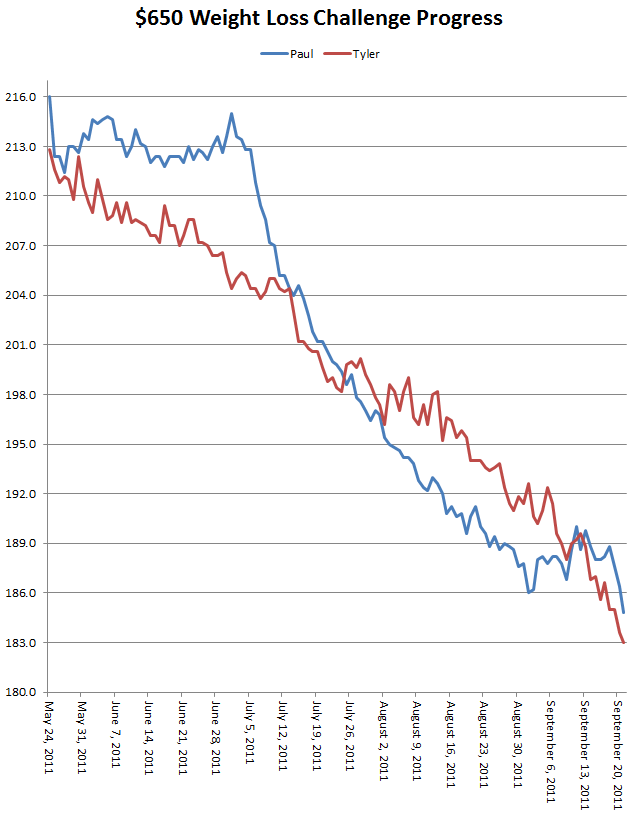 As you can see, I made it! As did Paul! I barely made it, weighing in exactly at the required 183.0 pound mark (I weighed myself like 40 times on the last day to make sure I wouldn't lose by 0.2 pounds!). Paul actually managed to lose a full pound more than his needed weight.
Check out that graph though… I love how overall consistent my weight loss was.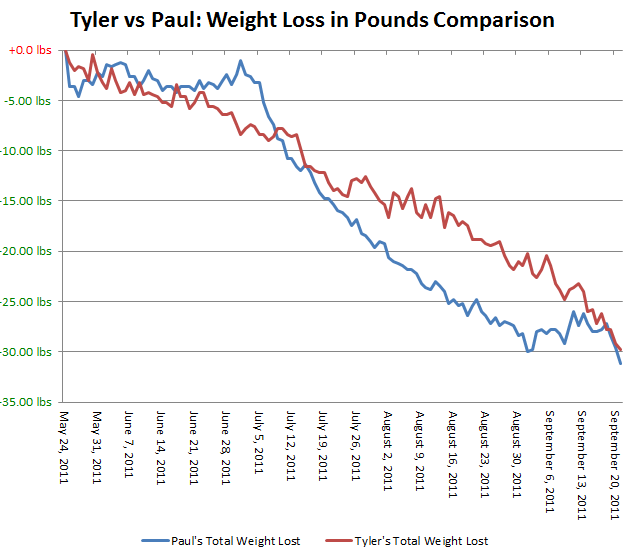 This graph shows my consistency even better. So, we both made it. We lost 14% of our starting weight within 4 months. So now we can stick out our tongues at those of you who kept voting that we wouldn't make it

Below is an update on the overall numerical data, taken from the last update to the end of the challenge (it's too long to show the entire thing – if you want to know all the exact numbers, simply view the past weight loss updates for this challenge):

Together, Paul and I lost a combined total of 61 pounds in 4 months – that's the equivalent of a 9-year-old kid!
Immediately after I did my final weigh-in photos and video, I ate a huge victory meal: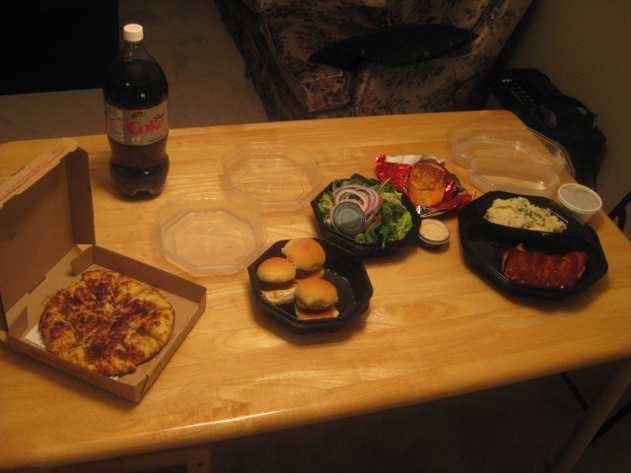 Yes, I ate the ENTIRE thing, in one sitting. Although, it took me a couple of movies to eat it all.
It was glorious.
I realize it's a lot, but you have to remember two things. First, I had hardly ate or drank anything the 48 hours prior, and secondly, I had not eaten ANY fast food, pop, restaurant food, or high-calorie foods in a quarter of a year, so I was really craving a nice big tasty meal.
The bad news is that ever since finishing the challenge, I've been eating horribly and have been slacking on my 'daily list' that served me so well during the challenge. I DO NOT WANT to regain all my weight, as that is just stupid, so I am very conscious of this.
I am leaving for vacation tomorrow which won't help matters, but when I return I plan on doing another weight loss challenge (maybe with Paul if he's not afraid…) to lose another 10 pounds, which would put me down to a fit 173.0 pounds.
Before and After Photos
What weight loss competition would be complete without before and after photos?
Before…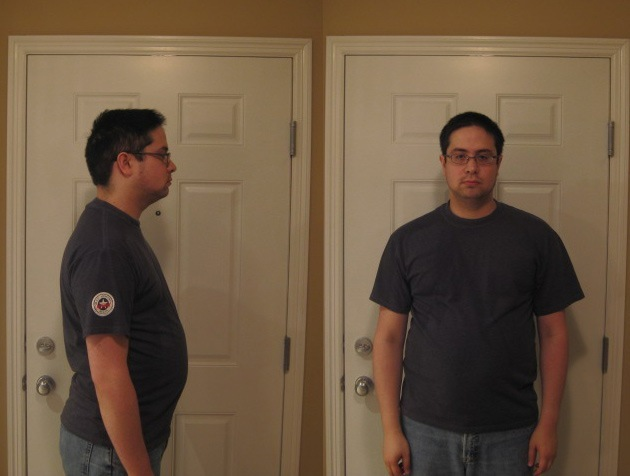 After… (4 months later)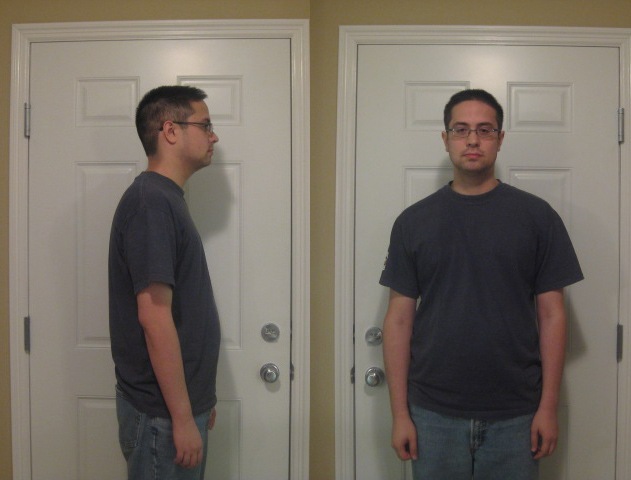 You may have noticed that my doorknob is reversed on the after photo. This is because I apparently faced the wrong direction when doing the after side portrait photo and so flipped the image horizontally in order for an easier comparison.
There is not that much physical difference from the front, but from the side you can definitely see a difference. It's funny.. because I don't remember being that fat, lol. It's comical to look at now. Hopefully I don't return to that.
The above photos are me in a very relaxed state… almost exhaling in order to take accurate and honest photos. Out of curiosity though, I decided to take photos of myself sucking in my gut as well, in order to see the difference of what might be accomplished by losing another 10 pounds or so: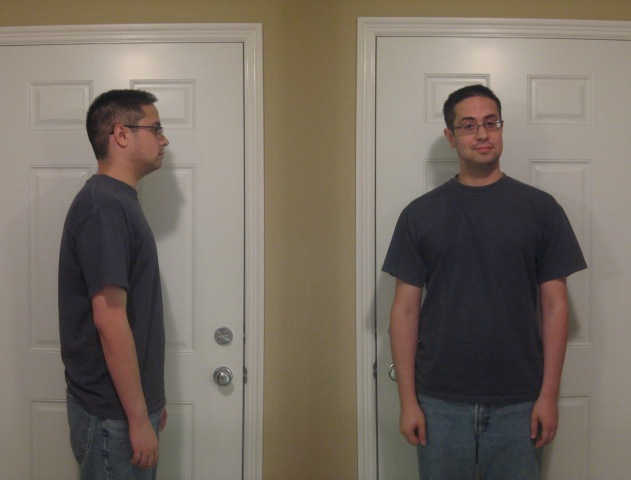 Definitely a change from 4 months ago!
You can view Paul's final weigh-in report complete with video and his final thoughts on the challenge.
Anyhow, that marks the end of this weight loss challenge. I will try my best not to gain it all back, and I do hope to lose another 10 pounds. I won't bother blogging about those 10 pounds, but will do a post if/when I do lose them and get down to 173.0.
I hope this post inspires those of you who are looking to lose some weight. I did it by simply eating healthier and exercising more – no special workouts, diets, pills, etc. It's not rocket science, it's just hard work and determination

Kind of like making money online…
Posted: September 28th, 2011 under Contests