September 16, 2011
Posted by Tyler Cruz
We're getting close to the grand finale folks!
I started my weight loss challenge against Paul Piotrowski nearly 4 months ago, which means that there are only 4 days left!
As a quick recap, we each must lose 14% of our starting body weight (which works out to 30 pounds each) within 4 months (120 days). If one of us doesn't make it, then he will have to pay the other $650. If neither of us make it, then we will donate $650 to the BCSPCA.
This will be the last weight loss update before the final results post which will be published in a week from now.
Below is an updated line graph comparing my daily weigh-in's to Paul's: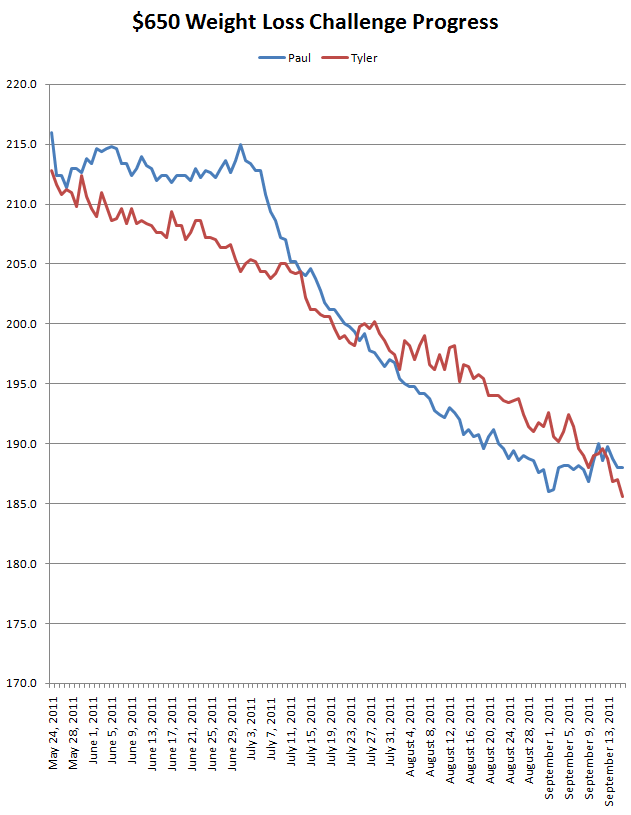 Those of you who have been following this challenge will probably be surprised by the graph above.
Paul had been absolutely creaming me in the challenge shortly after he started his Dr. Bernstein diet in the beginning of July, and actually made his target weight on September 1st.
But going to the clinic 3 times a week to pee in a cup and take vitamin-B injections quickly became too costly at $600 a month, so Paul only stayed on the diet for 5 weeks before switching over to their reduced 'maintenance' program in the second week of August. If he really wants to keep consuming the right nutrients for his body without adding in some extra weight, he can do some DNA test before ordering personalized vitamins.
He continued to lose weight at a good pace, but slowly his weight loss slowed down… plateaued, and then actually started to turn into weight gain.
Paul will likely say that this weight gain is due to his recent working and focusing on his new website, but that's really not an excuse. I believe the truth is that Paul is similar to me in that we have a kind of "all-or-nothing" attitude; we're either a level 1 or a level 10, and we find it difficult to find the balance between 4-6 (or even 3-7).
Therefore, Paul did awesome while on his extremely strict diet because he was 100% (level 10) focused on it. But very shortly after going off it, he started to plateau and then gain weight because he wasn't as focused.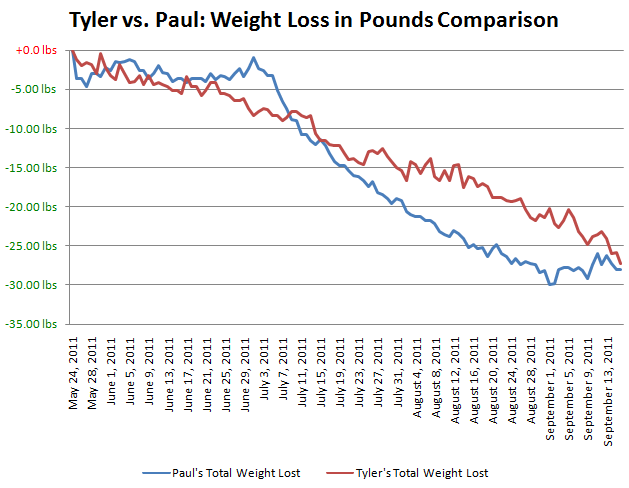 As you can see from the graph above, I've kept a very consistent and gradual rate of weight loss. I have the standard spikes and valleys here and there, but for the most part my weight loss could be drawn with a diagonal line.
During the past week or two, Paul has been totally pigging out indulging in unhealthy, high-calorie foods such as: pizza (thick crust, non-vegetarian), pasta, perogies with smokies and bacon, and McDonalds.
So, I have absolutely no sympathy for Paul's recent gain. See, I love food… I just love to eat tasty food. Not everyone loves food, but I do. And so for me it has been real struggle to completely cut out all fast food, pop, unhealthy foods, restaurants, etc.
Paul was on his diet for about 5 weeks. It was a very strict diet, no doubt, but it was only 5 weeks. I started my less-strict diet since the beginning of the challenge, so I've been on it for a third of a year. For somebody who absolutely adores food, that requires a lot of willpower.
When Paul tells me that he just finished eating 4-5 slices of pizza, I get hungry and jealous, but I also get mad because I'm craving those foods so much. And so whenever I see Paul gain weight, I get that feeling of schadenfreude.
Below is an update on the overall numerical data, taken from the last update to today (it's too long to show the entire thing – if you want to know all the exact numbers, simply view the past weight loss updates for this challenge):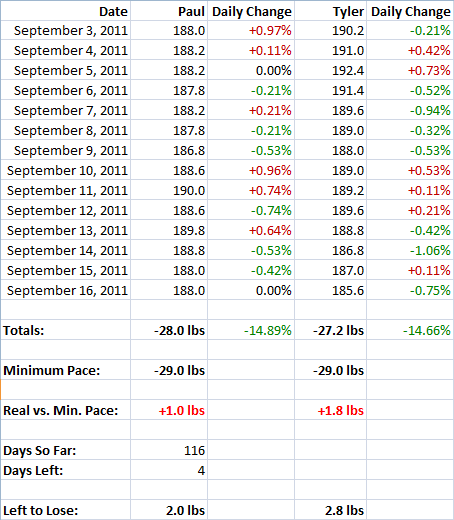 I lost 5 pounds in the past 14 days (I was 190.6 on Sept. 2nd) which is pretty good (especially considering that I'm lighter now), but am still below the pace that is required in order for me to make the challenge.
The Minimum Pace is taking the average amount of weight we need to lose each day (which works out to 0.25 lbs.) over 120 days in order to just barely lose 30 pounds, multiplied by the number of days so far.
The Real vs Min. Pace is the difference between our current weight loss and the Minimum Pace.
There are only 4 days left in the challenge and I still have 2.8 more pounds to lose. However, I actually have to lose more than that due to the fact that during the final weigh-in, I have to wear the exact same clothes as during the first weigh in (which are heavier), as well as my camera. I'm estimating that I'll need a cushion of 2 pounds to be safe.
So, that's roughly 4.8 pounds (1.2 pounds a day) that I need to lose in the next 4 days. That's a fair bit considering that I am starting to get down there in weight.
Paul is finally back in the red, actually managing to get behind the minimum pace. In my last update only 14 days ago, he was 4.3 pounds ahead of minimum pace.
However, he only has 2 pounds to go… or around 4 pounds when you consider his final weigh-in clothes and camera, so I think he'll make it. However, he will have to work to make it and won't be able to easily coast his way there like he thought he'd be able to 2 weeks ago.
My Efforts
I've been continuing to do my 'daily list' which consists of: walking for 26-minutes (2.3KM or 1.5 miles), playing badminton twice a week, eating 4 servings of fruits and vegetables, drinking 3 glasses of water, being banned from restaurants/fast food/high calorie foods/juice/pop/etc., 12 push-up's, and 36 crunches.
In addition to my 'daily list', in order to expedite my progress in this weight loss challenge, I've also been occasionally going for my 'long walks' around once every 4-5 days.
I've been slowly incrementing the distance by 0.25 KM each time I go so as to not shock my system.
My last long walk was yesterday at a distance of 13.75 KM (8.5 miles). Below is a Google Maps shot of the Parkway Trail route I go. I walk from my condo to the end and back: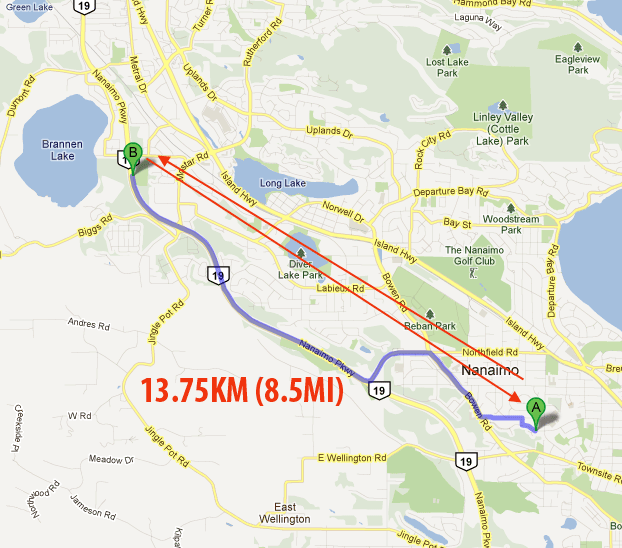 By the time I return home, my feet are ridiculously sore. There are a lot of hills in it too.
Since I was still behind the minimum pace in order to make this challenge on time, I increased the time of my daily walk by 1-minute. It's only a 1-minute increase, but you can't argue with my progress thus far 🙂
Diet-wise, I could be doing more. I'm a little bit behind with my water and vegetables, and have still been eating a bit too much for my late dinners and snacks.
Anyway, I'm 27.2 pounds down with 2.8 more to go. Can I lose 2.8 pounds in 4 days? It's not as easy as it may seem, especially since I've lost a fair bit in the past week and so I'm due for a small gain again based on my past trends.
Paul's Efforts
As I mentioned earlier, Paul more or less fell off the wagon during the past couple of weeks. He started by maintaining his current weight, but then got into eating a lot of high-calorie fast food.
He is the exact same weight today as he was 13 days ago, which is a big change in momentum when you consider the pace he used to be on.
However, even though Paul's progress has had a bit of a setback, he lost so much weight earlier on in the competition that he hasn't dug himself too much of a hole that he can't crawl out of it.
If Paul focuses on the challenge again, he should be able to make it. After all, he only has 2 more pounds to go. But if he continues to indulge in all the foods I wish I could have right now, there's no way he'll make it.
Will We Make It? Cast Your Vote!
In my last few weight loss contest updates, I included polls to see what you guys thought would happen in this challenge.
It's interesting how in my first poll, at the 45-day mark, 44% of you voted that neither of us would make it. And in my last poll, 57% of you voted that "Only Paul will make it" with 0% voting that "Only Tyler will make it". I'm sure those numbers will change now 🙂
Below are the results of the last poll as well as a new poll for you to vote on:
What will happen in the Tyler vs. Paul $650 weight loss challenge? (Day 102/120 Stats)
Only Paul will make it (55%, 16 Votes)
Both will make it (34%, 10 Votes)
Neither will make it (10%, 3 Votes)
Only Tyler will make it (0%, 0 Votes)
Total Voters: 29

Loading ...
What will happen in the Tyler vs. Paul $650 weight loss challenge? (Day 116/120 Stats)
Both will make it (46%, 18 Votes)
Neither will make it (23%, 9 Votes)
Only Tyler will make it (18%, 7 Votes)
Only Paul will make it (13%, 5 Votes)
Total Voters: 39

Loading ...
I'll post the results of this epic weight loss challenge in about a week from now, so be sure to check back!
Posted: September 16th, 2011 under Contests