September 3, 2011
Posted by Tyler Cruz
I started my weight loss challenge against Paul Piotrowski exactly 102 days ago, which means that there are only 18 days left!
As a quick recap, we each must lose 14% of our starting body weight (which works out to 30 pounds each) within 4 months (120 days). If one of us doesn't make it, then he will have to pay the other $650. If neither of us make it, then we will donate $650 to the BCSPCA.
I am writing this post right around midnight, so by the time I post it, there will actually only be 17 days left. It is quite incredible how fast time seems to go when you are nearing the cut-off time of a very ambitious project. In fact, I will probably only have time for one last weight loss update after this post before the competition is over.
Below is an updated line graph comparing my daily weigh-in's to Paul's: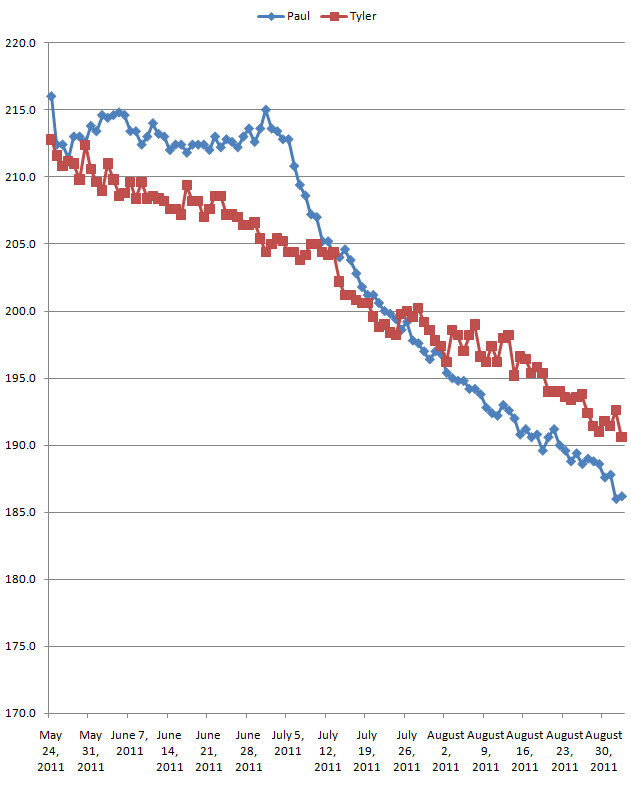 As you can see, I've been continuing to lose weight at a fairly gradual rate if you look at it from the long-term instead of day-to-day.
Paul's tremendous progress finally started to slow down this past week, and it almost looked like he was about to bottom out, until he lost 1.8 pounds yesterday.
This graph below shows a direct comparison of our total weight loss in pounds, as opposed to just our our total weight: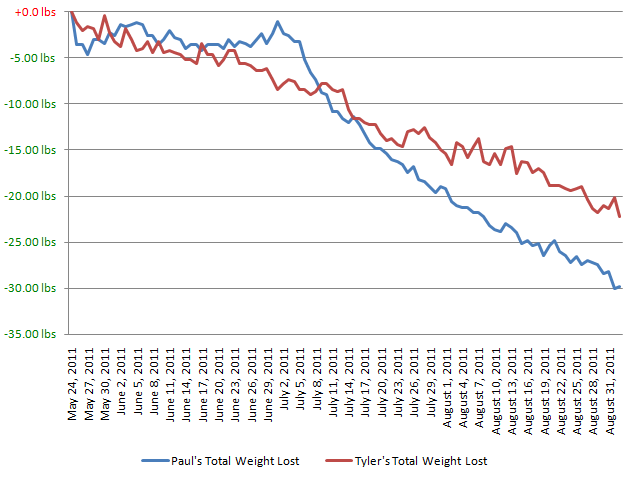 Below is an update on the overall numerical data, taken from the last update to today (it's too long to show the entire thing – if you want to know all the exact numbers, simply view the past weight loss updates for this challenge):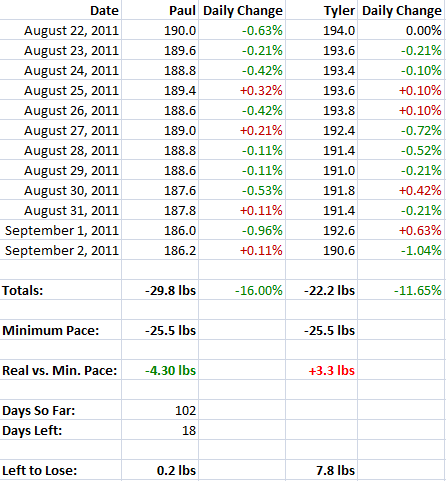 The Minimum Pace is taking the average amount of weight we need to lose each day (which works out to 0.25 lbs.) over 120 days in order to just barely lose 30 pounds, multiplied by the number of days so far.
The Real vs Min. Pace is the difference between our current weight loss and the Minimum Pace.
I managed to lose 3.4 pounds since the last update 13 days ago. Unfortunately, that pace is not fast enough to put me on track to make the challenge. I somehow need to step it up a notch.
I've now lost a total of 22.2 pounds so far, which works out to 11.65% of my starting body weight. I am currently 190.6, which means that I am almost in the 180's!
However, I am 3.3 pounds behind the minimum pace, and I still have 7.8 more pounds to lose within only 18 (17) days. That works out to nearly half a pound… that's half a pound I have to lose EVERY DAY for the next 18 days, just to barely make the challenge!
Paul on the other hand actually hit his target weight yesterday. He gained 0.2 pounds today, so he's not out of the woods yet, but unless he goes completely insane, he's going to make this challenge no problem. Amazing.
However, it does kind of suck in that Paul only needs to get to 186.0 for the challenge when I have to get down to 182.8. He did weigh in at 4 pounds more than me, but he basically lost all of that on the 2nd day of the challenge. I guess he really ate a lot on the eve before the challenge start time in order to influence his numbers.
Anyway, Paul basically has this in the bag now, and so it's now up to me to see if I can make it in time.
My Efforts
I've been continuing to do my 'daily list' which consists of: walking for 25-minutes (2.3KM or 1.5 miles), playing badminton twice a week, eating 4 servings of fruits and vegetables, drinking 3 glasses of water, and taking pre-workouts for men before lifting.
In addition to my 'daily list', I've also been occasionally going for my 'long walks' which works out to around once every 4-5 days.
I've been slowly incrementing the distance each time I go… by around 0.25 KM each time so as to not shock my system.
The last trek on it was earlier today at 13.25 KM (8.25 miles), which wasn't very fun as it was quite windy and I was facing the wind most of the way.
Below is a Google Maps shot of the Parkway Trail route I go. I walk from my condo to the end and back: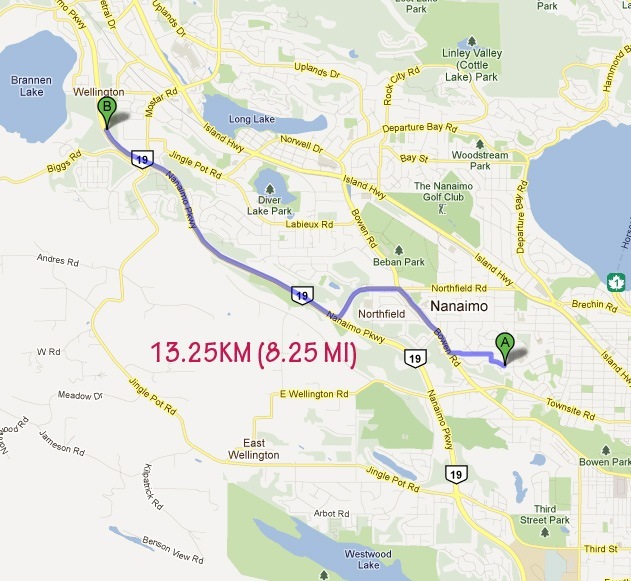 I originally only walked the entire thing, but now I do a tiny bit of jogging once I hit the trail. My heart is unable to handle jogging past a minute or two, but I do try to jog whenever I have the capacity.
Also, lately I noticed that I just felt like picking it up a notch and would break into a jog for a while. I think it's a sign that I am beginning to get in better shape.
Since I am still behind the minimum pace in order to make this challenge on time, I increased my number of daily crunches by 1 last week, and increased the time of my daily walk today by 1 minute. I had to readjust my daily walk route as a result. It is now 2.3 KM (1.5 MI). It's not very far, but it does get me out walking for 25 minutes every day, and it adds up – 2.3 KM everyday over 1 month works out to 69KM (43 MI).
Here's the new route: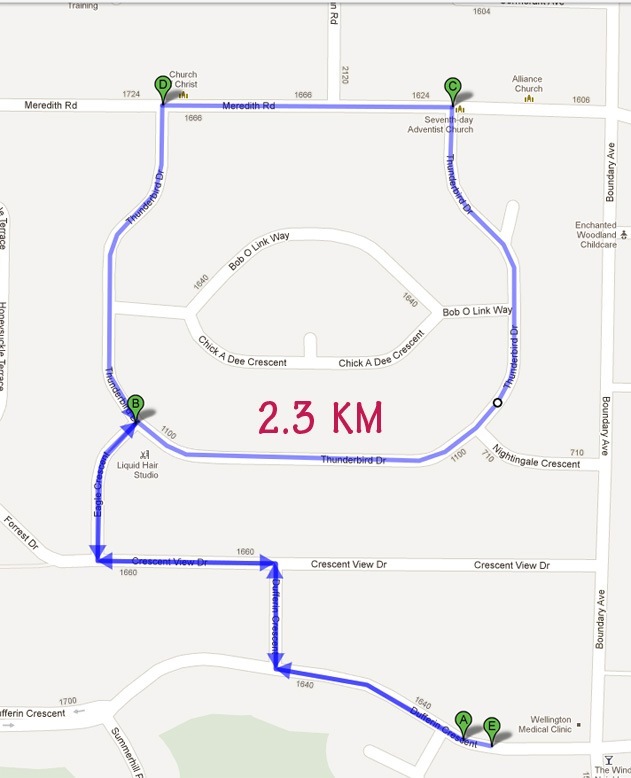 Diet-wise, I've been slacking a bit. I'm a little bit behind with my vegetables, and appear to be eating too much for a late dinner.
It's hard though, because while I try to only eat enough to satisfy my hunger, I am usually still hungry even though I'm eating slow.
Anyway, I'm 22.2 pounds down with 7.8 more to go. Can I lose 7.8 pounds in 18 days? It's not as easy as it may seem, as I'm 190.6 now, not 212.8 anymore…
Paul's Efforts
Paul has been continuing with his Dr.Bernstein diet, albeit on 'maintenance mode', which has continued to do extremely well for him. As mentioned earlier, he actually hit the challenge goal of losing 30 pounds yesterday.
He does a little bit of walking/running on his treadmill, but other than that, it's all diet.
You can read his thoughts about losing 30 pounds in his latest blog post.
Below are Paul's before and after photos: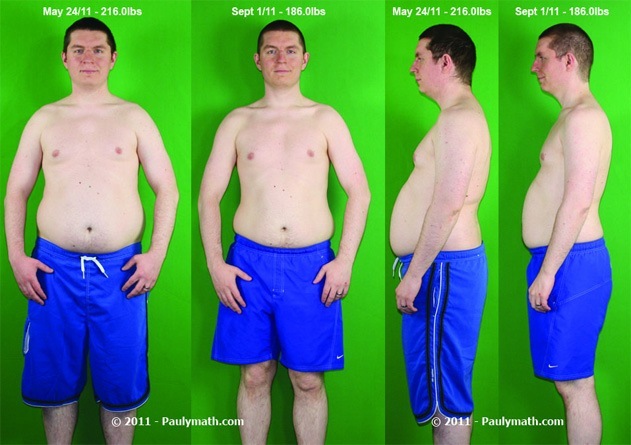 Congrats to him for losing 30 pounds! I know first-hand how difficult it is and just how much time and effort it takes.
That being said, the competition isn't over, and he'll have to maintain his weight for the final weigh-in. And he'll actually have to lose a couple pounds more in order to compensate for the added clothes and camera during the final weigh-in.
It's also interesting… while Paul has lost 30 pounds, it looks like he could still afford to lose another 20 in order to really get in shape. I'll be curious to see how Paul's weight progresses over the next 2-3 months.
Will We Make It? Cast Your Vote!
In my last few weight loss contest updates, I included polls to see what you guys thought would happen in this challenge.
Below are the results of the past polls. I've closed them now, since this post is now up with our updated stats:
What will happen in the Tyler vs. Paul $650 weight loss challenge? (Day 45/120 Stats)
Neither will make it (44%, 19 Votes)
Only Tyler will make it (26%, 11 Votes)
Both will make it (23%, 10 Votes)
Only Paul will make it (7%, 3 Votes)
Total Voters: 43

Loading ...
What will happen in the Tyler vs. Paul $650 weight loss challenge? (Day 55/120 Stats)
Neither will make it (45%, 17 Votes)
Both will make it (42%, 16 Votes)
Only Paul will make it (11%, 4 Votes)
Only Tyler will make it (3%, 1 Votes)
Total Voters: 38

Loading ...
What will happen in the Tyler vs. Paul $650 weight loss challenge? (Day 90/120 Stats)
Only Paul will make it (40%, 14 Votes)
Both will make it (26%, 9 Votes)
Neither will make it (26%, 9 Votes)
Only Tyler will make it (9%, 3 Votes)
Total Voters: 35

Loading ...
And here is the new poll. Please cast your vote!:
What will happen in the Tyler vs. Paul $650 weight loss challenge? (Day 102/120 Stats)
Only Paul will make it (55%, 16 Votes)
Both will make it (34%, 10 Votes)
Neither will make it (10%, 3 Votes)
Only Tyler will make it (0%, 0 Votes)
Total Voters: 29

Loading ...
With Paul having already lost the target goal of 30 pounds and me still needing to lose 7.8 pounds, it will be interesting how people vote this time around.
Posted: September 3rd, 2011 under Contests