August 22, 2011
Posted by Tyler Cruz
I started my weight loss challenge against Paul Piotrowski exactly 3 months ago, which means that there are only 30 days left!
As a quick recap, we each must lose 14% of our starting body weight (which works out to 30 pounds each) within 4 months (120 days). If one of us doesn't make it, then he will have to pay the other $650. If neither of us make it, then we will donate $650 to the BCSPCA.
With only 30 days left, things are beginning to get quite scary. Each day is increasingly precious, and weight-gains are exceedingly painful.
Also, as we continue to lose weight, it gets that much more difficult to shred it off, so this final month will definitely be stressful.
My last update on this challenge was made a bit over a month ago, so a lot has happened since then.
Below is an updated line graph comparing my daily weigh-in's to Paul's: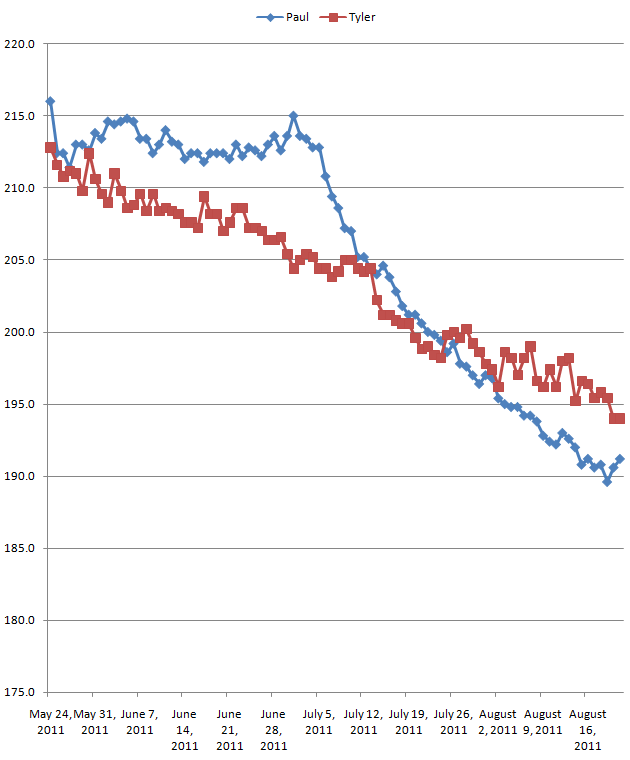 Ever since Paul started his Dr. Bernstein diet, he has dropped weight at a surprisingly consistent rate.
Unfortunately for me, I had an extremely difficult first 2 weeks in August, bouncing up and down crazily… which didn't make sense as I was trying hard and walking a lot of long distances, although it could be due to added leg muscles.
This graph below shows a direct comparison of our total weight loss in pounds, as opposed to just our our total weight: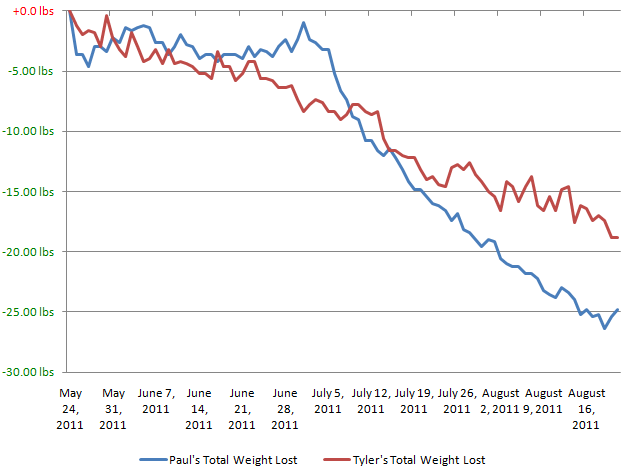 As you can see, Paul has completely crushed me over the past 5-weeks.
I'm very used to this now, since I talk to Paul everyday and we compare our weights and progress, but it may be shocking to those of you who have been following this challenge.
Below is an update on the overall numerical data, taken from the last update to today (it's too long to show the entire thing – if you want to know all the exact numbers, simply view the past weight loss updates for this challenge):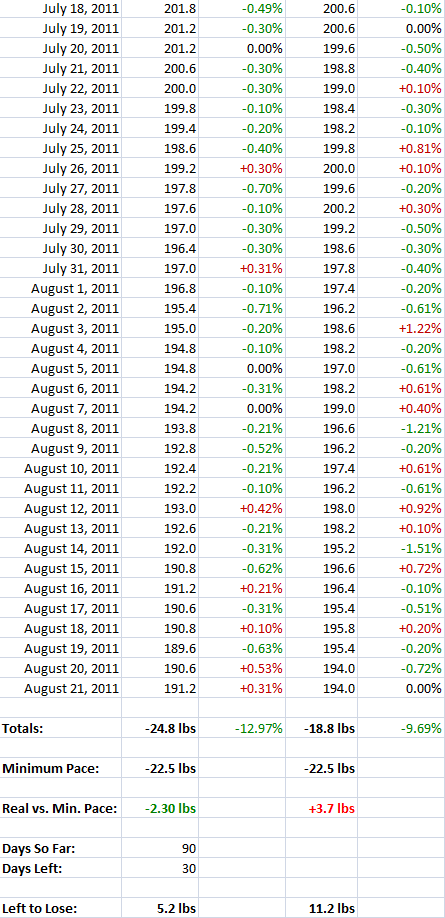 The Minimum Pace is taking the average amount of weight we need to lose each day (which works out to 0.25 lbs.) over 120 days in order to just barely lose 30 pounds, multiplied by the number of days so far.
The Real vs Min. Pace is the difference between our current weight loss and the Minimum Pace.
Paul's weight loss has been very impressive, having lost 24.8 pounds so far. In fact, 2 days ago he made it into the 180's – a weight that he literally can't remember last being at.
Perhaps more impressive is the fact that he is 2.3 pounds AHEAD of minimum pace… giving him some good wiggle room for the final weigh-in.
I, on the other hand, have not been doing so well. It's frustrating, because I have been losing weight… but not at the pace that is needed in order to make this challenge. To date, I have lost 18.8 pounds, which works out to an average of 0.2 pounds lost every day for the past 90 days.
But that is sadly not fast enough to put me on minimum pace… which is an average of 0.25 pounds a day. As a result, I am 3.7 pounds behind schedule 🙁
Don't forget, too, that it's even worse than that… as on the final weigh-in I have to my original weigh-in clothes which are heavier, plus hold my camera. The final weigh-in is also at 10pm… a time in which I always weigh more than when I first wake up.
I'm not liking my chances. I told Paul that I think I have around a 50% of making the challenge. He puts me at 80%, but I don't think he knows just how fast these last 30 days will go.
My Efforts
I've been continuing to do my 'daily list' which consists of: walking for 24-minutes (2KM or 1.25 miles), playing badminton twice a week, eating 4 servings of fruits and vegetables, drinking 3 glasses of water, being banned from restaurants/fast food/high calorie foods/juice/pop, 12 push-up's, and 35 crunches.
I think I've noticed an improvement in my capacity to walk. When I first started doing my 2KM walks around the neighbourhood, I was always very tired by the time I returned, panting heavily and labouring up the 2 floors to my apartment.
But now, I almost enjoy (keyword being 'almost') going out on my daily walks. And I never even notice going up the final 2 flights of stairs to my apartment anymore. I do still sweat a lot, but the panting is almost non-existent now.
I go on my daily walks rain or shine. In fact, I was working late one day and hadn't gone for my daily walk yet, but I didn't let that stop me. I went out in the dark and did what I had to do.
Below is a photo I took of myself during that walk. If you look very closely, you'll see me: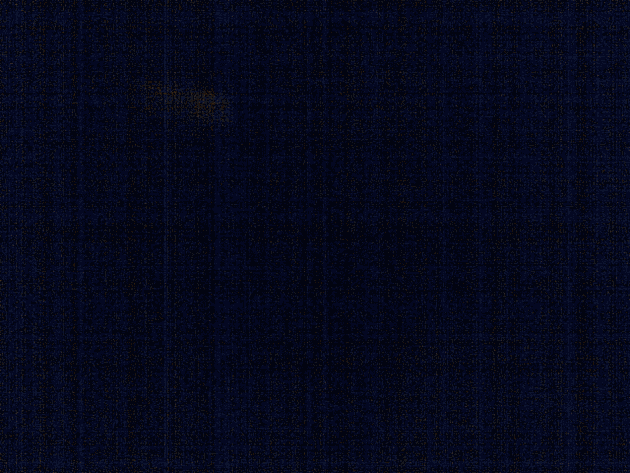 In addition to my daily 2KM walks, I started going on much longer walks about twice a week (although I didn't do any of those in the past week).
I first started by going around the circumference of a bird sanctuary several times, but that had gravel around the whole trail, which was hard on the feet, so I didn't return.
I then started to walk from my condo, up North. On each progressive 'long walk', I would walk farther to another milestone (usually a mall or grocery store of some sort).
I did a few 'long walks' on a trail that runs along the old highway in my city. People like to walk their dogs along it, and it's nicely paved, but it's very noisy being right along the highway like that.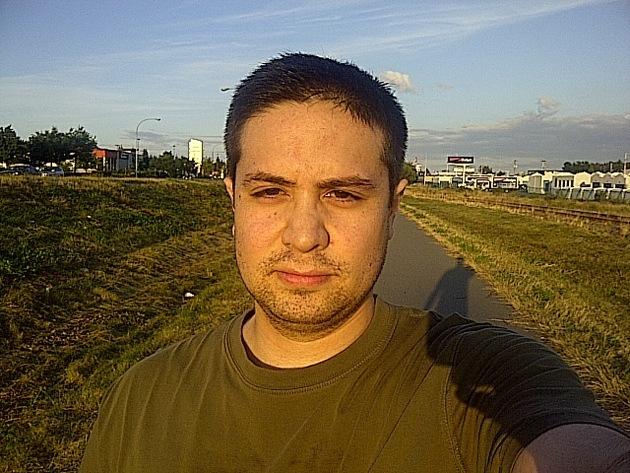 Then one day I decided to try the "Parkway Trail" in my city, which runs along the route of the parkway of my city, which is the faster and more direct highway.
I had heard of the trail before, but never went on it – mainly because I thought it would be too noisy (being along the faster highway and all).
But I was very pleasantly surprised! It's a very beautiful trail, and doesn't run nearly as close to the parkway as the other trail had.
In fact, a lot of it runs through greenery in which you can't even tell that there is a highway nearby.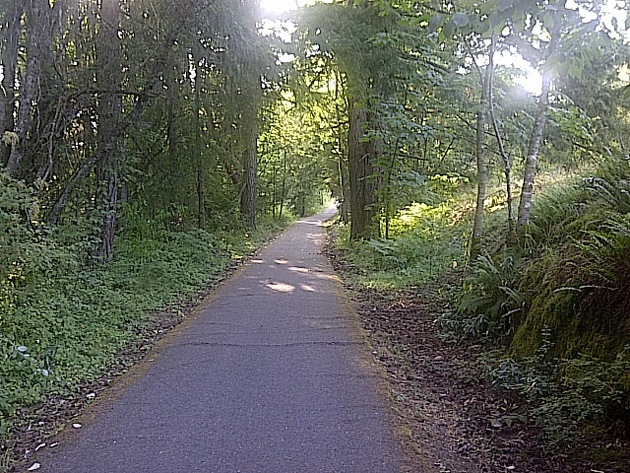 It is nicely paved, as you can see, which makes it really easy on the feet, and you can often seen rabbits hopping about.
What is rather surprising, is that almost nobody uses the trail! It's a very well known trail in the city and the perfect time to use it (being summer and all), but I usually only see 1 or 2 people on it when I use it, and they're always bicyclists – nobody ever walks or runs it.
I'm thinking perhaps because it's too long for most people. The entire length of it is 20KM, and so walking one way and back would be 40KM… plus, since it's along the highway, it doesn't loop, so that could be one reason.
In any case, I love that nobody uses it. I enjoy the peace and quiet, and am able to zone out much easier.
Here's one of the views from the trail: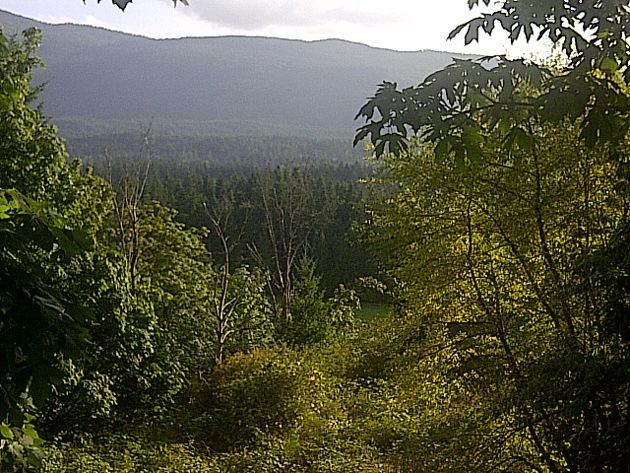 There is one crappy part about the trail though: the underpass. You have to go through it, and it's not pleasant; there is always the strong odour of urine, and you have to hold your breath as you pass through.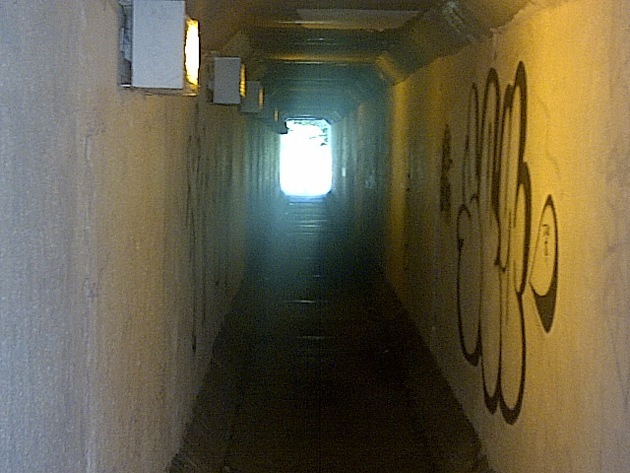 As with the other trail, I started going farther and farther on this one. The last trek on it was 12.5 KM (7.8 miles), and I plan on doing 13KM (8 miles) next time.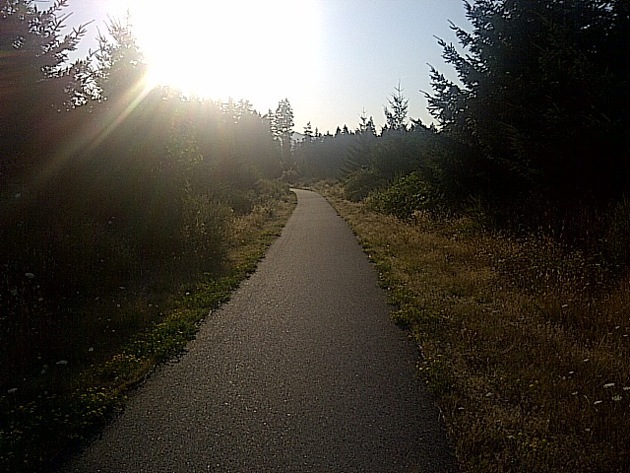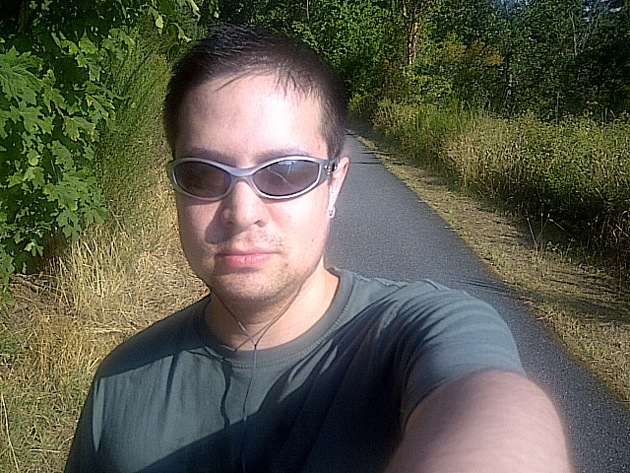 So, I've definitely been trying to lose weight. That's partly why it has been so frustrating to see my weight loss slow down
The good news is that yesterday was a new low for me, at 194.0 pounds. I'm 18.8 pounds down, with 11.2 more pounds to go.
Paul's Efforts
Paul has been continuing with his Dr.Bernstein diet, albeit on 'maintenance mode', which has continued to do extremely well for him. Basically, he's doing 90% diet and 10% exercise, as he does walk/run on his treadmill from time to time.
However, I don't think the maintenance mode is going too well for him. He appears to be having trouble straying just slightly off the diet – instead, he seems to go farther off it than he should be. For example, he told me about having pop and popcorn the other day, then pizza (even if it was vegetarian), ate hash browns, bacon, and eggs for breakfast, etc.
As a result, in the past week, Paul gained weight 4 days out of 7! He's still ahead of schedule, but he does appear to be slipping 🙂
He will have an update on his weight loss very late tomorrow (August 22nd), and you can see photos of his physical weight loss here. I am not brave enough to post such photos.
Will We Make It? Cast Your Vote!
In my last 2 weight loss contest updates, I included polls to see what you guys thought would happen in this challenge.
A lot has happened in the past month, with Paul passing me and actually making me the big underdog to win, so it will be interesting to see how you guys vote now.
Below are the results of the past 2 polls. I've closed them now, since this post is now up with our updated stats:
What will happen in the Tyler vs. Paul $650 weight loss challenge? (Day 45/120 Stats)
Neither will make it (44%, 19 Votes)
Only Tyler will make it (26%, 11 Votes)
Both will make it (23%, 10 Votes)
Only Paul will make it (7%, 3 Votes)
Total Voters: 43

Loading ...
What will happen in the Tyler vs. Paul $650 weight loss challenge? (Day 55/120 Stats)
Neither will make it (45%, 17 Votes)
Both will make it (42%, 16 Votes)
Only Paul will make it (11%, 4 Votes)
Only Tyler will make it (3%, 1 Votes)
Total Voters: 38

Loading ...
What will happen in the Tyler vs. Paul $650 weight loss challenge? (Day 90/120 Stats)
Only Paul will make it (40%, 14 Votes)
Both will make it (26%, 9 Votes)
Neither will make it (26%, 9 Votes)
Only Tyler will make it (9%, 3 Votes)
Total Voters: 35

Loading ...
Posted: August 22nd, 2011 under Personal