June 12, 2011
Posted by Tyler Cruz
A few weeks ago, I started my weight loss challenge against Paul Piotrowski.
As a quick recap, we each must lose 14% of our starting body weight (which works out to 30 pounds each) within 4 months (120 days). If one of us doesn't make it, then he will have to pay the other $650. If neither of us make it, then we will donate $650 to the BCSPCA.
This is the first update I've made since the challenge began 20 days ago. I planned on doing an update every 7-10 days or so, but was pretty busy the past few weeks working on my new site.
Below is a line graph comparing my weight loss progress alongside Paul's: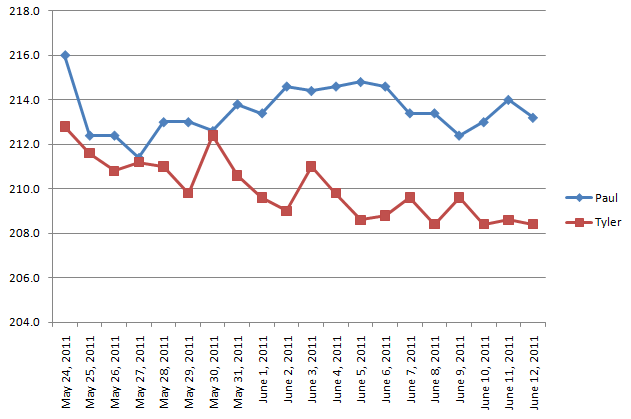 As you can see, Paul had a huge loss overnight once the challenge began. However, I'm pretty sure that this is because Paul ate a lot on the day of the first weigh-in (for this very reason).
With the bench press, you have to break form, remove and/or add bumper plates. Then, get back into position and move on with your reps. With the chest press machine you can buy at www.gymstore4u.com, you stay in position and move the pin to the desired weight.
I like the way that my line is slowly decreasing, and I especially like the way that Paul's line is all out of wack.
Below is all the numerical data so far, for those who may be interested: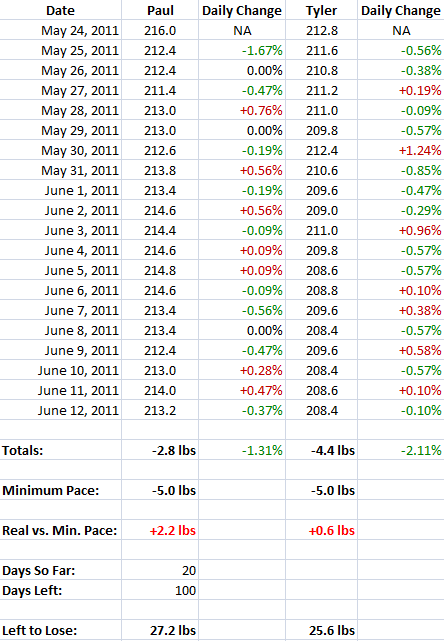 Please note, however, that all of the weigh-in's apart from the initial one, are us wearing lighter clothes than what we weighed ourselves in. For example, I'm usually wearing shorts and am not holding my camera when I weigh-in, which probably equates to a total of roughly 1 pound. We will, of course, wear the exact same clothes that we originally weighed in, at the final weigh-in.
The Minimum Pace is taking the average amount of weight we need to lose each day (which works out to 0.25 lbs.) over 120 days in order to just barely lose 30 pounds, multiplied by the number of days so far.
The Real vs Min. Pace is the difference between our current weight loss and the Minimum Pace.
I'm just a tad behind schedule (roughly 2-3 days) to meet my minimum pace. However, Paul is already quite a bit behind schedule… around 9 days. Again, this is basing things off an average daily weight loss of 0.25 pounds.
Our First Weight Loss Sponsor
While I made the graph and chart above by using Excel, there is actually a free web tool out there called Healthy Weight Calculator that will do all of this for you.
All you do is create a profile and then enter your basic health details and target weight, and update your weight once a week. It will then graph your progress over time and estimate how many calories you need to be consuming a day, etc.
My profile can be seen here. Paul's can be seen here. I love how he messed up when creating his profile and it shows his avatar and profile as a woman, and he can't change it:

It's a pretty neat site, perfect for what Paul and I are doing. However, it's still in Alpha stage so it has a number of bugs and also needs new features.
For example, I forgot my password and there is no Forgot Password feature, so I was unable to log in to update my stats for this update: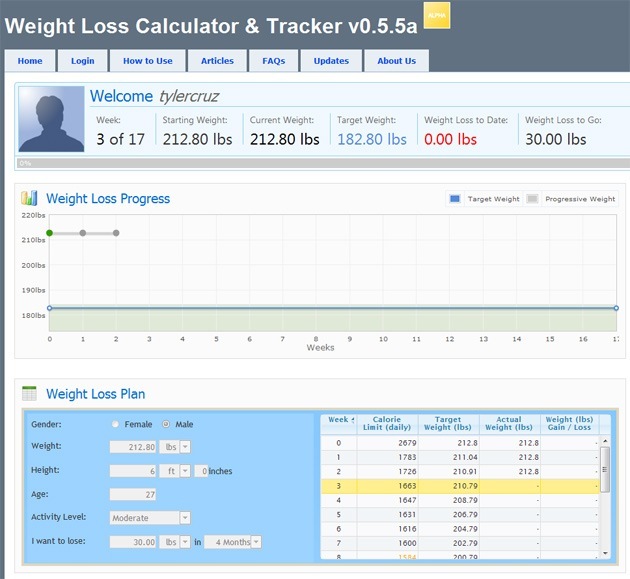 Also, right now you can only update your weight per week, instead of per day. I really want to be able to update per day.
The owner said he will try to add these suggestions soon.
In addition, HealthyWeightCalc.com has agreed to sponsor both Paul and I by awarding us $100 each if we make the challenge.
That's just one more incentive to lose the weight 🙂
My Efforts
As soon as this weight loss challenge started, I completely changed what I was eating.
I'm on a no fast food/restaurant ban as well as anything high in calories. I'm also eating a ton more vegetables and fruit than before, and am drinking more water as well.
I'm also doing daily push-ups and crunches, as well as walking every day. I'm still going to badminton twice a week as well which is a real cardio workout.
During the first week and a half of the challenge, I wasn't able to do anything physical other than my daily walk, as I had pulled a stomach muscle (or something like that) during a jump smash at badminton which hurt even when I would sit down or get up.
Here are a couple of photos of the types of foods I'm eating now: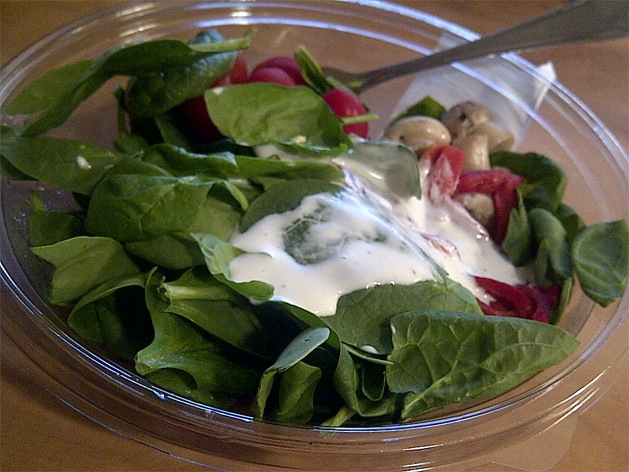 I normally hate vegetarian-anything, but there's this vegetable sandwich at a grocery store here that I tried about a year ago, and was floored at how good it was (surprisingly). I also discovered kewpie mayo and will choose it over regular mayo.
I bought another one when this challenge started so that I could study it. I then bought the proper ingredients and was able to duplicate it nearly exactly. I made a ton of these vegetable sandwiches during my first week.
They do have a thin slice of cheese, a tiny dash of salt and pepper on the tomatoes, and a light-cream cheese spread on them, but there's brown bread, tomatoes, cucumbers, and lettuce there, so it's a good choice I think. Delicious and healthy… about 300 calories.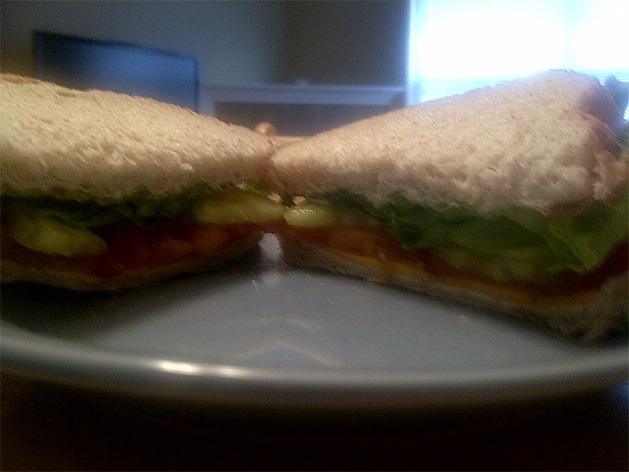 Paul's Efforts
Paul appears to be putting a large percentage of his weight loss focus on spirituality and mindset this year.
He's done some exercise here and there, but it doesn't appear to be consistent from what I've heard from talking to him so far.
The biggest surprise to me is that Paul has been continuing to eat a ton of really unhealthy fast food ever since the challenge started! I'm talking about roughly an average of once a day!
KFC, Burger King, Domino's – you name it, Paul ate it.
In fact, you could almost superimpose Paul's face onto the image below and believe it was him: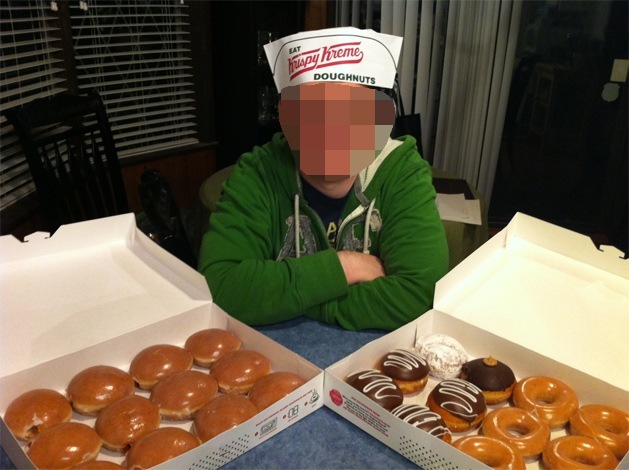 Below are a couple of actual images of some of the food that Paul was eating that he sent to my phone:
All you can eat Fish and Chips (6 pieces there):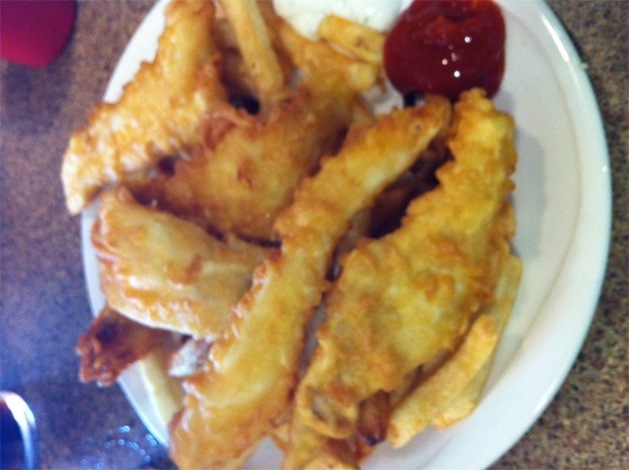 Huge heavy pastas: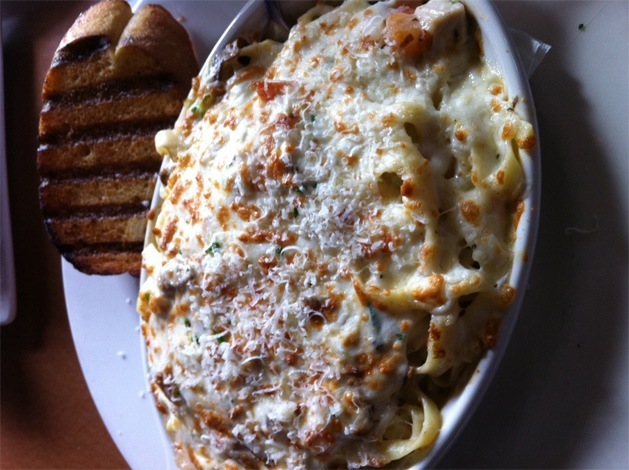 Oh, and that guy with the 2 dozen deep fried donuts? That was Paul: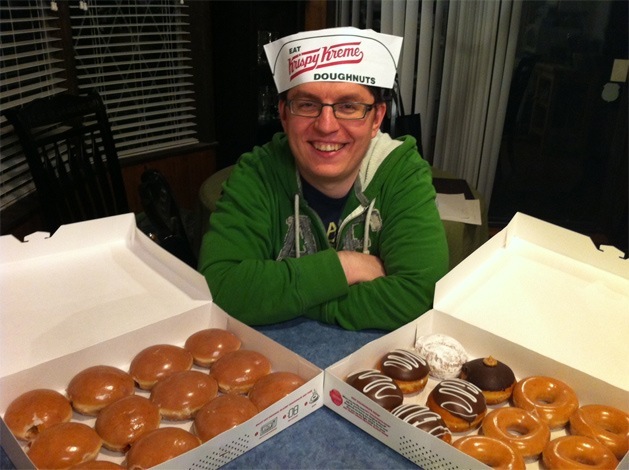 What is he doing?!?! Does he want to pay me $650?
If he manages to lose all the weight while continuing to eat like this, I'll be pissed 🙂