January 23, 2009
Posted by Tyler Cruz
Some of you may know him as CD8470, others as the moniker The Behemoth, or simply as his name Scott, but most of you will identify him as the undefeated winner of all 6 of my Affiliate Marketing Competitions that were at that time all hosted by MarketLeverage.
Whatever you call him, there is no doubt that he has seen absolute success with affiliate marketing. With MarketLeverage alone (he uses a couple other networks as well) he generated a total of $251,031.60 during the second half of 2008, with another $46,949.80 being generated this month so far, giving him a total of $297,981.40.
What's even more impressive is that the majority of that $46,949.80 was generated in the past few days. That right, during the past few days The Behemoth has recently been doing just over $10,000 a day.
I actually interviewed Scott back in July of last year after he won the first the very first Affiliate Marketing Challenge, so this is a follow-up interview since his numbers have exploded during the past 6 months.
Tyler:
You've come a very long way since you competed in the very first Affiliate Marketing Challenge which was held back in June/July of 2008 in which you generated a total of $3,328.20. Only four months later, won the 5th Affiliate Marketing Challenge with an amazing $91,079.80. What would you attribute this tremendous growth to?
Scott:
It really is just a matter of plugging away and (1) continuing to split-test and fine tune the offers that do work and (2) trying out new offers with new traffic sources to find new winners. There is tremendous money to be made out there but it takes genuine effort to find those nuggets. The successful affiliate marketer needs to continually research, test and innovate to find the winners.
Tyler:
In our first interview, held shortly after you won the first challenge, you stated in one of your answers that you did a bit of a mixture for traffic methods including "banner advertising, SEO and PPC with PPC probably being the lion's share overall right now." Has this changed since then, and if so, do you think that is what helped you push your numbers so high?
Scott:
No, although my overall traffic volume has increased the mixture really has not changed that much from the initial interview. Some things that looked promising at the time did not scale they way that I thought they might, but I still continue to try and test new traffic sources frequently.
Tyler:
Seen below is a photo of your LG – Scarlet 52″ 1080p LCD HDTV you won in the 5th Affiliate Marketing Challenge with $91,079.80. Your setup looks sweet and you did a good job wall-mounting the TV. How are you enjoying it?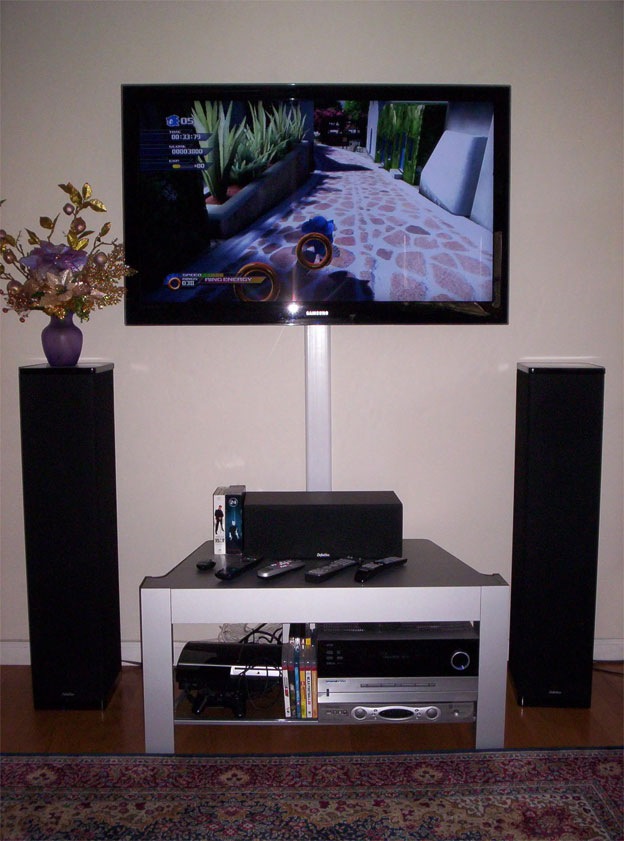 Scott:
I actually ended up getting MarketLeverage to replace it with the Samsung LN52A860 which I liked better after comparing it side-by-side with the LG. The clarity of the picture on the Samsung is just out of this world. I thought my old HDTV was nice but the Samsung absolutely blows it out of the water. Thanks a lot to Dina and ML!!
Tyler: 
You have generated close to $300,000 with MarketLeverage since you registered last summer. During the past few days I've noticed you've been hitting $10,000 per day from MarketLeverage alone, not counting your campaigns running on other networks. Is this a new milestone for you and something you ever thought you'd achieve?
Scott:
Yes, there have been a few very nice days recently and they are among the highest grossing days that I have had. I have never set a goal for myself of earning X amount of dollars by a particular date, but rather I just continue to learn as much as I can and to push myself as hard as I can. 
Tyler: 
Many true super affiliates say that "the sky is the limit" in terms of how much you can make with PPC affiliate marketing. Now that you are doing $10,000 per day, can you see yourself one day doing $50,000 per day? I know there are some super affiliates out there doing $50,000-$100,000 per day.

Scott:
Things can change so quickly in affiliate marketing that I might be just as close to a $50 day as a $50k day – you just really never know and you certainly can never take anything for granted. However, making $50k in one day is absolutely 100% possible though and I certainly wouldn't mind reaching that level.
Tyler: 
A number of my readers have left comments requesting that you start a blog. Is this something that you would consider doing?
Scott:
Well, I am flattered by their requests, but unless I come up with a unique means to really provide value to readers I probably will not be creating a blog anytime soon. How about if people post questions in the comment section here for the next 24 hours though and I'll take a quick crack at them?
Ask Scott a Question
You heard him folks. Here's your chance to ask a true super affiliate who is currently doing 5-figures a day a question.
Just leave your question in the comments below and Scott will try to respond to them.