July 12, 2008
Posted by Tyler Cruz
One month has passed and my Affiliate Marketing Challenge has come to a finish. It went far better than I had anticipated and it was a blast to run. I kept an extremely close eye on the rankings, and hope those who entered had as much fun participating as I had running it.
For those who are not sure what my Affiliate Marketing Challenge was all about, check out my original post.
I'd like to thank everyone who participated for entering, and especially thank MarketLeverage for sponsoring the competition. After all, without them, there would be no contest!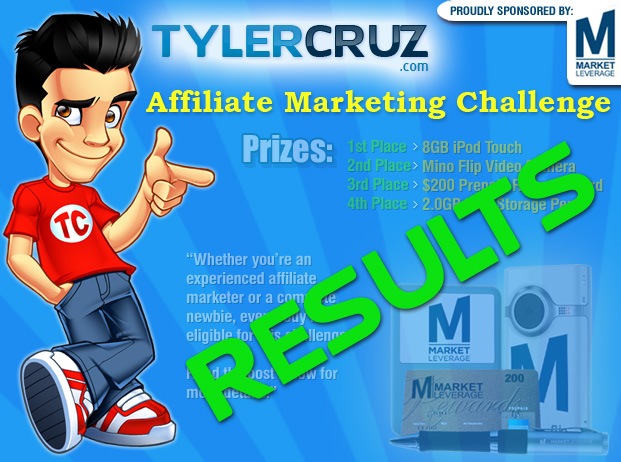 Winners
While there were a lot of participants who registered, the prizes were limited to the the top 4 earners. Here are the official winners and their prizes:
1st Place: CD8470 – $3,328.20
Prize: 8GB iPod Touch

Out of nowhere, CD8470 casually entered the competition with less than two weeks left and finished to complete dominate it. He averaged just over $300 per day and left everyone else in the dust.
I will see if he is willing to write a guest post or agree to an interview to share some of his affiliate marketing secrets. He will be the man to beat in the next competition.
2nd Place: CD8107 – $996.60
Prize: Mino Flip Video Camera

If this guy had a moniker it would be "One Day Wonder". He entered the contest quite early and shot out of the gate to earn just shy of $1,000 in ONE DAY.
I've actually spoken to CD8107 and heard his story. Basically, he likes MarketLeverage but they do not have some of the offers he is running. They are currently working on trying to get them though. If his affiliate manager at ML does manage to hook him up, then he said he'll be competing in the next competition and will give CD8470 a good run for his money.
3rd Place: CD8137 – $924.00
Prize: $200 Market Leverage Rewards Amex Card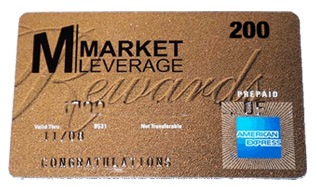 Unlike the top 2 winners, CD8137 placed in the top 4 by working hard since the beginning. While the adage "Slow and steady wins the race" may not exactly fit here since he did not place 1st, he did win $200 for his efforts.
He was very close to placing second, being behind by only $70. I hope I see him participate in the next competition.
4th Place: CD8269 – $717.80
Prize: 2.0GB USB Pen

This guy is a complete mystery to me. I did not notice him "rising up the ranks", and then in the last hour or two of the competition he came out of nowhere to finish in 4th place.
This will unfortunately be a complete disappointment to CD8346 who, like CD8137, participated since the beginning and did so the hard way (slow and steady). He had 4th place secured until CD8269 stole it from him.
It will be very interesting to see if CD8269 participates in the next competition and if so, how he fares.
Final Scoreboard
A month after the competition started, a total of 57 affiliates participated to end up generating $7,816 in commissions!
Below is the final scoreboard:
| | | |
| --- | --- | --- |
| Rank | Participant | Earnings |
| 1st | CD8470 | $3,328.20 |
| 2nd | CD8107 | $996.60 |
| 3rd | CD8137 | $924.00 |
| 4th | CD8269 | $717.80 |
| 5th | CD8346 | $689.00 |
| 6th | CD8036 | $507.60 |
| 7th | CD8246 | $202.00 |
| 8th | CD8287 | $158.40 |
| 9th | CD8065 | $98.00 |
| 10th | CD8322 | $84.00 |
| 11th | CD8047 | $63.80 |
| 12th | CD7580 | $27.60 |
| 13th | CD8711 | $6.00 |
| 14th | CD8083 | $5.60 |
| 15th | CD8347 | $5.20 |
| 16th | CD8021 | $1.60 |
| 17th | CD8088 | $1.20 |
| | | $7,816.00 |
Affiliate Marketing Challenge 2
That's right. Since my first Affiliate Marketing Challenge was a huge success, MarketLeverage has agreed to sponsor a second competition.
It will launch in just a couple days, so be sure to keep an eye out for it. The earlier you enter, the better your chances are. If you didn't enter the first competition because you didn't find out about it until too late or just weren't sure if it was your thing, here's your second chance!
I managed to get MarketLeverage to put up even more and bigger prizes, so stay tuned!