December 4, 2008
Posted by Tyler Cruz
I wanted to publish this post a day earlier but there was so much data to collect and calculate that it took a day longer than expected to get ready. The 5th Affiliate Marketing Challenge was a great success and saw a lot of new affiliates sign up to get in on all the action.
As usual, I keep a very close eye on the rankings and it's always great to see affiliates generate their first commissions. It's also great to watch affiliates grow and scale their campaigns to larger numbers. Best of all, it's great to be able to award these affiliates awesome prizes.
I'd like to thank everyone who participated for entering, and especially thank MarketLeverage for sponsoring these competitions. After all, without them, there would be no contest!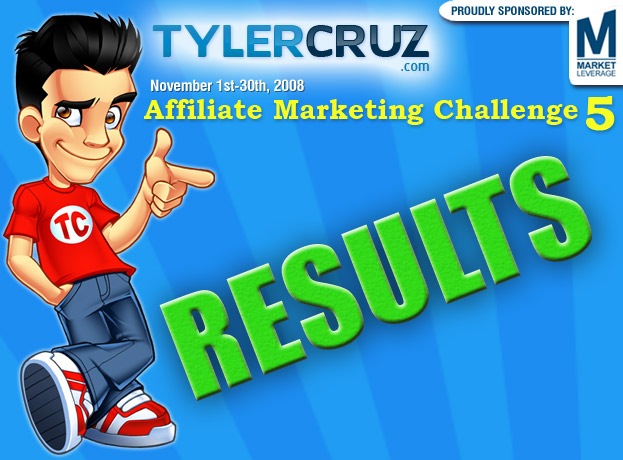 Winners
We give out a lot of great prizes, so I apologize in advance for the long list that follows. Here are the official winners and their prizes:
$75,000-$99,999 VIP Tier
1st Place: CD8470 – $91,079.80
Prize: LG – Scarlet 52″ 1080p LCD HDTV

Congratulations to CD8470, aka "The Behemoth", for taking home the $75K VIP tier prize for the first time. As a result, he'll be receiving an LG – Scarlet 52-inch 1080p LCD HDTV for his efforts. I speak to him regularly and know that he's especially excited for this prize.
It's fantastic to watch The Behemoth constantly improve and increase his commissions. The previous competition he finished with $60,559.20, only to increase that to over $90,000 the following month, and November has one less day.
CD8470 has now won all FIVE CONSECUTIVE Affiliate Marketing Challenge competitions and remains the undefeated champion. He managed to completely dominate the competition with a staggering $91,079.80 which works out to over $3,000 per day.
His prizes from all the competitions now include an LG – Scarlet 52″ 1080p LCD HDTV, Olympus E-520 10.0MP DSLR Camera, Panasonic 60GB HD Drive Camcorder, Dell 22″ Widescreen Monitor, and an 8GB iPod Touch. What will MarketLeverage and I be giving him next? Perhaps a yacht?
Will The Behemoth go 6 for 6 and win my next competition as well? Can anyone even get close to this monster? It'd be nice to see him continue to push himself further and possibly reach the $100,000 VIP tier as the prize is a Segway i2!
Top Main Category
1st Place: CD8467 – $7,250.00
Prize: Playstation 3 & Rock Band Special Edition

I'm going to have to nickname this guy "The Dark Horse". He came out of absolutely NOWHERE in the final 6 days of the competition to generate over $7,000.
Checking my logs, it appears that he participated in the 1st Affiliate Marketing Competition some months back, but finished the month with $300. It's awesome to see he found his mojo and is kicking butt.
I can't wait to see what he has in store for the next competition. He's already  on pace to hit the $50K tier…
2nd Place: CD9050 – $3,969.00
Prize: Dell 24-inch Widescreen Flat-Panel LCD HD Monitor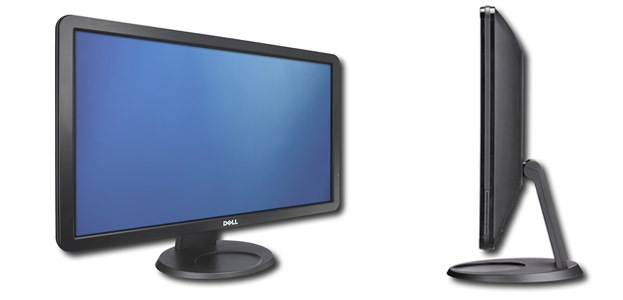 It's awesome to see CD9050 continue to increase his commissions each month. He generated over $1,000 than the previous competition, which was also $1,000 more than the competition before that one. Hopefully he will participate in my 6th Affiliate Marketing Challenge and continue to improve his commissions. Perhaps by another $1,000? 🙂
3rd Place: CD10565 – $2,090.00
Prize: 16GB iPod Touch

CD10565, aka "The Magician", aka Paul Piotrowski from InspiredAffiliate.com is now a regular leaderboard winner in these competitions. He placed 3rd in the previous competition as well and won an an 8GB iPod Touch so it's kind of funny that he placed 3rd again to win another iPod Touch.
However, this time he's won a 16GB iPod Touch which is better. Perhaps he can give his other one to his wife or somebody for Xmas, or we can work out sending him a substitute prize.
4th Place: CD8083 – $1,803.00
Prize: Flip Mino Video Camera

I've finally come up with a moniker for CD8083: Traffic Light. He is always "stop" and "go" with his stuff, generating some nice numbers for a week and then stopping, coming back a couple weeks later to generate a bit more, then stopping…
MarketLeverage is currently working on getting him an offer he's doing well on with another network. If he switches it over, he'll be producing some real big numbers, so keep an eye on him.
5th Place: CD8137 – $966.00
Prize: $150 Prepaid ML Rewards Card

(Note: I didn't have a photo of the $150 Rewards Card so I had to use the $100)
CD8137, aka "The Tortoise", lives up to his moniker by just barely taking 5th place to walk away with a $150 Prepaid Reward card from MarketLeverage.
He has yet to ramp up his campaigns, but maybe this is just part of the turtle nature (slow and steady wins the race).
Top New Signup's
1st Place: CD12601 – $745.80
Prize: 8GB iPod Touch

I love tracking the progress of new signup's as it's great to watch them earn their first commissions with PPC affiliate marketing and then get rewarded with an additional prize for their efforts as well.
CD12601 had a fantastic first month and completely dominated the new signup's category. Hopefully he can increase his commissions slightly to climb onto the Main Category leaderboard for the next competition.
2nd Place: CD12502 – $62.00
Prize: 8GB iPod Nano

You've got to love this: you generate $62.00 in commissions only to take home a $150 prize. This is exactly why if you haven't signed up yet, you should. You don't need to be able to generate huge numbers in order to win big!
3rd Place: CD12230 – $60.00
Prize: $50 Prepaid ML Rewards Card

(Note: I didn't have a photo of the $50 Rewards Card so I had to use the $100)
Likewise, CD12230 joined and generated only $60, but is being rewarded with $50 in return which is almost double his commissions!
Blog Winners
Lastly, here are the 5 lucky blog winners taken from a random drawing:
In total, there were 11 bloggers who posted about my competition. That meant that the average submission had a 45% chance of winning an easy $20! Hopefully you'll consider those odds for my next competition!
Each of the above will be receiving a $20 Prepaid MarketLeverage Rewards Card.
I have e-mailed each of the winners and notified MarketLeverage as well. They will be contacting each of the winners shortly.
Final Rankings
I've now referred a total of 135 affiliates to MarketLeverage, 22 of which signed up during this past competition.
Together, they generated a total of $110,226.00 in commissions. The final standings are shown below (only those with earnings of over $100 during the competition are shown, for the sake of space):
$75,000 VIP Tier
Rank
Participant

Earnings

1st
CD8470 "The Behemoth"
$91,079.80
 
Total:
$91,079.80
Top Main Affiliates
Rank
Participant

Earnings

1st
CD8467 "The Dark Horse"
$7,250.00
2nd
CD9050
$3,969.00
3rd
CD10565 "The Magician"
$2,090.00
4th
CD8083 "Traffic Light"
$1,803.00
5th
CD8137 "The Tortoise"
$966.00
6th
CD10451
$901.20
7th
CD11560
$775.60
7th
CD12601
$745.80
 
Total (all main affiliates):
$19,146.20
Top New Affiliates
Rank
Participant
Earnings
1st
CD12601
$745.80
2nd
CD12502
$62.00
3rd
CD12230
$60.00
 
Total (all new affiliates):
$978.20
My personal goal for the competition was for the total commissions to hit $75,000. Well I think it's safe to say that goal completely obliterated, as we actually exceeded it by over $35,000!
To date, my referrals have generated a total of $311,743.40, and I only signed up to MarketLeverage in early June!
Here are the results of the contests held so far:
Contest Results
Contest #
New Affiliates Registered
Earnings
1
57
$7,816.00
2
25
$34,076.75
3
14
$61,249.60
4
15
$73,639.20
5
22
$110,226.00
 
Total (competitions):
$287,007.55
 
Thank You Market Leverage!
This competition would simply not have been possible without the massive support of MarketLeverage. They are putting up all the prizes, not me. Thanks a lot ML, we really appreciate it!
Affiliate Marketing Challenge 6
The 6th affiliate marketing challenge is already under way. If you haven't checked it out yet, make sure you do. There are more prizes than ever – $11,475 worth, in fact – so don't miss out!
Posted: December 4th, 2008 under Contests