January 3, 2009
Posted by Tyler Cruz
Unfortunately, the 6th Affiliate Marketing Challenge had a number of big setbacks, the biggest one being a super affiliate slowing his campaigns down a lot.
On the other hand, even though his campaign slowed down by 60%, he's still producing very impressive numbers and easily took 1st place. In addition, there was a great increase in new active sign-ups which is always encouraging to see. While November set a record-breaking month for gross commissions, December seemed to have the opposite effect with many of the pre-holiday shoppers having been exhausted of funds, as well as the many holidays spread throughout the month.
I'd like to thank everyone who participated for entering, and especially thank MarketLeverage for sponsoring their 6th competition in a row!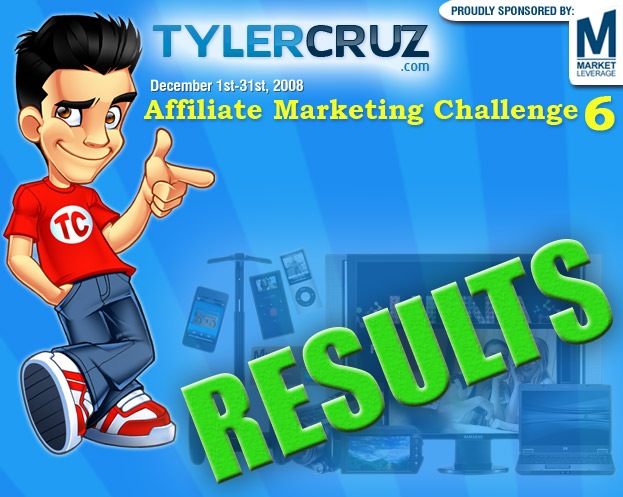 Winners
We give out a lot of great prizes, so I apologize in advance for the long list that follows. Here are the official winners and their prizes:
Top Main Category
1st Place: CD8470 – $27,254.60
Prize: HP Compaq Business Notebook

Congratulations to CD8470, aka "The Behemoth", for once again dominating the competition. As a result, he'll be receiving an HP Compaq Business Notebook for his efforts. Hopefully this laptop will be of some use to him when he travels so he can work on his PPC campaigns while on vacation.
CD8470 has now won all SIX CONSECUTIVE Affiliate Marketing Challenge competitions and remains the undefeated champion. His prizes from all the competitions now include an LG – Scarlet 52″ 1080p LCD HDTV, Olympus E-520 10.0MP DSLR Camera, Panasonic 60GB HD Drive Camcorder, HP Compaq Business Notebook, Dell 22″ Widescreen Monitor, and an 8GB iPod Touch. What will MarketLeverage and I be giving him next? Perhaps a yacht?
While The Behemoth once again dominated, his commissions dramatically fell in December. He was actually on pace to exceed $100,000 at the beginning of the month so it's unfortunate how things progressed. Nevertheless, I wouldn't be surprised in the least if this was just a temporary hiccup and The Behemoth returns to indeed hit the $100,000 mark.
2nd Place: CD8467 – $9,184.00
Prize: Samsung 24" Widescreen LCD Monitor

CD8467, aka "The Dark Horse" is sure one mysterious competitor. In the previous competition, he came out of absolutely nowhere in the final 6 days of the competition to generate over $7,000.
While he $9,180 in December was an improvement in commissions generated for the month, it needs to be noted that this was generated that most of this was generated within the first 5 days! After that he completely stopped. It's a shame as he was on pace to hit the $50K tier.
I'd love to talk to this guy and see what the story is. He seems to be able to push big numbers but in such short bursts. Here's hoping that the mysterious Dark Horse returns!
3rd Place: CD10565 – $1,860.60
Prize: 16GB iPod Touch

CD10565, aka "The Magician", aka Paul Piotrowski from InspiredMoneyMaker.com is a regular leaderboard winner in my Affiliate Marketing Challenges.
What's sick is that this is actually his THIRD time finishing in THIRD place, making it his THIRD iPod Touch won. While I believe he gave his second one to his wife, I don't think he's into pologamy and therefore won't have a second wife to give this one to.
No fret, MarketLeverage would be happy to send him the cash value of the 16GB iPod Touch ($300) via PayPal. That is, unless he wants to add another iPod to his growing collection 🙂
4th Place: CD9050 – $1,809.00
Prize: Flip MinoHD

CD9050 saw quite a drop in commissions in December, despite finishing 4th place. In November, he brought in $3,969.00 which is over twice as much. It could be the pre-Christmas season that did well for him, as December didn't seem to do as well for many people (including myself).
In any case, congratulations to him for winning the first Flip MinoHD we gave away in these competitions. Those flips really are very handy. I have two myself, but need to add the HD to my collection!
5th Place: CD12686 – $1,791.00
Prize: $175 Prepaid ML Rewards Card

This was CD12686's first time participating in my Affiliate Marketing Challenge but did very well. I'm interested to see how he does in the future.
Top New Signup's
1st Place: CD12686 – $1,791.00
Prize: 8GB iPod Touch

In addition to placing 5th in the main category, he also won 1st place in the New Signup's category to take home an 8GB iPod Touch as well. Not a bad Christmas present!
2nd Place: CD12563 – $159.00
Prize: 8GB iPod Nano

Congratulations to CD12563 for generating $159 in December to earn himself an 8GB iPod Nano.
3rd Place: CD12997 – $76.80
Prize: $125 Prepaid ML Rewards Card

CD12997 brought in $76.80 which works out to less than $2.50 per day. As a reward, he'll be receiving a prepaid $125 American Express card.
See? It's not too difficult guys… he only generated an average of $2 per day but now has some extra pocket money to himself something nice!
Blog Winners
Lastly, here are the 3 lucky blog winners taken from a random drawing:
In total, there were only 4 bloggers who posted about my competition. That meant that the average submission had a 75% chance of winning an easy $35! Hopefully you'll consider those odds for my next competition!
Each of the above will be receiving a $35 Prepaid MarketLeverage Rewards Card.
I have e-mailed each of the blog winners and notified MarketLeverage as well. They will be contacting each of the winners shortly.
Final Rankings
I've now referred a total of exactly 150 affiliates to MarketLeverage, 15 of which signed up during this past competition.
Together, they generated a total of $49,120.00 in commissions. The final standings are shown below (only those with earnings of over $100 during the competition are shown, for the sake of space):
Top Main Affiliates
Rank
Participant

Earnings

1st
CD8470 "The Behemoth"
$27,254.60
2nd
CD8467 "The Dark Horse"
$9,184.00
3rd
CD10565 "The Magician"
$1,860.60
4th
CD9050
$1,809.00
5th
CD12686
$1,791.00
6th
CD12601
$1,698.00
7th
CD10451
$1,481.00
8th
CD11560
$959.40
9th
CD8137 "The Tortoise"
$903.00
10th
CD9189 "The Newcomer"
$865.60
11th
CD12502
$430.00
12th
CD11600
$168.00
13th
CD12563
$159.00
 
Total (all main affiliates):
$49,120.00
Top New Affiliates
Rank
Participant
Earnings
1st
CD12686
$1,791.00
2nd
CD12563
$159.00
3rd
CD12997
$76.80
 
Total (all new affiliates):
$2,026.80
My personal goal for the competition was for the total commissions to hit $115,000. Unfortunately, this was the first competition in which we didn't completely smash the goal. This was due to The Behemoth having a slow month (for him). Hopefully things will pick up in January.
To date, my referrals have generated a total of $360,862.80, and I only signed up to MarketLeverage in June 2008!
Here are the results of the contests held so far:
Contest Results
Contest #
Month
New Affiliates Registered
Earnings
1
July 2008
57
$7,816.00
2
August 2008
25
$34,076.75
3
September 2008
14
$61,249.60
4
October 2008
15
$73,639.20
5
November 2008
22
$110,226.00
6
December 2008
15
$49,120.00
 
Total (competitions):
$336,127.55
 
Thank You Market Leverage!
This competition would simply not have been possible without the massive support of MarketLeverage. They are putting up all the prizes, not me. Thanks a lot ML, we really appreciate it!
Affiliate Marketing Challenge 7
The 7th affiliate marketing challenge is already under way. If you haven't checked it out yet, make sure you do. MarketLeverage is taking a little break from being the sponsor (they'll be back, don't worry). Instead, we have XY7 sponsoring the 7th competition.
Competition is currently very low so your chances of winning a prize are extremely good.
Posted: January 3rd, 2009 under Contests