August 2, 2013
Posted by Tyler Cruz
This is now my seventh post in this monthly post series, and I'm happy that I've been continuing with them.
Aside from being interesting to readers, it's also a good motivator for me. I now calculate my daily and monthly earnings (gross, net, ROI, etc.) every morning, and run the average to see what I'm on pace to hit for the month. My goal is always to set a new personal best.
Doing these income reports also makes me more accountable, as I feel a bit embarrassed when my campaign earnings drop.
Before I continue – let's take a quick look at how I predicted July would perform from my previous income report:
"In fact, I don't think July will just be a lot lower, but actually in the 4 digit net profit range, instead of the mid-5 digits that I have been doing."
Up until now, every single time I predicted that my next month's earnings would nosedive, I've been wrong.
Unfortunately, I was right. July performed far worse than June. The good news is that it did better than the "4-digit net profit range". The bad news is that I only made half the profit in July of what I did in June.
Below are my affiliate marketing numbers (not inclusive of my other revenue sources) for the month of July 2013:
July 2013 Affiliate Campaign Income:
$64,950.00
Man, what a drop from June ($142,606.00 –> $64,950.00). In fact, this is the lowest gross amount I generated all year.
Expenses:
$38,258.85
Traffic Source Breakdown:
Traffic Source #1: $8,689.31
Traffic Source #2: $4,464.11
Traffic Source #3: $100.00
Traffic Source #4: $2,892.16
Traffic Source #5: $22,113.27
At least my expenses were the lowest I spent all year…
Net Profit:
$26,691.15

.
Talk about a drop. The month before, June, brought in a total of $52,447.17 net profit, so July saw my profit drop nearly exactly in half.
My ROI did jump significantly this month though, from 58% to 70%, but really ROI is pretty meaningless when you're talking about overall monthly numbers. Net profit is really all that matters.
Year-To-Date Affiliate Marketing Results
2013 has been a fantastic year for me so far, although July really put a damper on things…
Here's a monthly breakdown:
| | | | | |
| --- | --- | --- | --- | --- |
| Month | Gross | Expense | Net | ROI |
| January 2013 | $74,277.30 | $50,927.39 | $23,349.91 | 46% |
| February 2013 | $103,961.00 | $72,516.36 | $31,444.64 | 43% |
| March 2013 | $83,204.00 | $49,320.34 | $33,883.66 | 69% |
| April 2013 | $98,526.50 | $64,892.30 | $33,634.20 | 52% |
| May 2013 | $104,600.50 | $64,402.12 | $40,198.38 | 62% |
| June 2013 | $142,606.00 | $90,158.83 | $52,447.17 | 58% |
| July 2013 | $64,950.00 | $38,258.85 | $26,691.15 | 70% |
| Total: | $672,125.30 | $430,476.19 | $241,649.11 | 56% |
While July definitely took a major hit (it's actually my second-worse month this year so far), when I look at the numbers in the table above, it actually doesn't look so bad. I think it's partly because my Net column is still all green, and partly because my net column is still all 5-figures.
Net Profit Projections
The following linear projection is based off the past 7 months of data, and is projected for the next 4 months: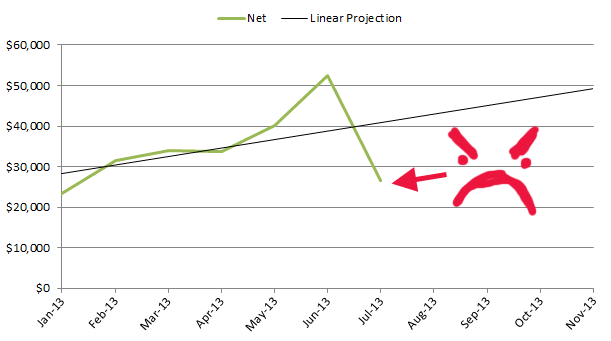 As you can see, July certainly messed up my pretty graph. However, even with that noticeable blemish, I am still on a trend to see close to $50,000 net in 4-months time by November.
However, this is based off of only 7 points of data, so it's still a very loose projection. As time goes on though, the projection will only get more and more accurate, which is pretty cool.
I decided to take things 1 step further and create a graph based on the running net profit total from my campaigns this year so far: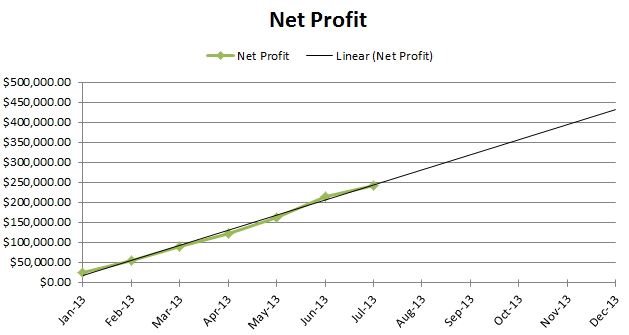 So to date, I've made $241,649.11, and this time the projection is set for the end of the year. The linear projection predicts that I'll finish the year somewhere around the $425,000 net profit mark.
What's interesting is how the linear projection compares to the way I usually predict numbers, which is by taking the current total average and multiplying that by the total timeframe. When I do that, I get $368,499.36 as the magic number – so around a $50,000 difference.
I personally prefer my usual method, but at the same time it's interesting to compare the two.
These were just predictions though. I could of course see another 50% drop in my earnings in August and throw all the above data out the window

July Recap
July was a bit of an interesting month for me. For the first half, I was having major eye issues. It got so bad to the point where I simply couldn't work anymore. As a result, I missed out on a lot of working hours. It was really scary and annoying.
Fortunately, I got that mostly fixed (hopefully fully fixed soon) and I can see again.
Once I got my sight back, I put in a good effort on my campaigns. I ran 12 or so new offers, and made many campaigns. I didn't try any new traffic sources though. I also created around 6 or so new landing pages, with very mixed results. I forgot how fun split-testing landing pages can be (once the landing pages are done that is!) as I usually direct link.
I found some great new campaigns, but as luck would have it, they all went down pretty much immediately after I ran them. I'm working on getting them back. I'd say I have a 75% chance of at least 1 of those new offers returning.
I spent a fair bit of money in July on running new campaigns. If I hadn't, I probably could have netted a little bit over $30,000 for the month, but spending money to try to make more money is what affiliate marketing is all about.
Other than affiliate marketing, I worked hard on tackling my never-ending e-mail inbox. It currently stands at 202 e-mails. I made a ton of progress on that (I was at 609 exactly 1 month ago) so I'm happy with that.
August Plans
For August, my eyes are still set on tackling my e-mails. I only have 202 to get through though, so I'll definitely and finally get that done. Part of what makes it difficult is that I get 40-45 new e-mail everyday on top of that, so I need to get through 40-45 e-mails per day just to stay even…
After I'm caught up with e-mail (at least 99% of e-mail… there are some that require a lot more time that I put "on hold"), I'll be 100% focused on finishing my corporate income taxes until they are done.
I'm already so late on them and owe both interest and penalties on them, but I'm very confident I'll finally have them done and paid for in August.
After all that stuff is done (hopefully!), my goal is to sell at least 1 more website.
Affiliate marketing-wise, I don't plan on doing too much new with affiliate marketing. I'll most likely run some new campaigns and stuff, but my priorities lie in getting my e-mails and taxes taken care of.
August Income Predictions
There are so many factors that come into play when it comes to affiliate marketing that it's really tricky to accurately predict how the month will do – at least for my campaigns.
Unfortunately, I think that I may see another drop again in August – nothing too drastic, but currently it looks like it may be around $15,000 – $20,000 net profit. I certainly hope I'm wrong, as having two declining months in a row is not a good trend.
We'll just have to wait and see. Check back on September 1st to see the results!
Now – how did July treat you for your affiliate marketing campaigns?